It hasn't even been four weeks since Valentine's Day, yet it feels like a lifetime ago. I don't recall what my husband and I did that day, honestly. Nothing memorable. It was just like any other day. We don't need to do something special on February 14th, as we try to keep the romance alive all year long!
How, you ask? By not taking each other for granted. Writing little notes or sending text messages to each other. Doing things together. Lately this has involved exercising, which has been a wonderful way to spend quality time together every day (and makes the actual working out part much more enjoyable!) We also try to have one "date night" every week or two, although with two kids, this doesn't always involve leaving the house. Sometimes staying in, sharing a yummy dinner, and watching a movie is just as fun – if not better – than going out, anyway!
The other night we tried out Dr. Oetker's Ristorante brand of frozen pizza for the first time. I made the Ristorante Vegetale, a delicious thin crust pizza topped with tomatoes, a variety of peppers, onions, and cheese. I only had a small slice, since I'm on a diet, but my husband had a healthy portion, and very much enjoyed it. Served with a colorful salad, it was a light but filling dinner.
Later that week, when it was just the girls and I, I pulled out the Ristorante Mozzarella because I didn't feel like cooking. My girls are notoriously picky but absolutely loved this one! Even the "green stuff," as Maya called the pesto-like herbs scattered across the pizza.
Dr. Oetker, headquartered in Germany, is the market leader of frozen pizza in Europe. My first thought when I heard about this brand was… German… pizza? Um. Okay. I wasn't quite sure what to expect, but after tasting two different varieties, I am impressed. There's a distinctive flavor to most frozen pizzas that Dr. Oetker pizzas don't have. The pizzas feature fresh, high-quality ingredients, and the crust is thin and crispy, just how we like it.
Including the two we sampled, there are six varieties of Dr. Oetker pizza:
Ristorante Speciale: Topped with pepperoni, cooked ham, mozzarella and edam cheese, and spicy herbs.
Quattro Formaggi: A delicious blend of mozzarella, edam, emmental and blue cheese, complemented by a basil seasoning.
Ristorante Spinaci: Layered with sun-ripened tomatoes, savory leaf spinach, cheese and mozzarella, perfected by a hearty garlic sauce.
Ristorante Mozzarella: The wonderful aroma of fresh cheese, combined with tomatoes, edam cheese and a delightful mixture of herbs.
Ristorante Funghi: Enjoy this vegetable pizza with its many aromatic mushrooms, fruity tomatoes and fine mozzarella cheese.
Ristorante Vegetale: Layered with generous helpings of tangy tomatoes, mouth-watering peppers, onions and chilies, on a crispy thin crust.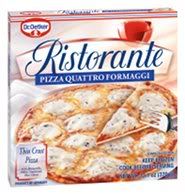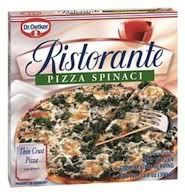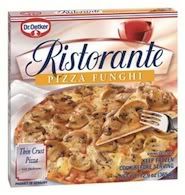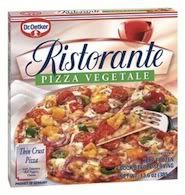 BUY IT
Priced from $4.99 to $5.99, Dr. Oetker's Ristorante frozen pizza gives you Italian restaurant style pizza taste without paying restaurant style prices. Dr. Oetker Ristorante is currently available at grocery stores in several states, including New York, New Jersey, Connecticut, Pennsylvania, Massachusetts, North Carolina, Washington, D.C., Rhode Island, Baltimore, Maryland and New Hampshire. To learn more about Dr. Oetker, please visit www.oetker.us.
WIN IT
Leave a comment below telling me how you keep the romance alive after Valentine's Day to be entered to win a Dr. Oetker's Ristorante prize pack, which includes: a branded pizza cutter, freezer bag, free Dr. Oetker coupon, and a pizza Slice & Serve Board from Crate and Barrel. Remember, Dr. Oetker's Ristorante frozen pizzas are currently only available in select markets so be sure you can find 'em near you before entering the giveaway, so you can use the coupon. 😉
For extra entries:
Subscribe to my feed by feed reader or email. 1 entry
Tweet about this giveaway one time using the Tweet button below, or copy this: #Giveaway! Win a Dr. Oetker pizza prize pack at The Domestic Buzz! https://ohsohungry.com/?p=15930 #TDB – 1 entry
Like The Domestic Buzz on Facebook. 1 entry
Disclosure: This is a sponsored post. Dr. Oetker's Ristorante product and additional incentives were provided to me. All opinions stated are my own. US entries only, one person per household. Leave a separate comment per entry and a valid email address. Winner, chosen at random on the morning of Friday, March 30th, has 3 days to claim their prize.