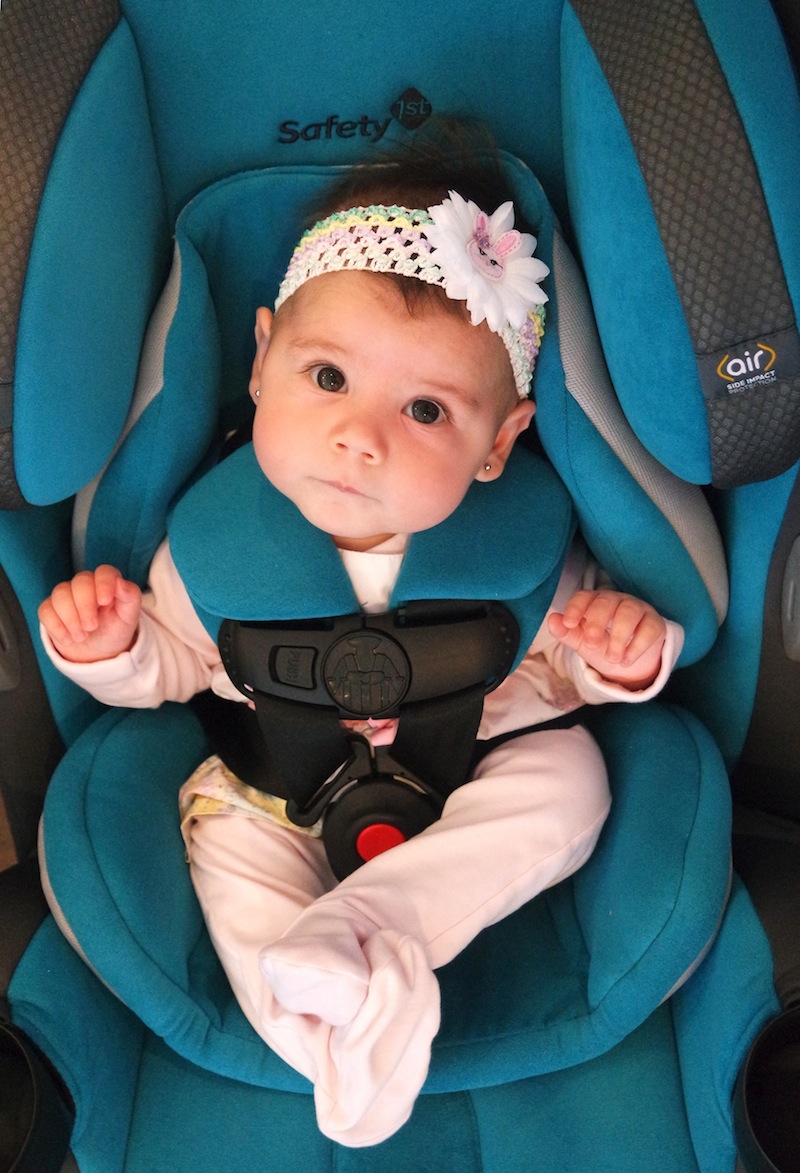 Shopping for a car seat is one of the most important purchases a parent will make. There are so many different brands and models to choose from, with so many different features, that it can be overwhelming! This is why I was excited when my sister suggested the new 3-in-1 Grow and Go™ Air Car Seat from Safety 1st. She had reviewed the original Safety 1st car seats with Air Protect technology almost 7 years ago, when they were first released. My nieces, Maura and Maya, were only 2 and 4 years old at the time and loved those car seats, so I was confident Viv would like hers, too. I'm grateful Safety 1st provided us with one in exchange for my honest review.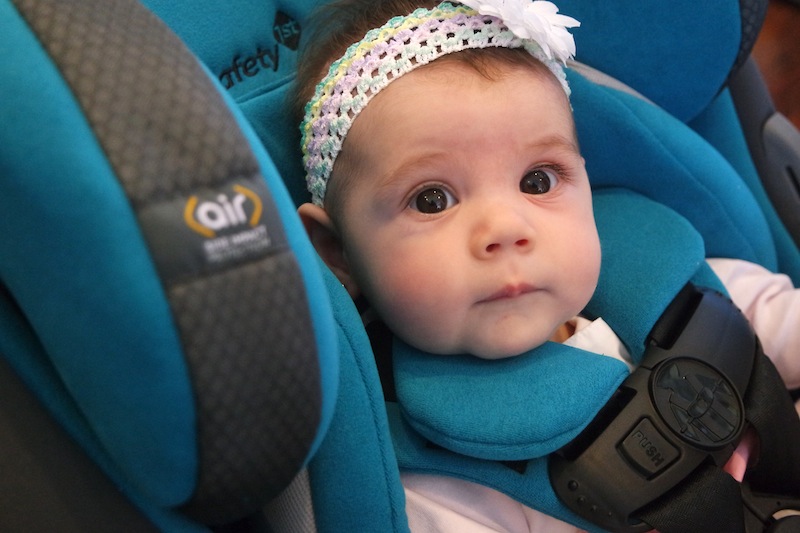 After several weeks with the car seat, I am loving it even more each day! It did take me some time to adjust to it though, since we previously used an infant car seat. I had gotten so used to Viv falling asleep in the car and just taking her out and inserting the car seat into the Snap-N-Go stroller when we were out and about. This was convenient for me since I didn't have to wake her! However, Safety 1st's Grow and Go Air has won me over! These are a few of its best qualities.
Safety! Did you know that 1 in 4 car accidents is a side-impact collision? Air Protect Technology is an advanced cushion system that is designed to provide extra protection for your child's head in a side-impact crash by sending that force away from your child and absorbing it into the headrest. Since 2009, a ton of testing has been done with this technology that has proven that seats with Air Protect are safer than those without.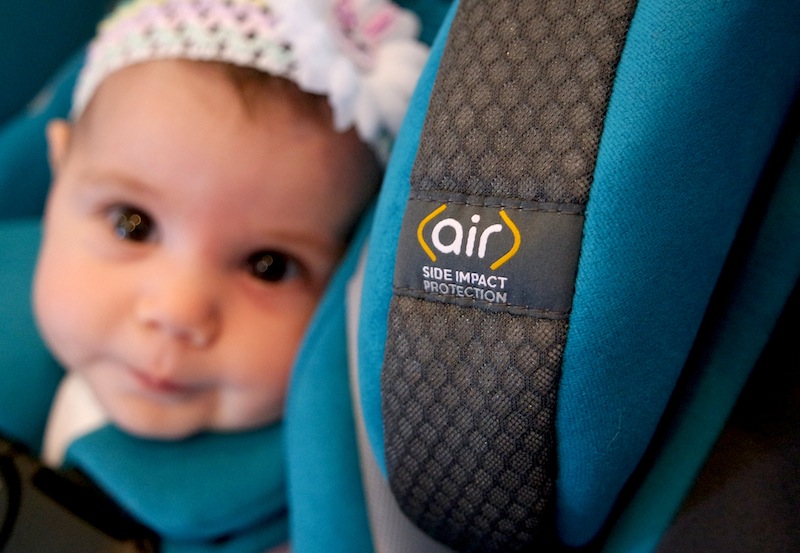 Comfort! The best thing about this car seat is that it has three different pillows to fit the needs of your growing child. Since Viv is 6 months old and is still petite (she only weighs 15 lbs), she is using the headrest along with the head pillow. This allows for extra comfort and security. Viv is also using the body pillow to support her gluteus maximus! An additional pillow for the head is available for newborns, but Viv is too big for that now. The car seat also comes with QuickFit™ Harness for easy adjustment of both harness and headrest in one simple step!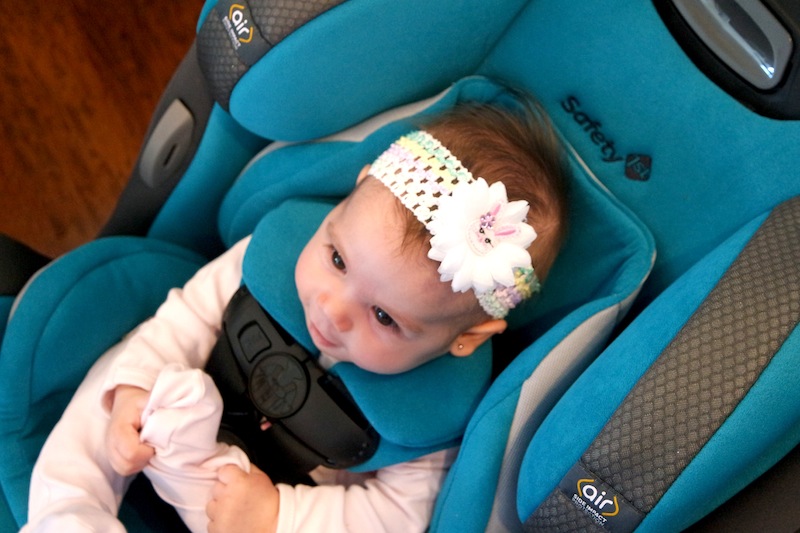 3-position Recline! This makes it easy to fit the car seat in just about any car. For rear-facing, it is a MUST to use level 2 or 3. Viv is at a 3 and is really comfortable in this position. However, her head does tend to lean forward when asleep rather than leaning to the side. I'm not sure if this is how she sleeps or maybe she needs to recline a little more? I did test a 2, but it was too high for her still. Incline 1 is used when child is ready for forward-facing and the booster seat stage. Viv has a long way to go until then.
Harness Holders! These have been a lifesaver when putting Viv in the car. I can easily move the harness aside to keep it in an open position while strapping her in or taking her out. This makes it easier to do so without the fuss of something in the way. You can see how they work in this photo: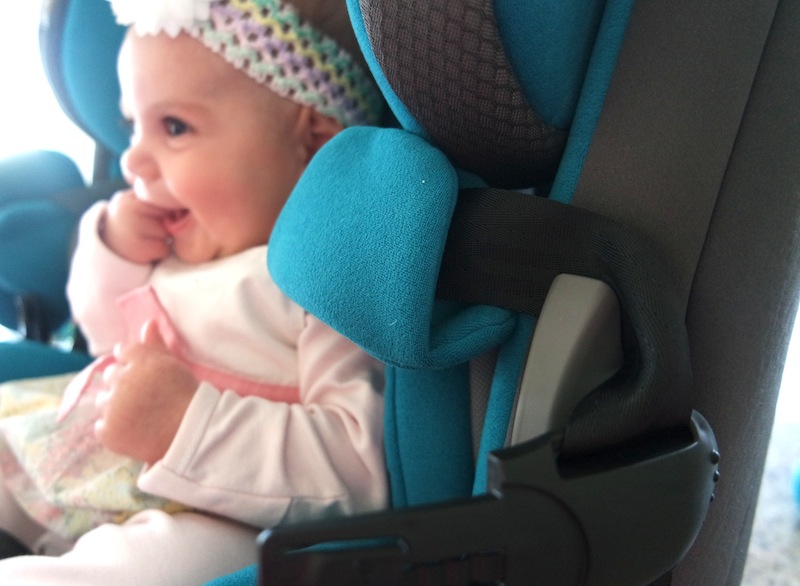 Color! I'm SO glad I have one less thing that is pink! Viv seems to own everything pink. The Safety 1st Grow and Go Air 3-in-1 comes in Evening Tide, a color that is unique, eye catching, and makes me feel calm. This blue reminds me of gazing out into the ocean! I've received tons of compliments on the color alone from mothers at playgroups.
Easy-to-Use Manual! One of the easiest manuals I've read, in fact, and I have definitely read many since moving into a new home recently. The guide is color coded by stages and uses illustrations that I can understand and follow without even reading the words! On the back of the manual, there is a QR Code to access further installation videos and learn more about Air Protect. I recommend watching these videos! They are easy to follow and even give you tips to make the installation even easier. Having the manual color coded and watching a video made the installation process dummy proof!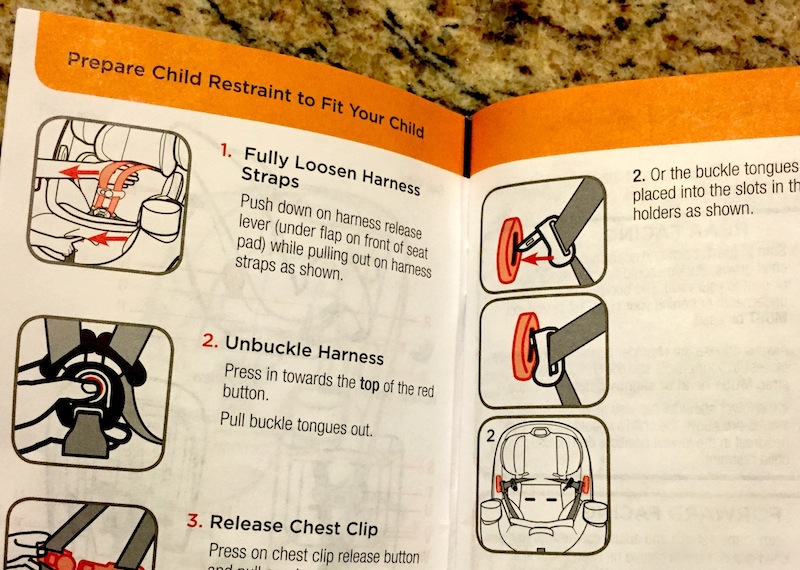 Good Value! I'm sure saving money is on top of everyone's list! Imagine the savings from not needing to buy 3 different car seats for your child? It has a 10-YEAR expiration date, so it could potentially be the only car seat I'll have to buy. The Safety 1st Grow and Go Air 3-in-1 car seat is found at many retail stores, including Babies "R" Us, buybuy Baby, Kmart, and Sears. The actual retail price of the car seat is $199, but you can find it online for less at Sears, Overstock, Walmart, and even Groupon! Target has a special Sport Edition that has all the same features but just one cup holder (and it's $10 less!) Unfortunately this car seat is not available on Amazon at the moment, but I'm sure it will be soon.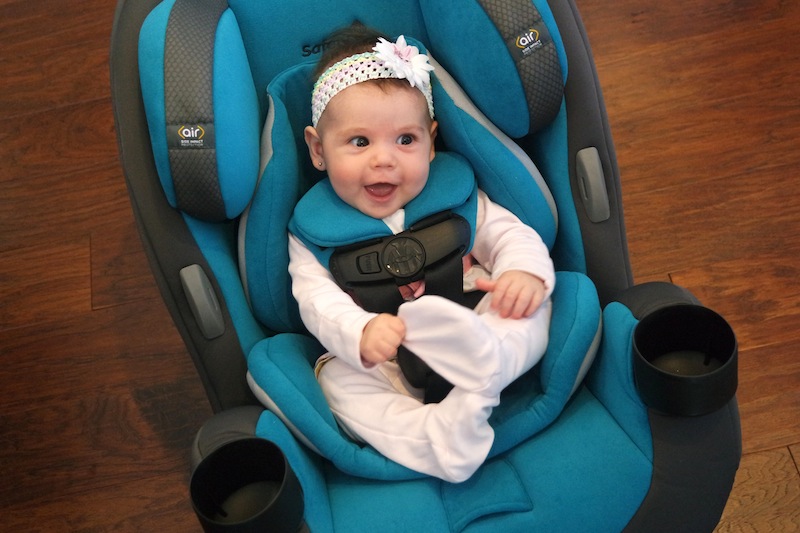 Some minor drawbacks
2 cup holders?! Not sure why the car seat would need two cup holders? I find the cup holders in the way when putting Viv in and out of the car seat, so for now, I see no use. As Viv grows and moves on to the forward-facing and booster stages, I know we'll be using the cup holders, but one is sufficient.
Installation! It took two of us, my husband and I, at least 35-45 minutes to install. Not as long as I expected, but still time-consuming.
Baby wakes up! Yes, that is a disadvantage for me, at least for now. Whenever we arrive at our location, I have to take her out of the car seat, which wakes her up. I wish there were a way to take her out of her car seat without waking her! But as she gets older, I'm sure I won't need to wake her as often since she will be sleeping less during the day.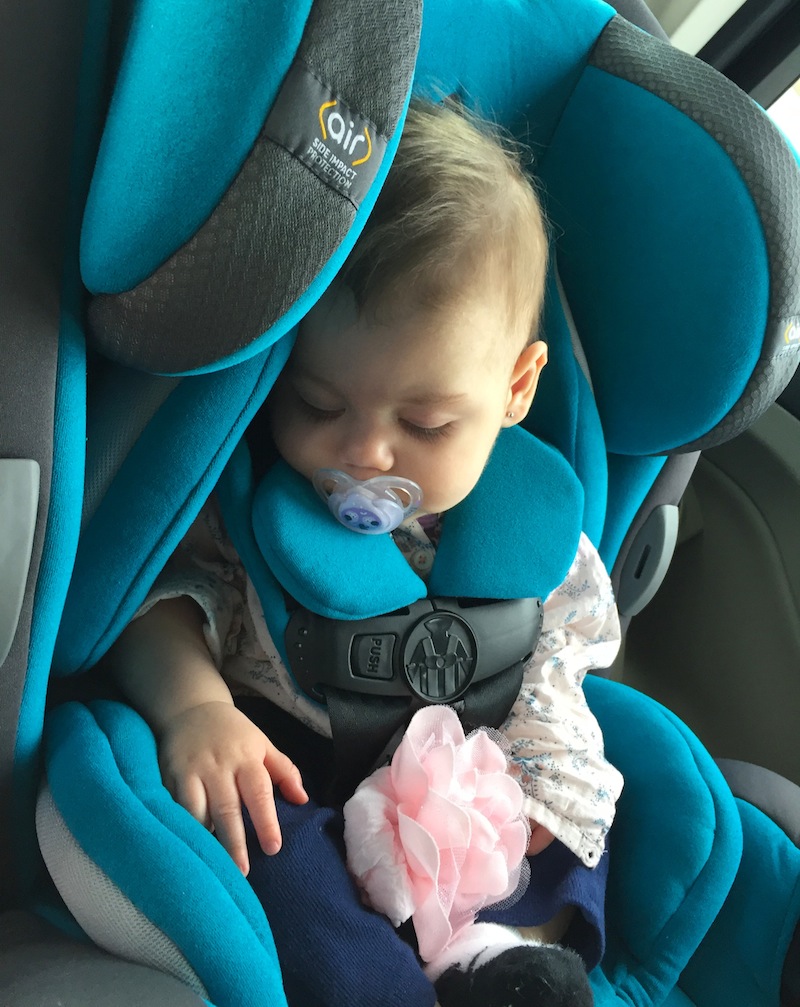 Quick recap of the Safety 1st Grow and Go™ Air 3-in-1 car seat:
Has the latest Air Protect technology
Offers extended use through three stages:
Rear-facing from 5-40 lbs and 19 – 40 in. (just about 2 years old)
Forward-facing from 22-65 lbs and 29 – 49 in. (at least two years old)
Booster seat from 40-100 lbs and 43 – 52 in. (at least 4 years old)
10-year expiration from car seat manufacture date (this is located on the bottom of the car seat when you turn it over)
QuickFit™ Harness makes adjusting both harness and headrest simple
3-position recline for a good fit in any car – easy as 1, 2, 3
Takes up less room when rear-facing, giving front passenger up to 7" more legroom
Convenient harness holders keep straps out of the way when buckling
Two integrated cup holders
Machine washable and dryer safe seat pad unsnaps and lifts away quickly from the seat frame for truly easy cleaning
Comes in a teal, black, and grey Evening Tide color (above) or black and grey
Available at retail stores and online. More information here.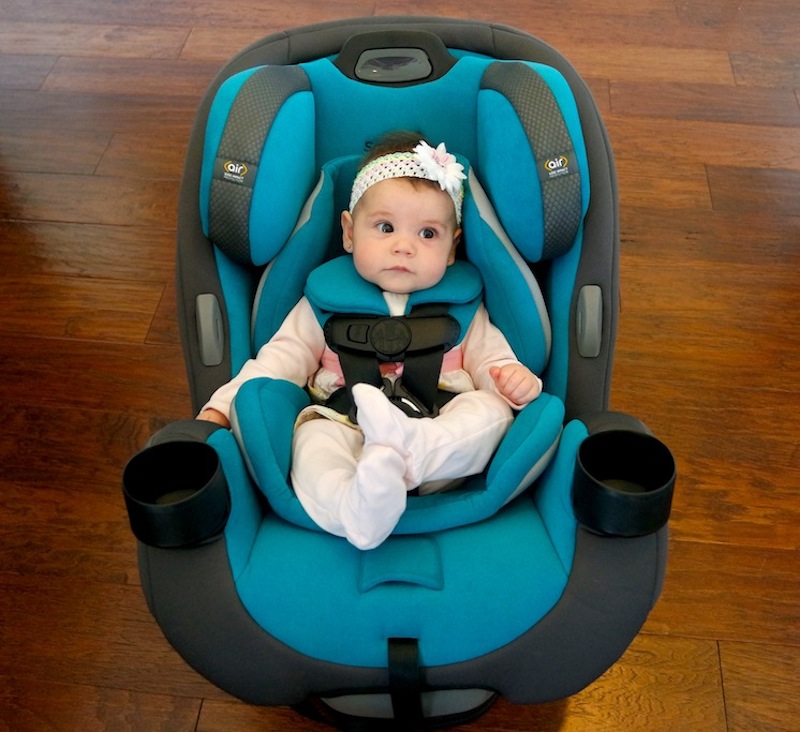 Comfort is my number one priority for Viv! As she teethes, goes through growth spurts, and is alert a lot more than before, I have to figure out what makes her comfortable — to keep me sane! I can tell that Viv has enjoyed this car seat quite a bit the past few weeks… as soon as she is buckled in, she nods off right away. Looking at her in the seat, you know she's content! I feel that I can trust Safety 1st with their Air Protect technology and great design, and am looking forward to using this car seat for years to come.
What do you look for when shopping for a car seat?
What style and color do you prefer?