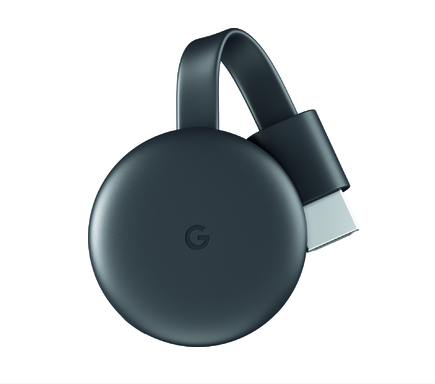 With so many of us using our phones for just about everything these days, it makes sense we'd use it to watch TV and movies, too, right? This is where Google Chromecast comes in. Even our biggest phones screens can't compare to watching on an actual television, and this handy device lets you do just that – watch movies, shows, live TV, YouTube, and photos streaming on your TV from all your family's devices.¹
All you have to do to stream from your phone to a TV is to plug Chromecast into the HDMI port on your television. That powers it up so you can stream your favorite entertainment right from your phone with just a tap. What's cool is that while streaming, you can still use your phone as you normally do. Personally, I like to live tweet about whatever I'm watching.
Chromecast works with the streaming apps you know and love, like Netflix, YouTube, YouTube TV, and HBO NOW, so you can enjoy TV shows, movies, videos, songs, games, sports and more from these and over 2000 other apps.
You can even start streaming with just your voice! Say what you want to watch from compatible apps and control your TV hands-free, since Chromecast and Google Home working seamlessly together.²
"Ok Google, play Stranger Things from Netflix on my living room TV." ¹
This is a great way to upgrade your TV for less, since Google Chromecast is MUCH cheaper than buying a new TV. It's affordable enough that you could potentially get one for every TV in the house if you wanted. Buy Google Chromecast at Best Buy!
What are you watching this week?
——————————————————————
¹ Subscriptions are required to view some content.
² Google Home, Chromecast, and compatible content required to cast to a TV using Google Home.
This post is sponsored by Best Buy.