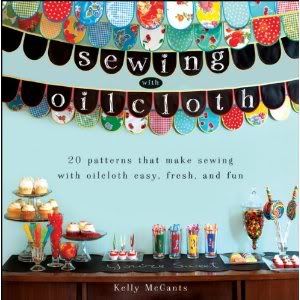 Many of us enjoy making things that can be used in our daily lives. However, while oilcloth has been around for centuries, we may not have ever incorporated oilcloth into our projects. Sewing with Oilcloth, by Kelly McCants, shows how to bring new fun to everyday projects. All of the projects in this book are practical and have added longevity because they are made with oilcloth. Plus, the projects are custom made by you and help keep your home clean and organized! I enjoyed this book and think it includes 20 how-to projects for the DIY seamstress in you.
In Sewing with Oilcloth, you will find a colorful book that is fun to read. The instructions are easy to follow, and the author has included helpful drawings further explain the projects. As an intermediate seamstress, I imagine that any level of seamstress can successfully follow the steps in this book. In time, you will be making numerous projects for your home or others, including gifts, storage containers, bags, table cloths, and many other everyday items. Oilcloth seems to be a great fabric for homes with kids and easy to clean for Mom's.  If only oilcloth would be comfortable fabric for covering our furniture…
I look forward to making the insulated lunch bag, sandwich wrap, and reusable baggies. I am constantly making my girls' school lunches, or planning picnics or other outings.  For me, the patterns and instructions in the book were perfect timing for back to school. As an added benefit, these projects are not only unique, they are also eco-friendly.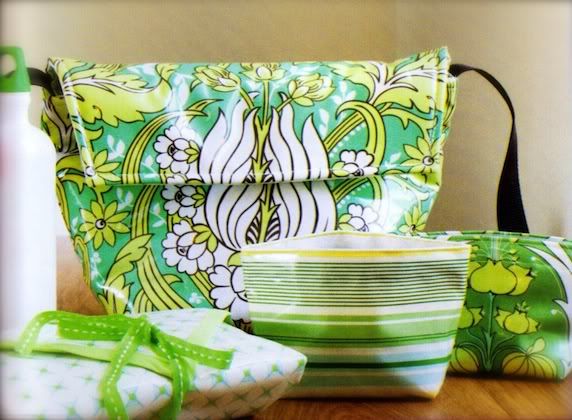 The only disappointment I found was finding fabric to make the items. Oilcloth is not safe to use with food.  Although laminated cotton is a safe alternative, it costs around $17 a yard, which is much more expensive than the oilcloth ($6-$12 yard). Unfortunately, I was unable to find a fabric store nearby that carried laminated cotton or oilcloth.
BUY IT
Sewing with Oilcloth can be found online at Amazon.com. Its author, Kelly McCants, is known as the go-to guru for working with oilcloth. She also has her own online fabric store where you can purchase many of the oilcloth fabrics seen in the book at www.etsy.com/shop/oilclothaddict.
Disclosure: I was provided with a complimentary copy of "Sewing with OilCloth" in order to facilitate this review; the opinions are my own.