I'm one of 100 bloggers participating in a special "Secret Santa" project for T.J. Maxx!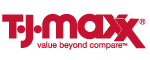 Each one of us was provided with two $25 gift cards and assigned a blogger to shop for. One of the gift cards was to be used for the Secret Santa gift, the other for us to use as we please. Fun!
As always, I leave my shopping until the last minute. I knew a big storm was coming (we got 22 inches of snow yesterday!), so I was smart and made a trip to T.J. Maxx on Friday night. It wasn't as packed as I expected it to be, but still busy. It was late, yet all the checkouts were open, which was very nice.
Anyway, as soon as you walk in the door you're presented with tons of great gift ideas and lots of Christmas-y things! All at great prices. So what to buy? I don't know the blogger that I was assigned personally, but from reading her blog – she writes about beauty products – I can tell she'd probably like accessories. Well, what woman doesn't, right? So I went straight for the handbags!
I found a beautiful, roomy, easy-to-carry Nine West satchel perfect for a busy mom! In a dark red color, just right for winter or fall, and exactly $25! A penny under, actually. If she doesn't like it, she can always regift it. That's what's so great about a handbag. Or she can exchange it for something else. That's what's so great about gift receipts! 😉
I've always been told that you can't give a purse as a gift without putting something in it, so she'll find a little chocolate surprise when she opens it. I couldn't help myself! All those chocolates and jelly beans near the checkout get me every time.
With the second gift card, I bought a Nine West handbag for myself! A girl can never have too many…
To help keep you in the holiday spirit and remind everyone why off-price is the better way to Christmas shop on any budget, Marshalls and T.J. Maxx have joined together for a "Carol-oke" contest. One lucky person will win a $5,000 holiday shopping spree – just for singing their favorite holiday tune! Visit YouTube's specially-created "Caroling Channel", www.youtube.com/jointhecarolers. There, select from one of three carols, create your own "Carol-oke" video and upload for entry into the contest. For each off-price "Carol-oke" video that is uploaded, a charity donation will be made.
Happy shopping!