Spring is officially here and but seasonal allergies have already made themselves at home. When the pollen is so thick my car looks green or yellow, I'm desperate for something new to clear my sinuses. And if it's natural that's a huge bonus.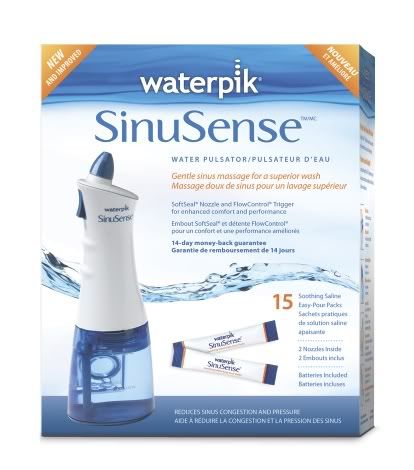 So I eagerly opened the box to tryout the new Waterpik SinuSense Water Pulsator. It promises a sinus massage and wash that can reduce sinus congestion and pressure naturally. It's a small, handheld device that floods your sinuses with a saline solution. The solution is made by mixing a packet of crystals with warm water.
At first I was a bit put off by all of the pieces and instructions (it's really not all that many, but I like instant gratification with my new toys). But make sure you read all of the instructions. There are some important things you need to know like what kind of water to use, and when to avoid using the SinuSense.
Waterpik recommends WARM distilled or purified water, but does say warm tap water is OK for use. (I can't even imagine how uncomfortable it would be to use cold water with this product!) I mixed the solution, positioned a box of tissues nearby and leaned over the sink. The initial sensation of the water flowing through my sinuses was a bit unusual, but not as uncomfortable as I find using a neti pot.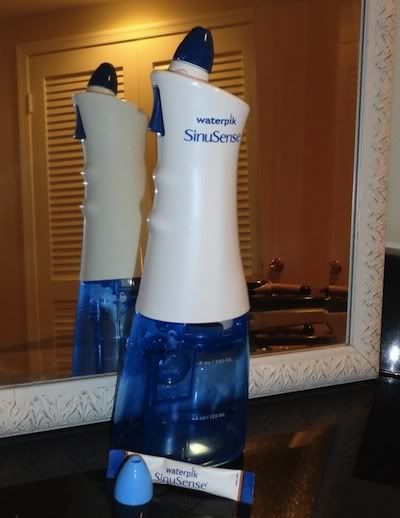 After about ten seconds in each nostril, I was done. I cleared my nose, and my head felt very clear. I was a bit surprised at just how clean it felt! On day two of use, I spent a lot of time outdoors… used the SinuSense when I came inside and it seemed to clear out a lot of congestion!
As with all sinus remedies, you have to give the product several days to really do its work. Waterpik recommends 14 days. My only concern is keeping up with refills for the saline solution. But if my sinuses continue to feel this good, you can bet I'll be sold.
COOL FEATURES
Safe for daily use, even for kids (ages 6 and up)
2 nozzles included, so you don't have to share
Cordless (battery-powered, 3 AAs included)
Easy-to-use 'FlowControl' trigger
Dishwasher and microwave safe
BPA-free
BUY IT
Time for a little spring "cleaning" of your own? According to the Waterpik website, daily sinus washing keeps nasal passages and sinuses clean, clear and healthy. The Waterpik SinuSense Water Pulsator retails for $34.99 and is available online and in stores (at Amazon.com, Walgreens, Drugstore.com, and more).
For more information, please visit:
Disclosure: I received compensation and/or a free product to facilitate this review, but all opinions are my own.