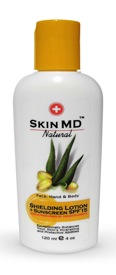 The cold, dry winter air outside, and the continually-running heater inside is really harsh on my skin, especially that of my cheeks and hands. I guess because everything else is covered up most of the time! My cheeks get red and irritated, and my forehead tends to get flaky. Both my husband and I suffer from dry skin on our hands. He works with his hands frequently, so his even get so bad that they start to bleed and crack. Gross, huh? You can see why I was thrilled to try out Skin MD Natural's new lotion.
The "natural" aspect of this lotion is in the fact that no animals are used for testing purposes, the product is fragrance and colorant free, and lots of quality ingredients are used – aloe vera, vitamin E, chamomile, and purified water, just to name a few.
Skin MD Natural Shielding Lotion has been around for years now, but the newest product to be introduced is a combination of that same lotion and sunscreen, SPF 15 to be precise. You may be asking why I'd want to use sunscreen in the middle of the winter, but the sun can do damage even on the coldest days! There's a history of skin cancer in my immediate family, so I make every attempt to be careful. I may be pale, but I get complimented on my clear skin and can look forward to a less-wrinkly and (hopefully) cancer-free future!
But back to the lotion. When I squeezed it into my hand the first time, I was surprised at how thin its consistency was. A tiny bit really goes a long way, so I completely understand why it comes in such a small bottle. At only 4 ounces, it's the perfect size to carry in my purse, which is a huge plus.
My favorite feature of this lotion is that it isn't greasy at all. It absorbs into your skin in seconds, literally. I hate when I rub lotion into my hands then can't even turn a doorknob because they are so slippery. I also like that you can use this all over your body. It's an easy way to make sure you have sunscreen on everyday. Since it absorbs right away, it doesn't feel heavy like a foundation with sunscreen does. I can imagine that you could easily wear it under your makeup as well.
I found the fragrance-free aspect to be refreshing, actually, since so many lotions and creams on the market are scented nowadays. It has a slight sunscreen-type smell when you first apply it, but once it's been absorbed there's no hint of it whatsoever.
When my Skin MD Natural Shielding Lotion runs out in a month or two, I'll probably be on the lookout for another bottle! Luckily it It can be found at pharmacies nationwide or purchased online, directly from Skin MD.
Thanks to a partnership between Skin MD Natural and Family Review Network, I have the opportunity to give away a bottle of this wonderful lotion to one of my readers! It's a $25 value. To enter, visit Skin MD Natural's website, and come back here and leave a comment on this post telling me about a skincare issue that you have.
US entries only. Please leave a valid email address or blog URL in your comment. This contests ends at 11:59 pm EST on January 25th, 2009. Winner will be chosen randomly, and has 48 hours to claim their prize.