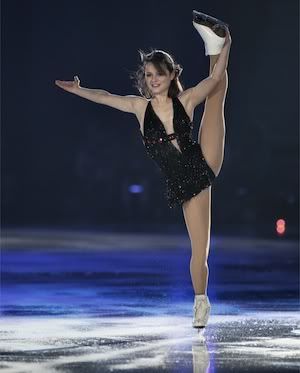 A couple of years ago, I was hanging out at a nearby mall with my husband and kids, just walking around like we so often do. We passed by the skating rink and saw a beautiful skater from afar. So skilled and graceful, and seemingly lost in thought. My husband was the first to notice who she was. "I think that's… Sasha Cohen! The Olympic skater."
I knew exactly who she was. Sasha was there with 15 other Olympic figure skaters for a charity event. The money raised went towards scholarships for young skaters, since it's such an expensive sport.
Now the reason I mention this is because I was just invited to attend a performance of Stars on Ice next month. While the Disney show earlier this week may have been fun for my daughters, Stars On Ice is more my cup of tea!
Produced by Scott Hamilton, this year the show is celebrating its 25-year history by visiting 25 cities across the United States. Headlined by 2010 Olympic Gold Medalist Evan Lysacek and Olympic Silver Medalist Sasha Cohen, some of the world's most creative and cherished champions will be performing together in both individual and ensemble performances. Evan and Sasha will be joined by a stellar cast of world-renowned athletes, including Olympic gold medalists Jamie Salé & David Pelletier (Canada); four-time World champion & four-time Canadian national champion Kurt Browning; two-time Olympic gold medalist Ekaterina Gordeeva (Russia); World champion and six-time U.S. champion Todd Eldredge; Olympic silver medalists Tanith Belbin & Benjamin Agosto and more! One I'm particularly looking forward to seeing is Joannie Rochette, Olympic bronze medalist from Canada. You may remember her from last year's Winter Olympics… her mother died tragically just a couple of days before she was set to compete. She chose to continue on, and ended up setting a new personal record and won the bronze medal. So inspiring!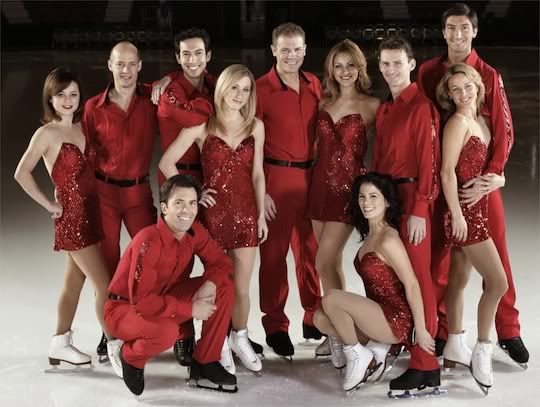 Tickets to Stars On Ice start at $25, but you can purchase a Family 4 Pack of tickets at $10 off per ticket. You have to enter two UPC codes from any Smucker's Jam, Jelly or Preserves product at www.smuckers.com to receive a promotional code for the discounted tickets. You get an autographed photo of Evan Lysacek with your ticket purchase AND a portion of ticket proceeds benefit Boys & Girls Clubs of America!
Be Evan's Guest!
To commemorate the 25th anniversary tour, Smucker's is giving skating fans a chance to meet one of their favorite stars in the "Be Evan's VIP Guest" contest. From now through March 13th, you can enter for a chance to win by completing the online entry form at www.smuckers.com. The lucky winner will be Evan Lysacek's VIP guest at the Smucker's Stars on Ice performance in East Rutherford, N.J. on April 2, 2011. In addition to travel, accommodations and VIP tickets to the performance, the grand prize winner and a guest will also have dinner with the Olympic gold medalist and receive a backstage tour. This sounds like an amazing experience; Evan seems like such a nice guy!
Visit smuckers.com for more information on the Smucker's Family Four Pack ticket discount offer, promotion rules and Smucker's products and recipes. Watch this video for highlights from the tour:
Stars On Ice giveaway for local readers!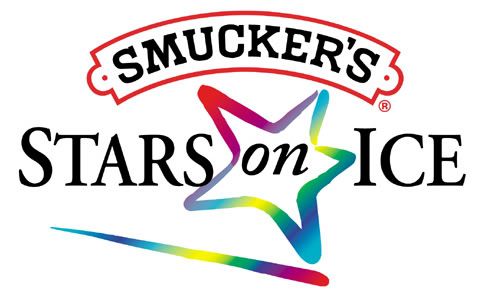 If you're in the DC area, you have the chance to win a family four-pack of tickets to Stars On Ice right here at The Domestic Buzz. The performance is on Sunday, March 6th at 4pm, so be sure you're free that afternoon! To enter to win, please leave a comment below telling me which skater you'd most like to see. Giveaway is closed!

For extra entries:
Subscribe to my feed by feed reader or email, or let me know if you already do. (1 entry)
Follow me, @ohMariana, on Twitter and tweet about this giveaway up to once per day using the Tweet button below, or copy this – DC locals! Win a family 4-pack of tickets to Stars On Ice at the Verizon Center! https://ohsohungry.com/?p=12918 #TDB (1 entry per day)
Like The Domestic Buzz on Facebook. (1 entry)
Disclosure: I will receive complimentary tickets to a Stars On Ice performance in return for sharing this information and hosting the giveaway. Contest ends on Thursday, February 24th at midnight so that I can submit the winner's information in time to receive the tickets by mail! US entries only, one person per household. Leave a separate comment per entry and a valid email address.