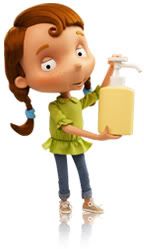 That Puffs pal there, to the right, has been me since last week. I have a cold that I just can't shake! Puffs kindly sent me a cute package of tissues at the perfect time… and I'm almost through the entire box already. There's a hologram (is that what it's called?) of Rudolph on the side which my kids love. Fitting, since I happen to look a little like Rudolph with my bright red nose! 🙂
The Cold Facts:
The common cold is the most frequent cause behind missing school and work.
Adults will get between 2 to 5 colds per year, on average, while kids will get 6 to 9; parents are prone to catching them from their kids.
Colds are most prevalent between August and April.
Sneezing is the most efficient method of spreading the common cold, as the average sneeze travels up to 100 MPH!
You use more than three times as many tissues while sick. An average of 24 a day!
Tips to prevent and manage colds from Dr. Tanya Remer Altmann:
Practice healthy habits… get plenty of sleep, exercise, and eat your veggies!
Wash hands early and often with soap and warm water for 20 seconds.
Soothe cold symptoms by drinking fluids and running vaporizers/humidifiers at night.
Cover your mouth and nose with a tissue when you cough or sneeze and put your used tissue in the trash.
Soften and strengthen your blows by selecting a gentle but strong tissue like Puffs Plus with Lotion to help prevent chapping from frequent nose blowing.
Which Puffs should you choose? Here's a description of various Puffs products:
Puffs Plus with Lotion: This is soothing, with the magic of shea butter, aloe, and Vitamin E, and transfers moisturizers to your nose.
Puffs Ultra Soft & Strong: Extra strong, to stand up to your biggest sneezes! It helps keep the yucky stuff from breaking through and is soft on your sore nose!
Puffs Plus with the Scent of Vicks: A non-medicated, scented facial tissue that offers soothing and comforting care when you need it most.
Puffs Basic: An everyday tissue for life's little blows.
Puffs sent me a box of tissues and the information above. May you stay healthy this holiday season!