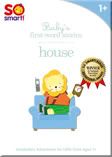 Maura is 2 years old. 2 and 3 months to be exact. Right at that age where she's learning a mile a minute! I've gone through this before with Maya, but it still amazes me just how much a child develops between the ages of 2 and 3.
To foster her learning, I try to find developmental and age appropriate content for her to watch. So Smart! Productions, a leading producer of top-rated educational entertainment for young kids, is one of the companies I trust. We've seen many of their shows on TV through On Demand, but this is the first time we watched a full-length DVD – the first six titles from So Smart's! new DVD line, Baby's First Word Stories were just released a few weeks ago.
Baby's First Word Stories, targeted at children 1 to 3 years old, is an interactive experience that encourages parents to view the DVDs with their little ones. The six 30-minute DVDs are "House," "Pets," "Outside," "Get Dressed," "We Go" and "Nighttime." We were sent a screener of "House" to review.

Friends Edward, Iggy, Larry and Dee Dee will first introduce your child to simple words about objects in the home, and then build sentences and stories around them. The animation is simple, almost like an animated flashcard. The narration is soft and gently-paced. Keywords are repeated over and over, so that children can grasp the meaning of it and how to use it in conversation.
In addition to interactive games that can be played on TV with your remote control, each Baby's First Word Stories DVD includes a bonus printable Activity Guide with eight pages of games and activities that caregivers and children can do together. The Activity Guide also includes viewing guidelines to give parents ideas for how they can interact with their child as they watch together.
The suggested retail price for Baby's First Word Stories is $15.99. Books, toys, CDs and other Baby's First Word Stories branded products line are currently in development, and additional DVD titles will be released in early 2010.
Other than a promotional screener supplied by Echo Bridge, no compensation was received for this post.