I soooo need a vacation. Though flying to visit family is great and may seem like a getaway to some, I'd be happy with a weekend at a hotel. Just my husband and I.
Yeah, that'll never happen.
So a family vacation it'll be! Now the question is – where should we stay? Shacking up with friends or relatives may seem like a good idea – but sometimes we just need our own space! According to a Mom Central poll of 1300 Moms, 66% plan on staying at a hotel this summer – with most families citing an affordable price, plenty of space, and a convenient location as important factors. Unfortunately most hotels don't feature the amenities a traveling family needs.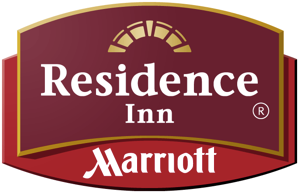 Enter Residence Inn by Marriott. Originally intended for extended-stay business travelers, and feeling more like an apartment than a hotel room, these newly renovated suites are designed to meet all of your family's needs on the road. Their more than 600 locations across the U.S. and Canada feature suites that include free hot breakfast daily, free Internet access, and some even have a door that separates the bedrooms from the living area for extra privacy and a much needed family breather at the end of a long day. Whether it's a week-long stay or just a long weekend of exploration – Residence Inn makes family vacations a lot more comfortable. Have a picky eater and want to cook their favorite meal? Each suite harbors a full sleek kitchen with microwave, stove or cooktop, dishwasher, dining table with stools and gorgeous marble countertops. When you just want to relax after running from landmark to scenic view, most properties have a pool and outdoor recreational spaces for kids to run off any remaining energy. With all these features, plus incredibly spacious rooms, modern bathrooms and a cozy living area (with pull-out couches), Residence Inn by Marriott offers a home-away-from-home for families on the road! Visit www.marriott.com/residence-inn for more information.
Disclosure: I wrote this while participating in a blog campaign by Mom Central on behalf of Residence Inn by Marriott and received a chance to win a weekend stay at a Residence Inn, as well as a gift card to thank me for taking the time to participate.