I've used Splenda for years – it's my preferred artificial sweetener by far. Whether you're trying to better manage your health or simply cut some unnecessary sugar from your diet, Splenda Sweetener provides an easy, effective way to reduce daily calories. It's important to point out that you can use Splenda for anything! Not just your morning cup of coffee.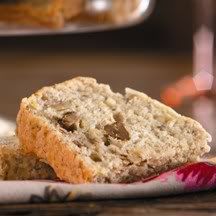 The Splenda Brand has teamed up with celebrity Mom chef, Katie Brown, to offer exciting tips on how to use Splenda in more ways than ever imagined, and to provide new recipes for favorites such as cookies, cakes, breads, and smoothies. Browsing the Splenda Tastebook, I found recipes for a citrus salsa that would be great with grilled fish, a refreshing green tea punch, and simple frosting ideas. Yum! You can even make your own sugar-free jam! My favorite thing to make with Splenda is banana-nut bread. No one can tell that I don't use real sugar! I use my own recipe, but there's a good one on the website as well: Nana-Nut Bread. Splenda does cause food to bake a little differently. I found that my food will bake faster than when using regular sugar. I'm not sure why, but you should keep a close eye on your muffins and cakes.
Visit the Splenda website to learn more about incorporating Splenda products into your cooking and baking, and to choose from hundreds of Splenda recipes you can create with the granulated product. I can't wait to try some more of these delicious lower-calorie offerings. Splenda is obviously more expensive than sugar, so I always appreciate a discount. Find a downloadable coupon for $1.00 off here!
I wrote this review while participating in a blog tour campaign by Mom Central on behalf of Splenda and received products necessary to facilitate my candid review. In addition, a donation was made in my name to the Meals on Wheel organization to thank me for taking the time to participate. Photo courtesy of Splenda.