I've been compensated in the form of a Best Buy Gift Card and/or received the product.
A stylish smartwatch. This may sound like an oxymoron, but it describes the Michael Kors – Access Runway Smartwatch perfectly! I've never owned such a beautiful timepiece. The fact that it can do so much MORE than just tell time is a bonus!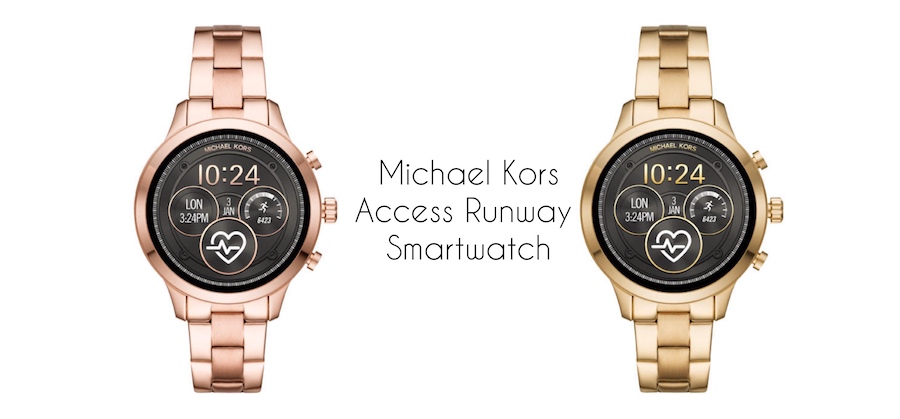 DESIGN
Fashion meets function with this watch by designer brand Michael Kors. The round, rose gold-tone case is definitely eye-catching — I've had so many people stop to ask me about it because it doesn't look like a smartwatch at ALL! With a 41mm case, the round touchscreen display is big, bright, and easy to read. While I've only had the watch a couple of weeks, the stainless steel case seems durable, plus it's water resistant to 50 meters (though I'm not sure I'll be tempted to test that out!) The design transitions effortlessly from a morning workout to a night out, and you can customize the watch face with an assortment of dials to really make it your own. There are so many to choose from… everything from traditional watch faces to bejeweled and super modern designs. You can even customize it with your own photos! I've had so much fun switching up the faces… I particularly like the cityscapes; they look like little snowglobes! Adding a countdown is a nice touch. There's a fun disco ball, and more.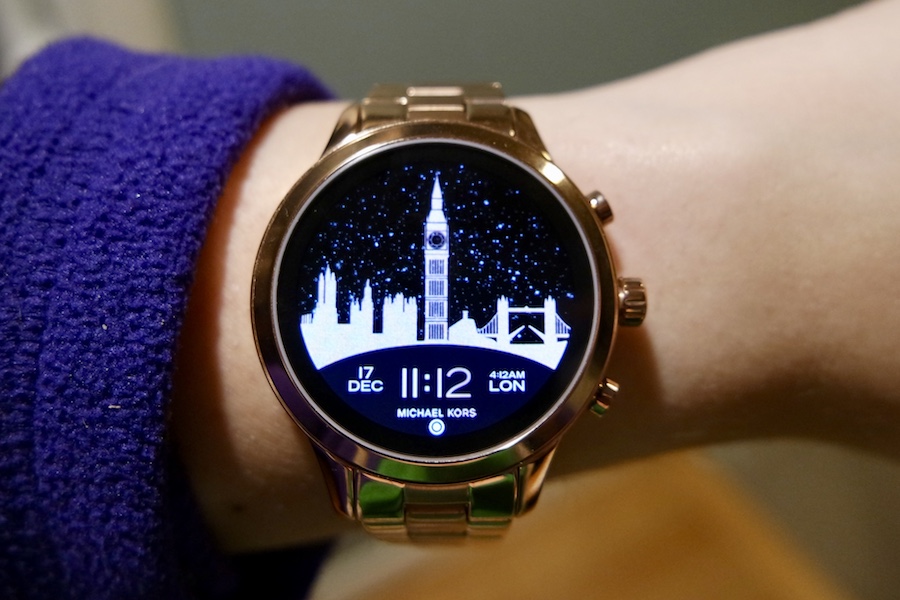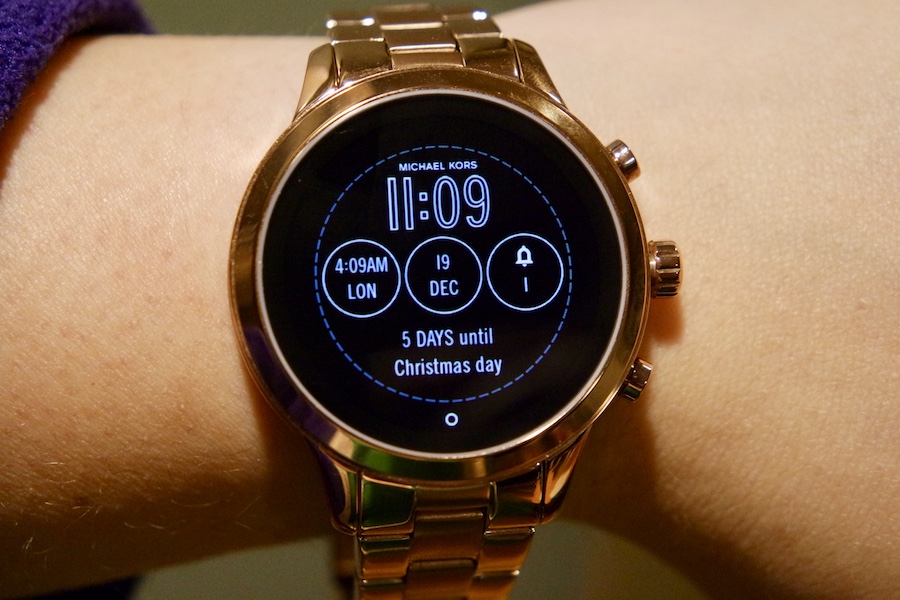 The rose gold-tone stainless steel bracelet easily (and securely) closes with a folding clasp. You can switch this out with a buckle-style closure that's included in the box, if you prefer. I find the watch very comfortable to wear! There are three buttons on the side of it to control the watch functions, and an optical heart rate monitor on the back. This particular style is also available in a gold finish, as pictured above.
FEATURES
Compatible with both iPhone iOS 9+ and AndroidOS 4.4+, the Michael Kors – Access Runway Smartwatch runs on the built-in Wear OS by Google?. After first taking the watch out of the box, I set it up in minutes and was getting all my important notifications right away! 'Smart replies' make it easy to respond quickly on the go, which allows me to get more done and maximize my time without having to constantly reach for my phone. That said, while I can receive notifications of new text messages, emails and calls, I cannot answer calls from the watch. Same for messages, because I have an iPhone. I've had several questions about this…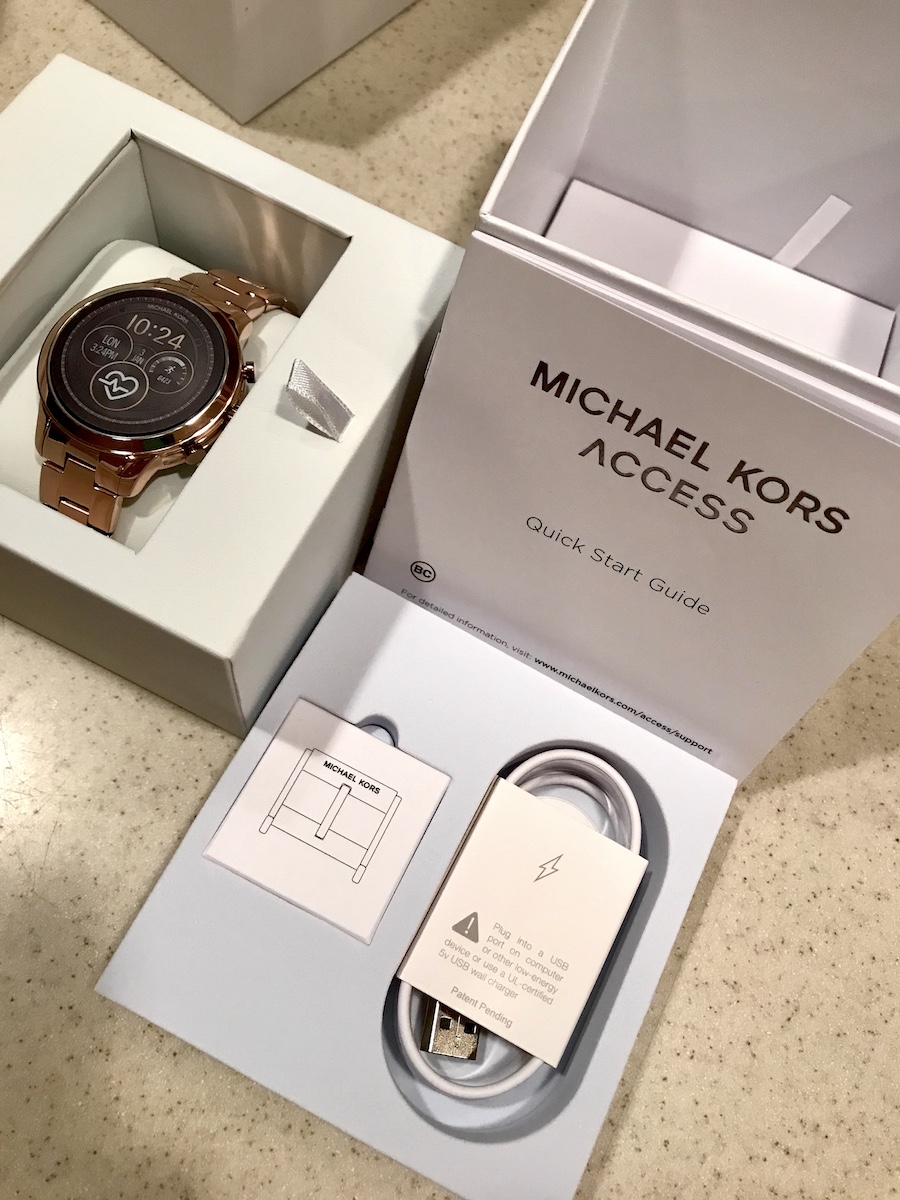 GOOGLE ASSISTANT
Proactive, personalized help from Google Assistant keeps me ahead of my day, even before I ask — from viewing upcoming flight info to dinner reservations.
GOOGLE PAY
It's so easy to use Google Pay to make payments through the watch! This way I can pay with a wave at almost anywhere that accepts credit cards, instead of having to dig through my purse. My watch gives me a little vibration to signal the payment has gone through.
FITNESS & ACTIVITY TRACKING
I want to make every minute matter and the Michael Kors – Access Runway Smartwatch allows me to get more out of my exercise routine from the convenience of my wrist. Smarter Health Coaching is a good motivation tool to stay active throughout the day, everyday, and Google Fit's two new activity trackers —Heart Points and Move Minutes— makes it easier to be healthy. Move Minutes are active minutes of physical activity and Heart Points are more intense activities done at a higher pace. There's also a basic step count.
My husband is more of a serious runner and wore the watch for a while, but he said the band didn't work out well for him, slipping and sliding up and down his wrist. I can see how this wouldn't be ideal for this purpose… so good thing there's the option of getting a silicone band, sold separately. Problem solved.
HEART RATE TRACKING
The watch uses Google Fit to pull in your heart rate continuously during a workout. While I can't attest to how accurate it is, this is a great feature to have as it also takes a reading every 20 minutes otherwise, to track overall fitness over time.
GPS
Built-in GPS allows the watch to track distance, pace, and lap times without needing a connection to your phone. This is a very nice feature since no one wants to take a big, bulky phone on a run!
BATTERY LIFE
The wireless charging battery should last around 24 hours, but this depends on usage, of course. I find that I have to charge it when I go to bed, but I also get lots of notifications throughout the day. The cool thing is it charges SUPER fast! Like up to 100% in about an hour.
By the way, I've also liked using the weather and translate apps, and the flashlight. They work really well and respond quickly.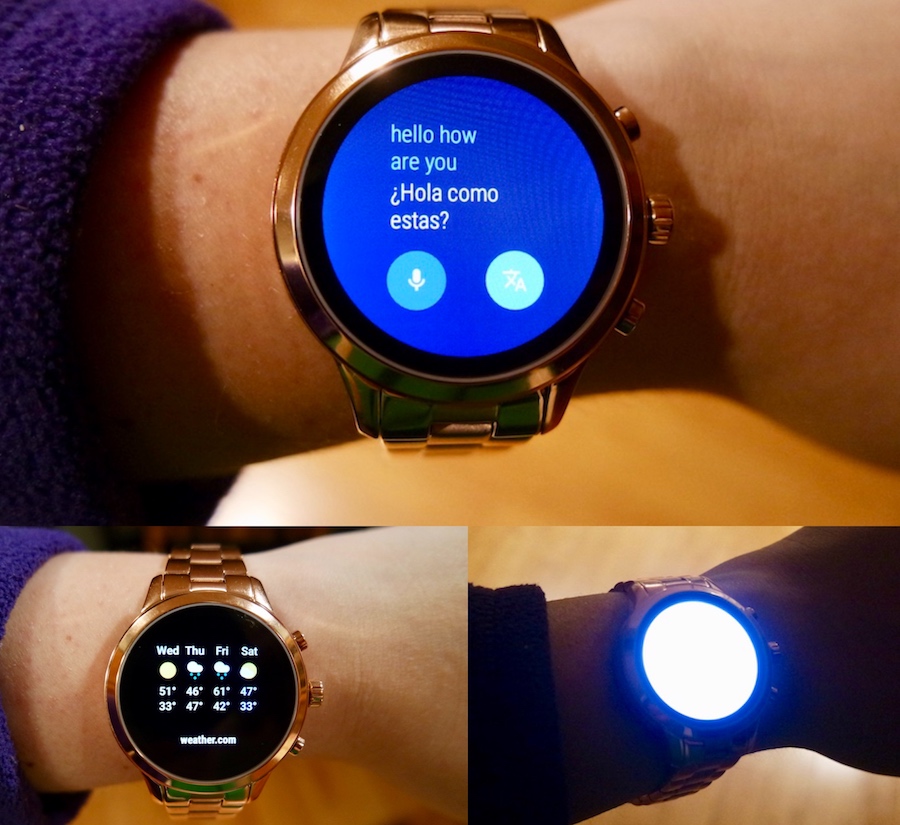 BUY IT!
While I'd likely have more functionality if I had an Android phone, I'm very happy with the understated elegance of the Michael Kors – Access Runway Smartwatch and how easily it paired with my iPhone. It's fashionable, great for everyday wear, handles all my important notifications and is just SO pretty to look at! It would make a great gift for someone wanting a smartwatch with a more sophisticated look and feel. Learn more about this watch and purchase it at bestbuy.com or at a Best Buy store near you.