Maya: "Mom, can we Skype?"
Me: "With who?"
Maya: "I dunno… who's on?"
That's a typical conversation at my house. My daughters are kind of obsessed with Skype, and so am I! It's the best way to keep in touch with family and friends far away. Video chat is my favorite feature of course, enabling me to chat with my family in Texas, cousins in Mexico, friends in Japan… you get the picture. Anyone, anywhere, at anytime. It's awesome. It's a service I've used for years, and it just keeps getting better! That's why I'm so excited to be a Skype ambassador. Over the next few months, I'll be sharing with you how you can "talk more, pay less" by using Skype to stay connected to your loved ones.
Speaking of loved ones… Mother's Day has come and gone… you didn't forget to call your mom, did you?! Well, it's not too late… I talk to my mom everyday!
Skype Features
With Skype, you can do so much more than video chat! Screen Sharing, for example. I just recently started using this feature, which allows you to share your screen with the person you're chatting with, so you can show them photos, a presentation, or help them troubleshoot a problem.
I think Skype is also the best way to make long distance calls! Now you can make practically unlimited calls to Russia and Mexico, and to landlines in Brazil with Skype's newest unlimited subscriptions, which offer you their lowest calling rates so you can reach friends and family anywhere. Unlike long distance landline plans, Skype's rates are the same day and night, seven days a week so you'll always know how much you're paying. Subscriptions are available to over 170 countries around the world, so it's likely you'll find one that works for you.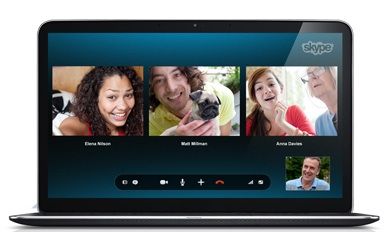 Skype also has this cool "Say it with Skype" app on their Facebook page, where you can send a group video greeting to a friend, making their day a little brighter. Personalize it by picking the occasion, and add music even. SO much better than a greeting card! If someone's birthday is coming up, for instance, you can create the card early and schedule it for delivery on their special day, just in case you're afraid that for some reason you'll forget to send it. It's almost like you're there in person. Visit www.facebook.com/skype and show your mom – or another loved one – just how much he or she means to you!
Disclosure: I'm participating in a campaign on behalf of Mom Central Consulting for Skype. I received Skype credits to facilitate my review and a promotional item to thank me for participating.