I always put a new toothbrush in my daughter's Christmas stocking. It's been a tradition since she was old enough to brush. My only problem this year is that I don't think I can top the toothbrush she already has! Maya uses the Tooth Tunes Junior, and LOVES it. I'm not sure if she'll be able to go back to a normal toothbrush ever again!
The Tooth Tunes Junior is especially designed for little hands and mouths. It plays one minute of preschool-friendly music, in our case "The Bear Necessities" from The Jungle Book. It also give encouragement with short motivational phrases here and there – as she begins to brush her teeth, in the middle of the cycle, and at the end to reward her for brushing.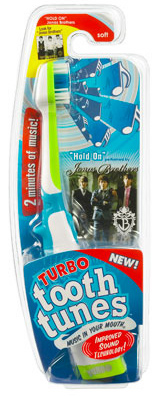 It's amazing how this works. It uses patented Denta-Mandibular Sound Transmission technology which transmits songs and music vibrations from the bristles, through the teeth, to the inner ear. And yes, you can really hear the music in your head. I had to try the toothbrush for myself. I didn't actually brush with it, but I did touch the bristles to my teeth. Amazing! It was like the music was suddenly amplified.
The Tooth Tunes Junior is for ages 3 and up, and retails for $9.99. The Turbo Tooth Tunes costs about the same, but is for ages 6 and up. What's the difference between the two? The Turbo Tooth Tunes plays two minutes of music – that's the amount of time generally recommended by dentists. The music selection is more varied, with everything from Miley Cyrus to Rihanna, and even Queen! You can find these on Amazon.com, at Wal-Mart, Toys 'R Us, you know – all the usual places you shop.
Here's your chance to WIN a Turbo Tooth Tunes toothbrush for your kid (or kid at heart) – leave me a comment telling me what you put in your family's stockings!
US entries only. Please leave a valid email address or blog URL in your comment. This contests ends at 11:59 pm EST on December 10th, 2008. Winners will be chosen via random.org, and have 48 hours to claim their prize.