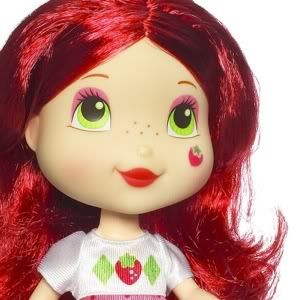 I'm all about avoiding candy on Valentine's Day, so I buy my daughters a card, a balloon, and a small toy instead. A Strawberry Shortcake doll would be a sweet alternative to candy, that while a great option anytime, would be extra special on Valentine's Day. After all, she may be tiny, but Strawberry Shortcake has a huge heart!
We've had Strawberry Shortcake Sweet Surprise for a few months now, and she still gets played with often. Though this doll is best for kids 3 and up, she's been officially adopted by my toddler, as her big sister tends to prefer the tiny 3-inch mini dolls and Berry Sweet Roadster instead. This lovely redhead is about 11 inches tall, and has the signature strawberry scent, flowing hair, and cute Strawberry Shortcake outfit.
The sweet surprise is that you can use a "magic" pen to reveal her eye shadow, lip color and berry beauty mark! Just fill the applicator with water, pop it in the freezer, and once it's cold, use it to "apply" the makeup. BUT I wouldn't buy this doll solely for the makeup feature, as you may be disappointed. The color-changing aspect works, just not as smoothly as I'd like. Since you have to actually remove the makeup using hot water first, the whole "makeover" process doesn't work as well as you see in the commercials, but very few toys actually do. Kids don't seem to care either way, from what I've noticed. Maya thought it was cool at first, but now only pulls the applicator out of the freezer when she wants to show the doll off to a friend.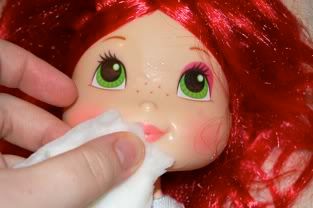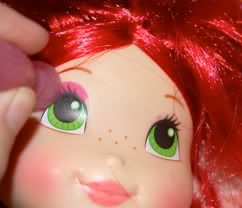 That said, this is a lovely doll. She smells yummy and comes with hair clips, extensions, and fun sticker accessories. She has poseable arms and legs, is lightweight, and fits well in MJ's hands. She especially loves brushing her bright red hair! I put away the makeup applicator and the hair clips, when she's playing with her, by the way, since they're small.
If you'd like to learn more about Strawberry Shortcake toys, be sure to read my previous post – "Strawberry Shortcake – which toy do I choose?"
BUY IT!
You can find Strawberry Shortcake Sweet Surprise at Kohl's, Walmart, Toys "R" Us, and Amazon.com for around $20.
WIN IT!
One of you will get to surprise a special little girl in your life with a Strawberry Shortcake Sweet Surprise doll of their very own! To enter, please leave a comment telling me what you're doing for your kids for Valentine's Day.
For extra entries:
Subscribe to my feed by feed reader or email (or let me know if you already do).
Follow me on Twitter (@OhMariana) and tweet about this giveaway (one time): Toy giveaway! Enter to win a Strawberry Shortcake Sweet Surprise doll from @ohMariana!

https://tiny.cc/berrysweet

Grab my button (at the bottom of the page) and link to me in your sidebar or blog roll.
Hasbro provided me with the doll pictured above for review late last year, as part of my holiday gift guide. Contest ends February 20th, 2010 11:59 pm EST, so obviously the winner won't receive their prize by Valentine's Day. Sorry about that. US entries only; one person per household. Leave a separate comment for each entry & a valid email address. Winner, chosen at random, has 3 days to claim prize.

Scroll down to the bottom of the page for a list of all my latest giveaways!