When I was a little girl, I would spend every summer in Mexico. Long, fun-filled days spent outside, playing with my cousins, helping out my grandpa at his farm, or swimming in the river. I enjoyed the gorgeous parks and hiking up the beautiful mountains. I'd go to the candy shop with just a few pesos in my pocket, and come home with a big bag of treats.
Now I'm sharing my summer memories with my girls. Yesterday, we drove from Texas to Monterrey, Mexico. I had brought Maya once before, when she was only 10 months old. She doesn't remember, of course, so it's like she's visiting for the first time.
It's been 5 years since I last came, but it feels like it was just yesterday. Everyone is so warm and welcoming, and you're always greeted with a hug and a kiss on the cheek. Last night, family came in and out to say hi, and we ate and talked for hours, then played cards until the wee hours. Hardly anyone wears a watch here… the slow-paced lifestyle is such a breath of fresh air!
The food… oh so good. I'm trying to stay away from the tortillas and sweet breads, but I can't keep from having a paleta or two! Paletas are ice pops made out of fresh fruit. For paletas de agua, or water ice pops, the fruit is blended with sugar. For paletas de leche, or milk ice pops, the fruit is blended with milk or cream. So many different paleta flavors to choose from! I can't get enough of the coconut, watermelon, pineapple, pecan, guava… paleteros, vendors, push little carts down the street throughout the summer, so I don't have to go far to find one.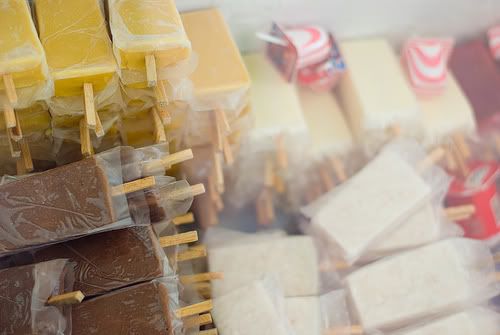 Speaking of Popsicles, earlier this week I picked up a box of Popsicle Dora the Explorer Slow Melt ice pops. I had heard people rave about these Slow Melt ice pops, but wasn't sure if it was just a gimmick, or if they really do melt slowly. I learned after reading the packaging and nutrition information, that the secret to the slow melting is a touch of gelatin! GENIUS! Hardly any drippiness. The pops come in fun shapes and 4 fruity flavors – Grape, Watermelon, Berry, and Orange. Lots of Vitamin C in each pop… 100% of the daily value in a two-pop serving, actually. The packaging comes in both English and Spanish, which is kind of cool. Orange! ¡La naranja! I'm going to keep these in the freezer for Maura, who can never seem to eat regular Popsicles without making a big mess! Plus, she happens to adore Dora. 🙂
Also, remember that Popsicle is giving kids the chance to win some awesome prizes this summer, with the Anything's Possible With Popsicle Sweepstakes. Three lucky families will get to dig for dinosaurs in Wyoming, swim with dolphins in Florida, or explore the universe by attending Space Camp in Alabama! To enter the contest, save your Popsicle sticks! Then go to Popsicle.com/possibilities and submit the riddle answer printed on your stick. The contest ends on September 30, 2010, but you can enter every day!
Disclosure: I'm a Popsicle Brand Ambassador! I wrote this post as part of a compensated Mom Bloggers Club member program, but all opinions are mine alone. Paletas photo courtesy of Dilan Halbrook.