I was challenged to take a Tech Timeout – a daily break from technology – at least an hour a day for 3 days. Doesn't sound so bad, right? My husband and I have an agreement when we go out to dinner together that our focus is on each other, not our phones, so this shouldn't be hard to do at home as a family, I thought…
This post is sponsored by Tech Timeout, but all opinions are my own.
While I try to limit their screen time, the girls do get a fair share of it. If it's not the iPad, it's the Kindle Fire, Nintendo 3DS, or computer time… and TV, of course! Nowadays, even basic activities like playing a board game or reading a book mean pulling out the iPad. The girls didn't quite get the tech timeout at first. "What?", asked Maura. "Is the power going to go out or something?" She thought this was my way of preparing to be cut off from technology because of a storm!
As silly as it may sound, during our tech timeout we had to learn to find things to do that didn't involve screen time.
Saturday
The first night we caught up on reading. We usually read together for 20 minutes each evening, so this was a bit of a challenge for me, especially. I probably read 15 books to Maura, almost losing my voice. But she LOVED it! "Read one more, mama!" she pleaded. I forgot to turn off the sound on the girls' iPad, and when Maya heard the 'ping', alerting her to an iMessage, she had a hard time restraining herself from running upstairs to look for it, and I could tell she wasn't quite focused on her book after that.
Sunday
Our tech time out started after dinner, and we decided to take a walk, then with our remaining time, get the girls' lunches ready for school on Monday. Having 4 extra hands didn't make things go any faster, but it was fun! We cut out cute shapes out of cheese, wrote sweet notes to each other, and I managed to make hard-boiled eggs without completely overcooking them, as I so often do when I'm distracted by the TV. Shutting off all devices an hour before bedtime made the whole process so much easier! The girls just seemed more relaxed when they went to bed.
Monday
Maura's afternoon routine when she comes home from school is to either watch an episode of Lalaloopsy on TV, or play with the iPad for half an hour. It's her way of winding down. Boy, was she shocked when I told her about the tech time out that afternoon! She thought were were "done with that". Maya dropped her backpack in the front yard, and jumped on her bike. No problem there. Maura and I ended up picking tomatoes from our garden. Tiny grape ones, so that entertained her for a good long while. This is something I usually do myself, so it was nice to have a little helper!
Good news – I haven't pulled out the girls' iPad from its hiding place since last Saturday. Almost a WHOLE week! And they haven't missed it. Ultimately, I don't think they would have even noticed the tech timeout if I hadn't announced it! Maya can easily play outside for an hour. Maura can sit and draw for an hour. But when I told them we were taking a break from screen time, they of course want what they can't have!
I figured this challenge would probably be hardest for ME. I'm the one that always has my iPhone within reach, the iPad on the kitchen counter, the TV playing in the background, and my MacBook on the couch. The funny thing is that I actually enjoyed the time out. Not just because it allowed me to spend some quality time with my family, but because I think I need that time each day to disconnect. Getting my husband involved was probably the hardest part. When he's at home, if he's not on his computer, he's watching TV. That's something we have to work on! Here are some ideas of things you can do as a family without technology: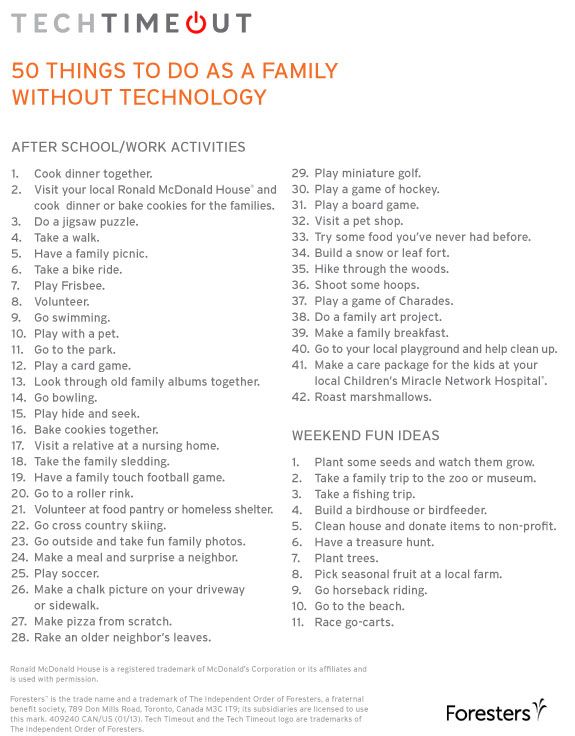 YOUR TURN: Could your family use a tech timeout? Take the pledge now!