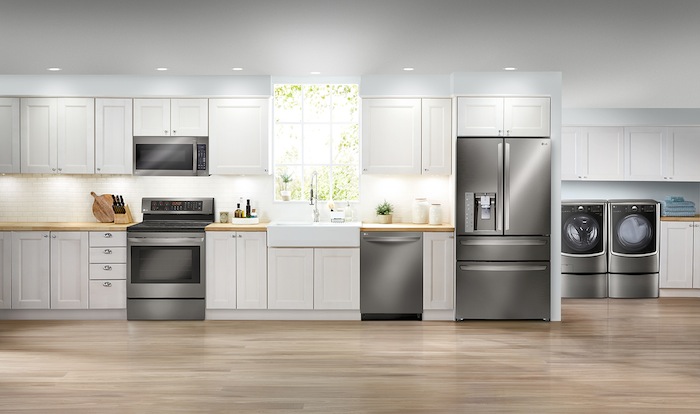 The reviewer has been compensated in the form of a Best Buy gift card
and/or received the product/service at a reduced price or for free.
Do you have an ENERGY STAR certified washer and dryer? If not, it's definitely something you should consider, and not only because it's Earth Day! Energy and water efficient appliances will save you time and money AND help reduce your environmental impact. We want to leave the earth a better place than we found it… I know I do!
Did you know…
ENERGY STAR certified washers:
• Use less energy. In fact, on average, a new ENERGY STAR certified clothes washer uses 280 KWh of electricity, which can save you up to $40 a year on your utility bills compared to a standard model.
• Use less water. A full-sized ENERGY STAR certified clothes washer uses 13 gallons of water per load, compared to the 23 gallons used by a standard machine. That's a savings of more than 3,000 gallons of water, per year!
• Can save you money. Is your washer over 10 years old? If so, this could be costing you, on average $180 a year. Washers built before 2003 are significantly less efficient than newer models! I can tell you this from experience – our water bill went down once we got a new washer!
ENERGY STAR certified dryers:
• Use 20% less energy than conventional models without sacrificing features or performance.
• Use sensor drying, not timed drying, which will help you reduce your dryer's energy use. Advanced moisture sensors ensure that your dryer will automatically shut off when clothes are dry. This is so cool!
• Have a low heat setting. This conserves energy because longer drying cycles on a low heat setting use less energy.
• Are available in gas. While 80% of dryers in the US are electric at this time, consider using a gas dryer if you have the option, both to save money and reduce your environmental impact.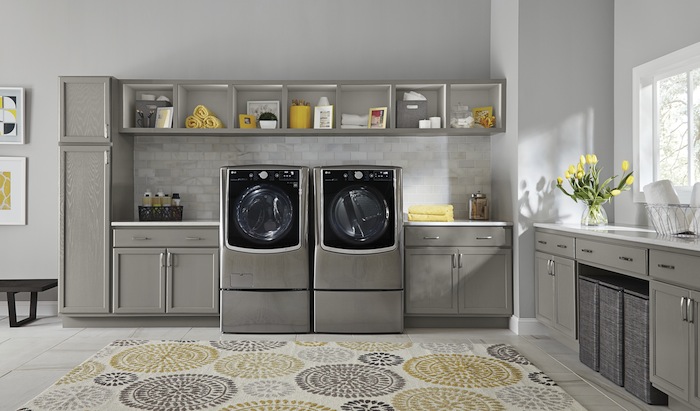 The LG Twin Washer and SideKick, available at Best Buy, are a beautiful pair. This set is all about efficiency! We all want to get more clothes clean in less time, and the LG Twin Washer and SideKick let you do just that – even two loads at once! With a combined capacity of up to 6.6 cu. ft. and an ergonomically elevated and angled door that makes loading and unloading easier, you'll have more time for all the other things you'd rather be doing!
The SideKick is a really unique system that I haven't seen from any other brand. The cool thing about it is that it allows you to wash smaller loads without having to waste water by using the main unit. Genius! It can pair with almost any LG front load unit, so might even be able to add it on to an LG washer you already own. With the SideKick, you can tackle two loads of laundry — both large and small — at the same time. It also acts as a pedestal, raising your front-loading washer to a comfortable height that matches the pedestal beneath the LG dryer. This is perfect for washing delicates, hand washables, and workout wear that needs special care. Or for those last minute requests from your kids – "I need my soccer uniform TODAY!!"
Special offer! Right now at Best Buy you can get 18 months major appliance financing or 10% rewards (increased from 5 to 10% for April!) and 10% back in grocery purchases. Plus the usual free delivery on purchases $399+. Best Buy has the latest in energy and water efficient appliances, like the LG Twin Wash and Sidekick Laundry Pair pictured above, which will help you save time and money at home. There's no sense in throwing money down the drain! Visit the Earth Day landing page and the LG products page to learn more.
Are your appliances ENERGY STAR certified?