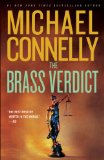 The Brass Verdict, that is – and I'm hooked! Michael Connelly's latest work is the kind of book that you start reading and can't put down. This is his 20th novel, and I'm ashamed to say the first I've read by him. It's a combination of my two favorite genres – a legal thriller and a mystery all in one.
Connelly brings together, for the first time, his two most popular characters from previous novels  – detective Harry Bosch and attorney Mickey Haller – which in itself is a risky act, but he does it flawlessly. Haller narrates, and is story really is captivating. You can sense the fear in his voice when he realizes there may be a possible hit out on him, and you sympathize with him when he's feeling alienated after his recent divorce. What I regret is not reading The Lincoln Lawyer first to learn more about his character.
I still have about a quarter of the book left to read so I couldn't give away the ending even if I tried, but I hear there's a surprising twist – and now you have a chance to read it along with me!
This giveaway is CLOSED!
The publisher, Little, Brown and Company, is giving three of my readers a copy of The Brass Verdict. All you have to do to enter is leave a comment on this post. You MUST include an email address!
There are a few ways to get some extra entries:
Sign up for my feed (or let me know if you already do).
Blog about the contest and link back to this post.
Grab my button and link to me in your sidebar or blog roll.
Please submit a separate comment for each task that you complete. I'll announce the winners at 10pm (EST) next Saturday night  – October 25th. All books will be sent directly from the publisher. If you just can't wait to see if you won to read the book, you can find it at your local bookstore or Amazon.com. It just came out this week.
Good luck! Be sure to check out Michael Connelly's official website to see if he'll be doing a reading in your area anytime soon.