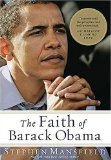 At this time next week, we're (hopefully) going to know who our next President will be. Whether you're still undecided or already have your heart set on who you're voting for, it seems especially important at this moment to learn as much about the Presidential candidates as we possibly can.
The Faith of Barack Obama, by Stephen Mansfield, is a short book, at only 140-or-so pages, and an easy read. Stephen Mansfield has been open about not voting for Obama, but you can't tell this from his writing. I found it to be unbiased, very well-researched, and not overly political at all. He provides the reader with a concise, yet informative introduction to Obama, and the position that faith holds in his life.
Starting with the chronology on the first page, this book is full of facts about Obama's life – everything from his childhood in Hawaii and Indonesia, to his years at Trinity United Church, and his work as a community organizer in Chicago. All factors that influenced his faith and shape his current political views.
My favorite part of the book is Chapter 5 – Four Faces of Faith – where Mansfield compares the religious beliefs of John McCain, Hillary Clinton, and George Bush, with what he's said in previous chapters about Barack Obama. The comparisons are quite perceptive, yet fair-minded, with a unique outlook on these important political figures that I've never encountered anywhere else.
Regardless of who you're voting for next Tuesday, The Faith of Barack Obama is a must-read book to understand the background of the man who may be our next President.
You can find it for sale on Amazon.com
.