Did you know that more than half of adult Americans have some form of gum disease? Oral disease is also the most common chronic childhood illness in the U.S., making it essential to form healthy oral care habits from an early age.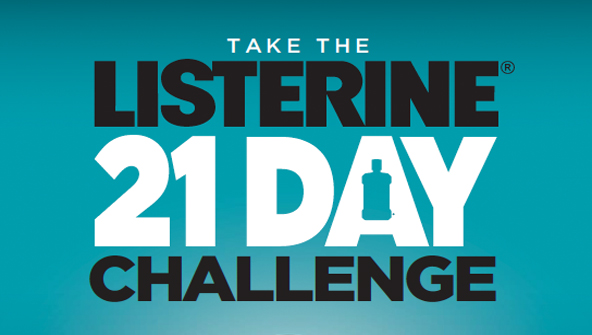 I received LISTERINE® Brand products and a Walgreens gift card from Johnson & Johnson Healthcare Products Division of McNEIL-PPC, Inc. and The Motherhood as part of my participation in the LISTERINE® 21-Day Challenge. All thoughts and opinions expressed in this post are my own.
I'm trying to set a positive example for my kids in every way, so to get them to establish healthy habits – like adopting a complete oral care routine – it has to start with me! This is why I've signed up for the third annual LISTERINE® 21-Day Challenge. It aims to improve oral health nationwide by encouraging Americans to commit, and stick to, a twice daily rinsing routine.
While brushing misses 75% of your mouth, rinsing with an antiseptic mouthwash each morning and night reaches virtually all of your mouth. LISTERINE® Brand has the right products for the whole family—whether your priority is teeth whitening or ensuring that your child's teeth are protected from cavities!
This year, LISTERINE® also wants to take your healthy habits beyond the sink with tips and tricks to help you reach and stick with all of your 2015 healthy habit goals! The brand has partnered with experts in the fields of life coaching, fitness, nutrition and home organization to offer you guidance on forming healthy habits that can positively influence your life.
Sign up to participate in the challenge at Listerine.com/21DayChallenge. You'll commit to rinsing for 21 days and can choose an expert to help you attain your life, fitness, nutrition or organization goals (I chose fitness because I really need help in that area!) Each day you'll receive personalized emails with insightful information, video content and general support to keep you motivated. By signing up for the challenge and sticking with your rinsing routine, you'll have a daily opportunity to instantly win exciting prizes, including a Fitbit®, a $100 Container Store® Gift Card or an Amazon Fire TV! For every seven consecutive days you swish, you'll be entered into one of the sweepstakes drawings for a grand prize.
So join me in taking control of your oral health – accept the challenge and help your whole family establish a complete oral care routine of brushing, flossing and rinsing twice a day! Are you in? To complete your own 21-Day Challenge with your family, sign up here and be sure to stop by your local Walgreens to purchase these products (and more!)