Martin Luther King, Jr. delivered his famous "I Have a Dream" speech on this very day 48 years ago. August 28th, 1963. The Martin Luther King, Jr. National Memorial was supposed to officially open to the public today, with a big dedication ceremony that has unfortunately been postponed due to Hurricane Irene. The memorial has already been open for a week, however. I took the girls to see it on Thursday evening.  Like most kids, Maya had heard of Dr. King – even knowing that he was assassinated on a hotel balcony – but had no idea about the significance of his contributions to America and the world.
A little background on the memorial
15 years ago, in September of 1996, the U.S. House of Representatives passed a resolution to establish a memorial in Washington, DC to honor Dr. Martin Luther King, Jr. The Senate followed, and almost two years later, President Clinton signed a Joint Congressional Resolution authorizing the building of a memorial. The purpose of this memorial being to commemorate the life and work of Dr. King by creating a monument to honor his national and international contributions to world peace through non-violent social change. It's the first memorial in Washington, DC dedicated to a person of color, as well as the only national memorial dedicated to Dr. King's enduring principles of justice, democracy, hope and love.
Location
The location for the memorial was approved in December 1999. 1964 Independence Ave, SW, Washington, DC 20024, is its official address. The street number is a reference to the Civil Rights Act of 1964, a huge milestone in which Dr. King played an important role. Along the Tidal Basin, adjacent to the FDR Memorial and in between the Lincoln and Jefferson Memorials, it's a wonderful spot. DC's famous cherry blossom trees adorn the four-acre plot. In fact, the King Memorial has added 182 cherry blossoms to the Tidal Basin's collection. It'll really be something when the blossoms are in bloom next spring. Interestingly, the peak blooming period for the cherry blossoms almost always coincides with the anniversary of Dr. King's assassination, April 4th!
Getting there is easy, but as for many of the memorials in the nation's capital, you'll have to do some walking. The nearest Metro stop, Smithsonian Station, is .8 miles away, with Farragut West and North, L'Enfant Plaza, Federal Triangle, McPherson Square, and Arlington Cemetery being other options. You could drive there, but finding parking in the area is unpredictable. There's a small lot near the Tidal Basin which is often at capacity… or closed. I didn't see any visible drop-off points for cars or taxis, either. But I wasn't really looking. The walk there is lovely!
Features
The Sculpture
The first thing you see, walking in from Independence Ave, is two huge stones, parted, with a piece missing. What was once a huge boulder, this is called the Mountain of Despair.
Walk through here and you'll see the missing stone, the Stone of Hope, which looks to have been pushed forward. Moving toward it, slowly Dr. King's image emerges, looking over the Tidal Basin at the horizon. The centerpiece of the Memorial, the Stone of Hope features a 30-foot likeness of Dr. King. It's done in a very contemporary style, different than the statues of Lincoln and Jefferson.
One one side of the stone, are inscribed the words "Out of the mountain of despair a stone of hope," from King's famed 1963 speech. On the other side, "I was a drum major for justice, peace and righteousness", a statement that Dr. King himself suggested when someone asked him how he would like to be remembered.
Inscription Wall
Here, on a 450-foot crescent-shaped granite wall, 14 of Dr. King's most notable quotes are engraved. Not in any particular order, though, so you can start reading from any location. The quotes are those which are most representative of Dr. King's messages of Justice, Democracy, Hope and Love. Surprisingly, none of them are from King's "I Have a Dream" speech! While this is the most well-known of his speeches, it's but one of the hundreds he delivered, and the entire memorial itself was inspired by words from this speech.
Signature of Master Sculptor Lei Yixin, Sculptor of Record

The Jefferson Memorial, as seen from the Stone of Hope

If you live in or near Washington, DC, take an afternoon off and take your family to see the Martin Luther King, Jr. National Memorial! It's definitely a quiet and peaceful space, but so powerful and inspirational. A catalyst for important conversations.
For those of you too far away, take a 'virtual tour'. It's worth it.

There's a neat EarthCam that takes photos every 10 minutes throughout the day (I think it was shut off because of the hurricane this morning, so if it doesn't update, try again later!) Can you find us in the screenshot below? Hint: White umbrella.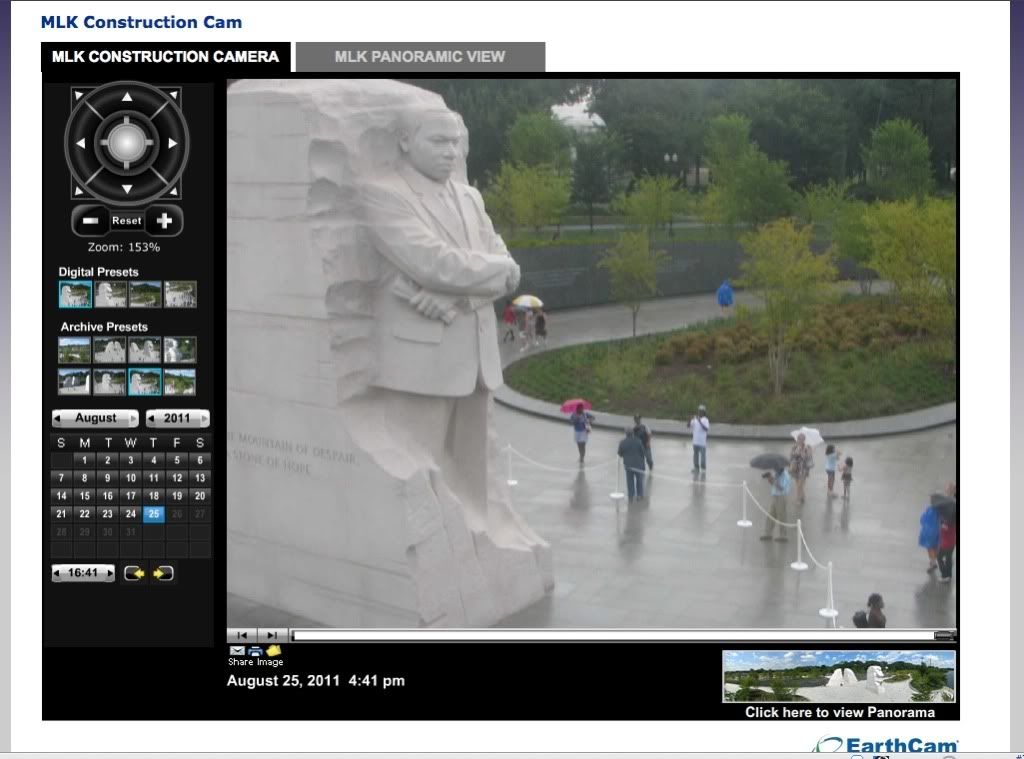 Did you do any sightseeing recently? Leave a link in a comment!
There are so many places all over the U.S. that I'd love to visit…
This way we can at least do so virtually!