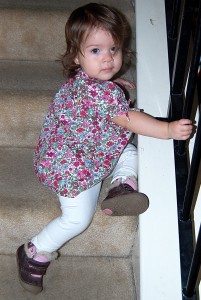 I discovered Stride Rite shoes shortly after my second daughter was born, and we've been loyal customers since. Last winter Maura lived in these comfy boots, pictured to the right. In fact, she took her first steps in those shoes! I was so sad when she outgrew them. 🙁
Stride Rite is helping all little ones have the most successful first steps possible by introducing the Sensory Response Touch shoes. According to the Stride Rite website, these shoes could reduce "the number of stumbles and falls while promoting a healthy lifelong walking pattern." This is accomplished through sensory pods in the sole, more natural support in the midfoot area, and freedom of movement through flexibility of design. Sounds good, doesn't it? Visit Stride Rite's website and Facebook page to learn more.
Stride Rite will be sending a pair of SRT shoes from for my toddler soon, and I'll be sure to let you know what I think. For now, why don't you try winning a pair for your child?
To enter, please fill out this entry form. 5 winners will be chosen to receive (1) pair of SRT shoes, available in sizes 3 to 8 infant/toddler (including medium & wide). Each pair has a retail value of $50.
Feel free to leave a comment on this post telling me about your child's first steps but do note that this won't be considered an entry. You have to fill out the form to be officially entered.
Contest prizes and my sample pair of Stride Rite shoes provided thanks to a partnership between Momfluence and Stride Rite. This contest is open to legal US residents 18 years or older.  The giveaway begins at 12:00 a.m. ET September 14th and ends at 11:59 p.m. ET September 28th.