This winter has been especially tough for us cold-wise. And no, I don't mean temperature. It's no secret that colds and flu are becoming more and more common and harder to ward off! That's why it's so important to take extra measures to prevent sickness and exposure to harmful viruses by sanitizing our environment as much as possible. One way to do this is with ultraviolet light. I'm sure you've seen this method used at the dentist or hair salon. With the Pocket Purifier, you have the power to deactivate the DNA of bacteria, viruses and other pathogens, destroying their ability to multiply, all in the palm of your hand!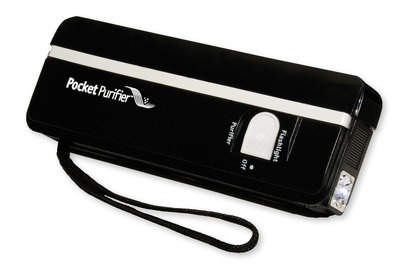 You can use this device to sanitize door knobs, faucets, kitchen utensils, telephones, remote controls, nail clippers, scissors, small toys, pacifiers, cribs, strollers… just about any everyday item. Why do you need one? It's simple – germs are everywhere! Just think about it… how often do you clean your telephone, compared to your toilet? Phones have more than 25,000 germs per square inch, and toilet seats a mere 49. Considering how often you use your phone throughout the day, that's pretty shocking!
Using the Pocket Purifier is easy and completely safe. The specially designed UV-Lid helps avoid any harm of ultraviolet light to your eyes and skin. You must first install the 4 'AA' batteries (not included). Then, to use the germicidal UV-C light for deactivating and killing germs, you just have to slide the switch on the Pocket Purifier to "Purifier" and aim the light towards the area you want to purify. You do this for 10 to 15 seconds, and that's it!
For larger items, you can place the Pocket Purifier in a small enclosed area, like a box or a cabinet, with the objects to be purified and leave it for 10 to 15 minutes. The Pocket Purifier has a flip stand so that you can position it properly. Another handy feature is the Flashlight Mode, which is activated by an On/Off switch.
Because it's battery-powered, the Pocket Purifier is totally portable! It's about 6 inches long and weighs maybe 8 ounces with batteries, so you can just throw it in your purse or diaper bag. That's why it's great to have two – one for home and another for when you're out and about. You can buy a 2-pack for $49.95, in your choice of pink or black, and shipping is free. That's a savings of $26! Otherwise it costs $29.95. Check out Purely Products for more information.
Purely Products has provided me with an extra Pocket Purifier for one of my readers! Just visit the company's website, read about the Pocket Purifier and why you need one, and leave a comment here telling me a fact you learned.
Please leave a separate comment for each entry and leave a valid email address or blog URL in your comment. US entries only. This contest ends at 11:59 pm EST on February 28th, 2009. Winner will be chosen at random, and has 48 hours to claim their prize.