This is a sponsored post in partnership with The Motherhood.
George H. W. Bush. Michael J. Fox. Neil Diamond. Linda Ronstadt. Jesse Jackson. These are just a few of the public faces of Parkinson's disease. But so many of us have a personal connection to the disorder… a parent, grandparent, a friend that has it, or know a care partner to a person living with Parkinson's.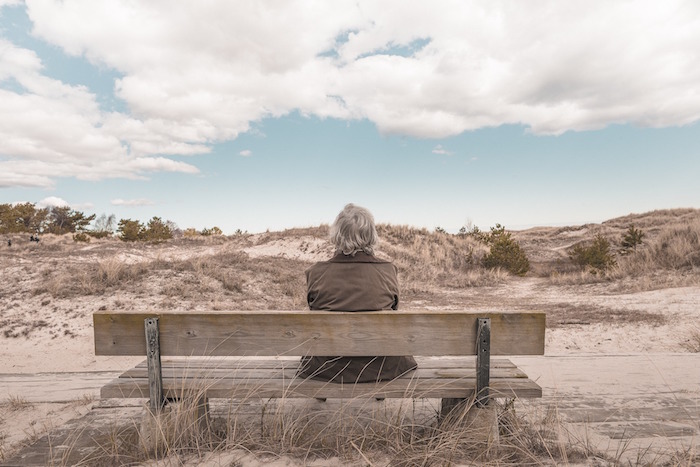 I have a neighbor that has had the tremors that Parkinson's is known for for as long as I can remember, but it's just been in the past couple of years that her condition has really deteriorated. Parkinson's is slow to progress, but I see her independence slipping away, and it's heartbreaking. Everyday tasks are incredibly hard for her now. Her balance is not all there, and her muscles have lost much of their former strength, so she has trouble staying on her feet much of the time. Once so independent, she fell a while back when she was home alone and never quite recovered her vigor, so she's now in assisted living.
But did you know that Parkinson's disease is more than motor?
Like me, you may be aware of the symptoms associated with the disease, like resting tremors and loss of balance, but more than half of people living with Parkinson's will experience a lesser known aspect of the disease—hallucinations and delusions. I was surprised to learn about this and just assumed the non-movement symptoms were signs of something else!
Understanding Parkinson's disease hallucinations and delusions is vital and should not be ignored for a number of reasons, including:
Worsening of symptoms. It may get harder for the people who experience hallucinations and delusions related to Parkinson's to identify whether or not what they're experiencing is real.
Changes at home. Hallucinations and delusions can increase the distress of people with Parkinson's and the people who care for them. It also increases the chances of nursing home placement.
The thing is, people often don't tell their Parkinson's specialist about their symptoms, which can make them a challenge to diagnose. This could be because people with Parkinson's or their care partners are possibly embarrassed by reporting hallucinations or delusions or may not even realize they are even part of the disease. It's so important to be informed about these symptoms and learn what to look for…
HALLUCINATIONS can cause people to see, hear, or experience things that aren't real. For example, people with Parkinson's commonly report seeing groups of people or animals that in actuality are not there. As hallucinations become more frequent, people with Parkinson's may become unable to distinguish between what's real and what's imagined and react to their hallucinations.
DELUSIONS are false beliefs not supported by evidence, and in people with Parkinson's, delusions often have paranoid themes. For example, a person with Parkinson's might make accusations about their spouse or someone else trying to access their bank account or even believe a longtime spouse is committing adultery.
Hallucinations and delusions are very common. A new survey released by the PMDAlliance about the impact of non-movement symptoms associated with Parkinson's disease found that 90% of respondents (people with Parkinson's or their care partners) reported that they or their loved one with Parkinson's experienced non-movement symptoms associated with the disease, with most agreeing (84%) that these symptoms had a negative impact on their quality of life, affecting their ability to socialize, plan for the future, or even be intimate with a spouse, etc.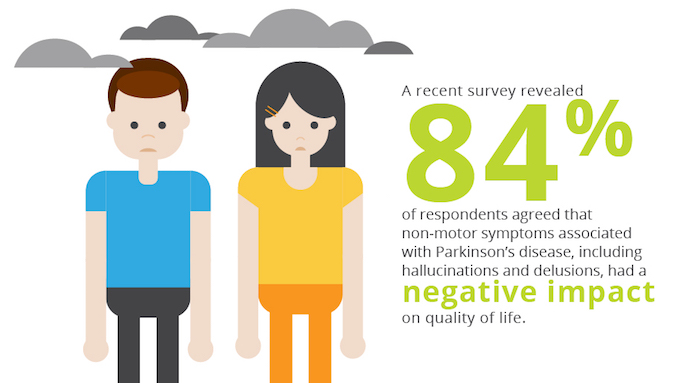 If you or someone you care for is experiencing these symptoms, you are not alone and you may be able to get help. Talk to a Parkinson's specialist to learn more about available treatment options, such as an FDA-approved medication indicated for the treatment of hallucinations and delusions associated with Parkinson's disease. Visit MoretoParkinsons.com to learn more.