I don't know about yours, but believe it or not, my kids prefer non-candy treats on Halloween! This may be because even if they get a big haul, I only let them keep a few pieces of candy, so it's just not such a big deal to them, you know? They loved the pencils, mini Play-Doh, crayon packs, snack-size pretzels, vampire teeth, and other little surprises that they found in their treat bags this year, however.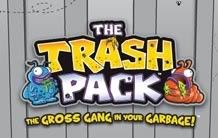 One of those surprises was The Trash Pack! In addition to candy and glow-sticks, this Halloween we also passed these fun toys out to trick-or-treaters in our neighborhood. The girls were the first to stick their hands in the treat bowl – of course – as they walked out the door, and they totally approved, as they were able to add a new character to their existing collections.
The Trash Pack is a garbage-themed line of toys for kids created by Moose Toys, an Australian toy company. Named after all the delights you might toss in a trash can, you'll find a Soggy Tomato, Smelly Sock, Germ Worm, Scum Gum, Stale Bread, Sour Snail, Putrid Pizza, and much more!
While my kids have the most fun just playing with them, the figures also double as pencil toppers and have a collectible component. The girls don't really get this part yet, but each Trashie figure comes in three different colors and is awarded a special status common, rare, ultra rare, special edition or exclusive Trashie depending on its collectability and how easy it is to find. Collect enough Trashies and you can play games with them – Take out the Trash, Stack the Trash, and more. You've probably seen other similar toys on the market, but what makes these stand out is the unique garbage theme and the fact that they come in their very own little trash can! And this is a durable trash can, I might add. Not one of those cheap plastic balls that breaks almost instantly after opening!
We were first introduced to 'The Gross Gang in your garbage' at the Time to Play Holiday Showcase in New York in late September. The girls were instantly drawn to these toys! I remember hanging out at that booth for a while. We may have even closed it down at the end of the day…
Later that afternoon, coincidentally, we saw a fantastic Trash Pack display at the wonderful Toys "R" Us in Times Square! The line is sold exclusively at Toys "R" Us stores and online at Toysrus.com, and I do recommend getting them there and doing so soon. Other sites (like Amazon.com) hike the price of these toys way up.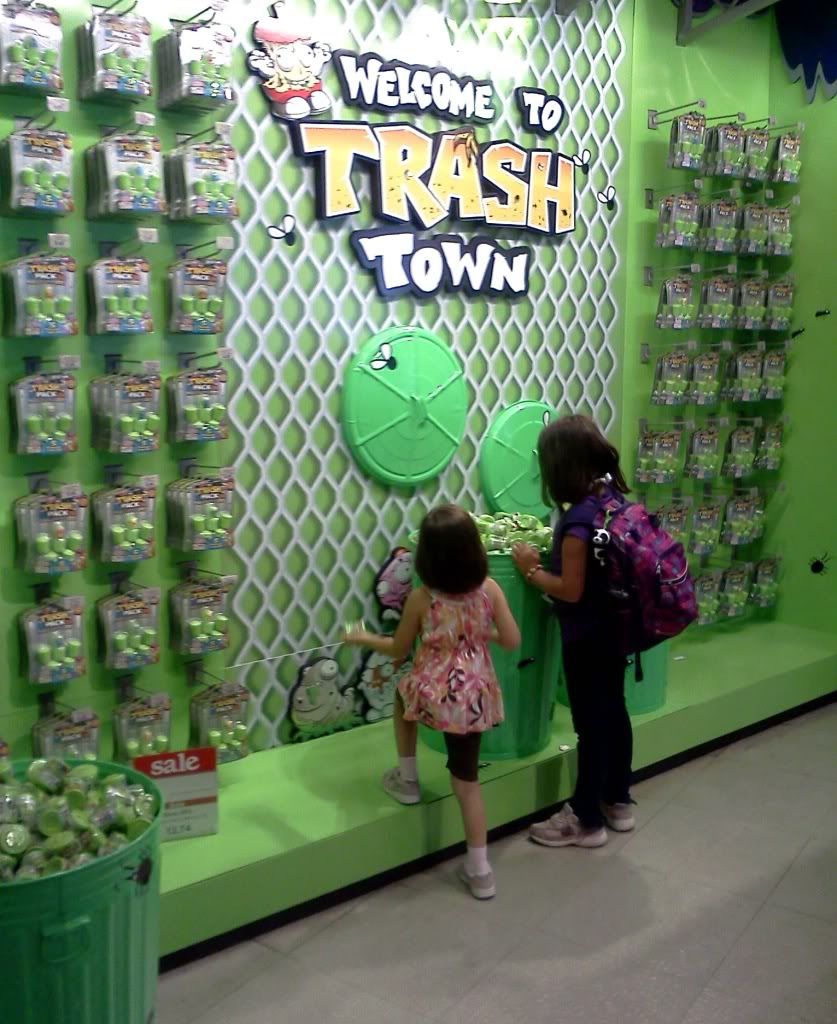 I've discovered that both boys and girls alike seem to love these squishy little toys. Some kids' eyes immediately lit up when they saw the pack going in their Halloween treat bags. "The Trash Packkk!" they exclaimed with delight. That reaction surprised me a bit, as this line is fairly new. From talking to them about it, it turns out that those toy commercials on TV really work. They may not actually have owned any of the toys (yet), but so many more kids were familiar with The Trash Pack than I expected!
A couple of moms have mentioned to me just in the past couple of days how much their kids loved The Trash Pack toys we gave them. It's a nice feeling. Two little boys in particular, ages 7 and 8, are already writing out their Christmas wish lists, using The Trash Pack Collector's Booklet that comes in each pack as a checklist. With over 100 figures available, I can imagine just how long that list is! 😉
Maura was so excited to see that her BFF got a matching Trashie!

They discussed which ones they already have, which ones they want (all the yucky food!), and which are "way too gross" (the whole Bin-Sect category, apparently.)

BUY IT
The Trash Pack is for kids 5 years and up! As you can see, these are really small so you want to keep them away from little ones, who might think they're candy. Available at Toys "R" Us, you can find a variety of different packs, from small, two-packs perfect for stocking stuffers, to bigger 5- and 12-packs. If you're looking for something for kids to play with, the garbage truck is awesome, as is the big trash can to store all the Trashies in! Visit www.trashpack.com for more information, and be sure to follow The Trash Pack on Facebook for news and contests!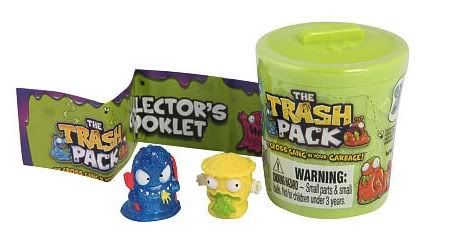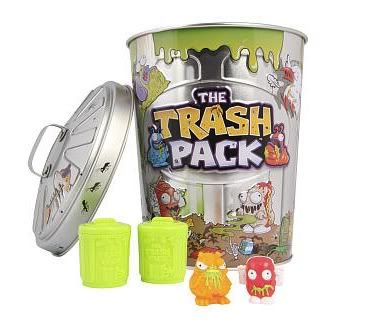 Disclosure: We picked up some samples of The Trash Pack at a toy showcase, and were sent more to give out on Halloween.