It's that time of year again! If you're anything like me, you're scrambling to get a great family photo that you can use for your holiday cards. Time is running out! Here are some tips that I follow.
Coordinate clothing. Somewhat! I love bright colors (red!) for the holidays, and muted colors for more relaxed family photos throughout the year.
If the background is important, pick a different location every year. A place that has meaning to you at that particular time in your life. If you want something more generic looking so that the subjects are the true focus (like at a photo studio), try hanging a bed sheet behind you. If you get a bit of a blur in your photos, you can't even tell what it is.
Time it right. I prefer taking photos in the morning when my girls still look decent (faces are clean and hair combed) and are full of energy. In a good way. Late afternoon is also a good time, when the sun is starting to set. The lighting is perfect. Speaking of…
Check the lighting. Whether we're inside or out, I always take a couple of test shots to see if the lighting works. I prefer taking photos outdoors because flash doesn't seem very flattering to me.
There's nothing wrong with bribing. I admit I offer my kids a treat in exchange for a smile. It almost always works, what can I say!
Let the kids have a say. They may come up with a really creative idea for a unique photo!
Eye contact with the photographer isn't necessary. Sometimes the sweetest photos are when the subjects are looking at each other!
Don't strive for perfection. If you can't get one good family photo, why not try a collage? There are all kinds of neat collage templates these days. I've also taken separate photos of my daughters and put them together using Photoshop. If you have a plain background, it's easier than it sounds!
This is just what comes to mind at the moment. I'm sure as my kids grow older and change their ways, my advice will as well. One thing I do do every year (do do. Haha!) is make photo books out of all the extra photos we take when attempting to capture that perfect shot for our holiday card. These "outtakes" are always awesome and make for some really great memories. YOUR TURN: Do you have any tips on taking a great family photo?
Family Photo Days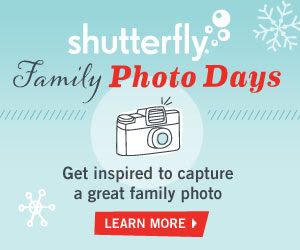 Shutterfly knows that one of the biggest barriers to creating personalized holiday cards is not having the right picture. Sometimes you end up going with a photo that you're just not very happy with! This is why Shutterfly is hosting "Family Photo Days" throughout the month of November. The activities on these days might inspire you to take and create a family photo… hopefully early enough so you can get it into a beautiful online holiday card! Activities include a digital toolkit posted online, house parties, meetups, blogger involvement, Facebook fun, and photo contests.
Disclosure: This post was written as part of a Global Influence campaign for Shutterfly. I'll receive free holiday cards as a thank you for sharing my story!