When September comes and school starts, I'm all about convenience! As a work-at-home mom, I take full advantage of every minute I have to work, so I can spend as much time with my kids as possible once they're awake, and again when they get off the school bus in the afternoon. This means my morning starts before the sun comes up. I tiptoe down the stairs and into the kitchen to make myself a cup of coffee, then take it into my office, where I sit down and open up my laptop. Breakfast has to be something quick. If I can drink it at my desk or while I take my dog out for her morning walk, that's a plus. If it's already made, even better! When I don't have to slow down for preparation, clean up, and eating, this adds up to a LOT of saved time over the course of the week.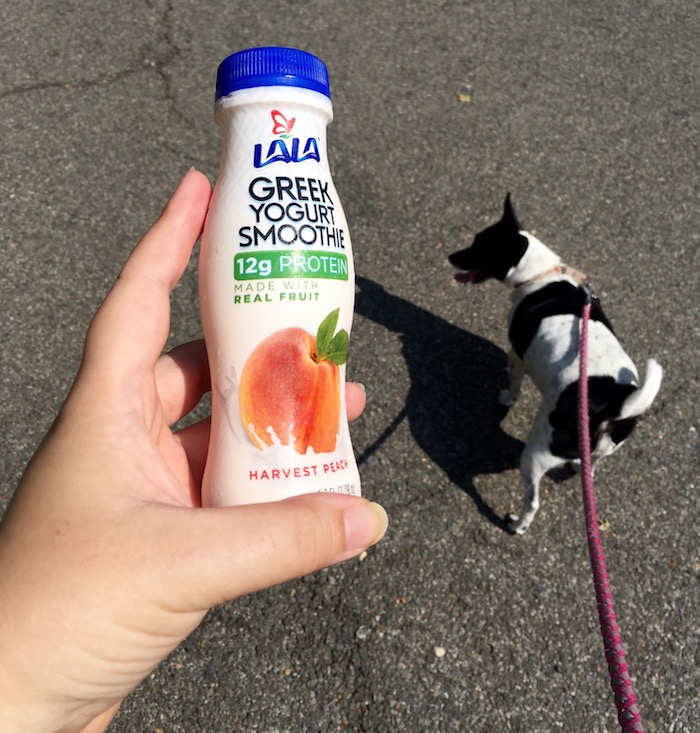 We tried out a few flavors of the LALA Yogurt Smoothies recently, and I really like them! The convenience, great taste and nutrition of these smoothies allows me to get the most out of my busy morning. Not only can I "toss the spoon" since I can drink them instead of having to sit down and eat yogurt out of a cup, but they also taste good, because I'm not about to sacrifice flavor for convenience! I liked every variety I tried and didn't find these smoothies to be overly sweet or artificial-tasting. Even my daughter enjoys them.
Maya wakes up at 6am to get ready for school, but has no desire to sit down (or much time) to eat a big breakfast that early, so I offered her a LALA Yogurt Smoothie as she walked out the door the other day, and she drank it as she waited for her school bus. Maybe it was the short trek to the bus stop that stimulated her appetite, or the great taste of the smoothie, but she chugged it and told me that along with the piece of fruit she had mid-morning, it was enough to keep her satisfied until lunch. I don't want her to skip breakfast, so I'm happy to buy a pack of smoothies for her every week if it means she'll get the protein, calcium and vitamins she needs to power her through the school day! We'll save the big breakfasts for the weekends when she can sleep in.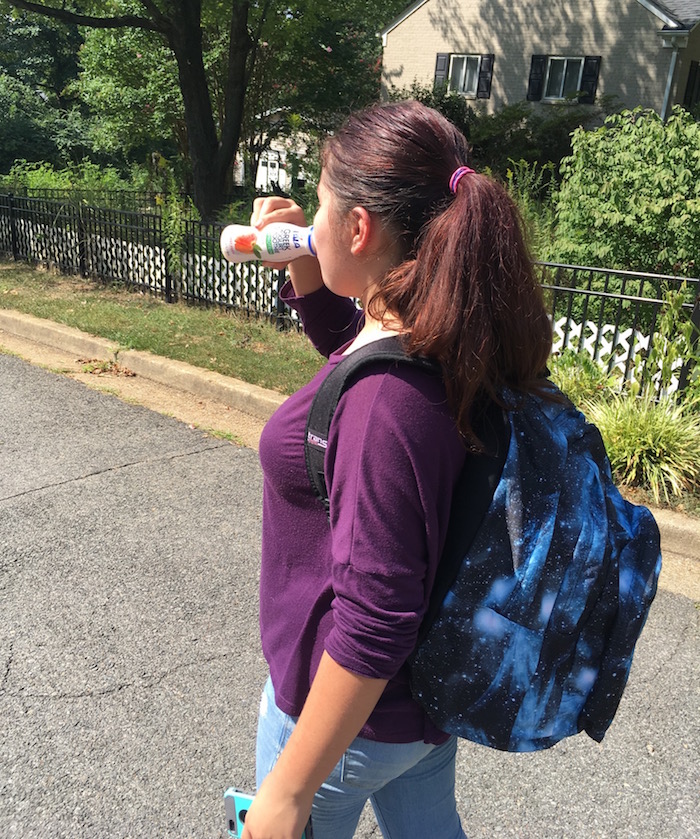 Let me tell you a little about the LALA brand… it's a company that's been around for decades! Headquartered in Mexico, LALA entered the U.S. market more than 10 years ago, and produces a variety of great tasting dairy products, including yogurt, yogurt smoothies, sour cream, and more. I grew up on LALA. I clearly remember my abuelita giving me a big glass of "leche LALA" and cookies for a snack during the summers I spent in Mexico. LALA is the brand of milk and yogurt my grandma always bought, so it's a brand I trust. This is why I was so happy to find it in the dairy section at my local grocery store. Not a special Latin market… just the regular grocery store!
Made with real fruit and with no artificial flavors or colors, there are so many different varieties of LALA Yogurt Smoothies to choose from! Maya really liked the Harvest Peach Greek Yogurt Smoothie with 12 grams of protein, and Maura enjoyed Wild Strawberry. I can't wait to try Tropical Mango and Creamy Coconut, and the Curb LALA Yogurt Smoothies, I like the Pecan Cereal flavor, have added grains to keep you feeling fuller longer, so it's like having a bowl of cereal without the bowl!
I've even made a couple of LALA Yogurt Smoothie paletas for the super hot days when I'm craving a cold treat… like right now. It feels like 103° outside, no joke. I just grab a LALA Yogurt Smoothie out of the fridge when I wake up in the morning, give it a good shake, and pour it into a mold. After freezing for a few hours, it's ready to enjoy by lunchtime and a good way to re-energize and cool off after walking my dog. The Piña Colada flavor is perfect for this! Cool, creamy, and tropical… just what I need on a hot day.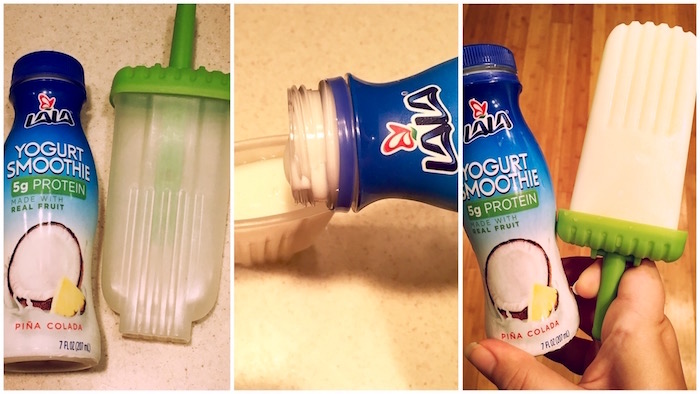 As you can see, LALA Yogurt Smoothies are delicious, nutritious and convenient, and are the perfect product to fuel my family's busy, active lifestyle. It's nice to know we can just reach for LALA and keep going! Visit LALAFoods.com to learn more, and to look for where you can find them at a grocery store near you. Be sure to print out the money-saving coupon, too.
Go to LALAFoods.com to find LALA Yogurt Smoothies near you.
This is a sponsored conversation written by me on behalf of LALA Yogurt Smoothies. The opinions and text are all mine.