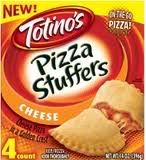 Totino's, the pizza maker beloved by kids across the country, is now packaging this favorite treat in a new, fun way…the Pizza Stuffer. Similar to an empanada, this dough filled pocket is stuffed with cheese and sauce (and/or pepperoni and sausage). Ready in minutes, Totino's promises these treats are quick, hot, and on the go.
I should start by saying that I try– I really, really try– to prepare healthy, well-balanced meals. I wish I could say that I do not rely on processed food. I did make my kid's baby food (which he hated), and I manage to put from-scratch meals on the table a few times a week. However, my schedule and my two-year old's (not to mention my husband's) palate does not allow me to serve quinoa and roasted vegetables seven nights a week. The hot dog, chicken nugget, and yes, pizza are not strangers at my table.
One hectic evening, when I realized that I had nothing in the house for dinner, I remembered that I had a box of Totino's Pizza stuffers in my freezer. I popped one in the microwave and three minutes later I had a hot, cheese and sauce filled pocket of dough. Served up with some broccoli and fruit that I already had in the fridge, my two-year old's dinner was served. After polishing off the broccoli and fruit (I am very lucky to have a broccoli loving child), he eyed the pizza stuffer. I had cut it in half to help it cool and make eating easier. Surprisingly, the sauce and cheese did not ooze out, but stayed nicely contained. Being a someone finicky eater, he gave it a small nibble, then a bite, then devoured the entire thing. I mean the WHOLE thing.
It should be noted that my son is not a foodie and wouldn't know New York style pizza from hand-crafted pizza straight from Rome. However, if he ate it, that's all the endorsement I need. I was able to give it a quick nibble before he scarfed it down. It was, well, that same Totino's flavor. Great for kids, probably not what you want to serve when your mother-in-law comes to visit. My husband on the other hand, loves this stuff and would take it over roasted veggies any day. Go figure.
BUY IT
Pizza Stuffers and Totino's products are available at grocery stores around the U.S. Visit their website – www.totinos.com – for additional information.
WIN IT
What are your quick meal staples? Leave a comment below to enter to win a coupon for a free box of Totino's Pizza Stuffers. 5 commenters will be chosen at random on Sunday night. US entries only.
Disclosure: I was provided with complimentary samples of Pizza Stuffers in order to facilitate this review; the opinions are my own.