Disclosure: This post is sponsored by #TruMoo, but all opinions are my own (and my daughter's!)
My daughters TRULY LOVE chocolate milk! Especially TruMoo Chocolate milk, which they often drink as part of their school lunch and you'll find in our fridge at home, too. According to Maya, "It's the best chocolate milk EVER!" I mean, what is there not to love? TruMoo milk contains no artificial growth hormones and no high fructose corn syrup, it's packed with calcium and vitamins A & D, and has just enough chocolaty sweetness to satisfy moms and kids alike. (I admit, sometimes I'll have a big glass myself!)
And now for some exciting news- TruMoo is delighting chocolate lovers everywhere with a special February flavor – TruMoo Chocolate Marshmallow! Doesn't that sound delicious?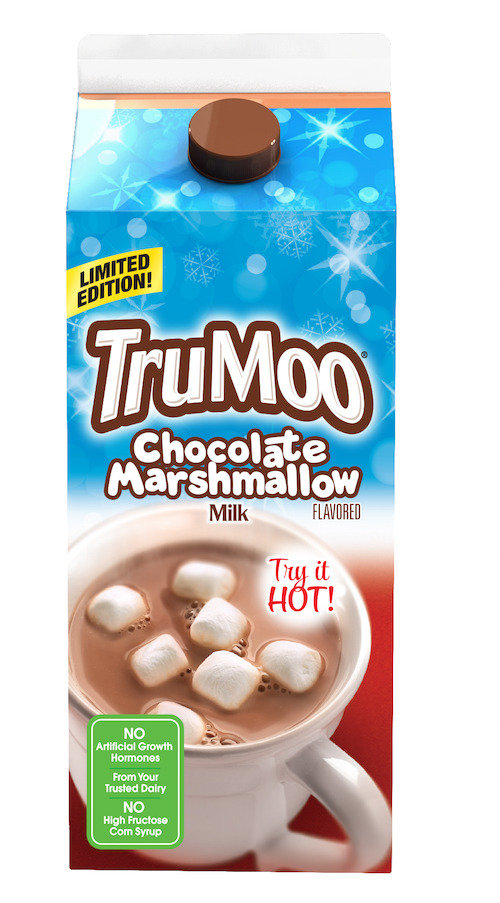 TruMoo Chocolate Marshmallow milk is made with fresh white milk sourced from regional dairies around the country – pure cocoa and just enough natural sugar to make it taste great.
Available only for a limited time, TruMoo Chocolate Marshmallow milk would be a nice treat on Valentine's Day… after all, chocolate and marshmallow are the perfect match! My daughters would love to drink "s'more" of this around the fire or cuddled up on the couch on one of these cold winter days. It was sold out at my local Target, so if you find it at your store, make sure to scoop up a carton of it!
TruMoo is a delicious and nutritious drink that moms, dads, and kids love. TruMoo Chocolate Marshmallow milk is available in the dairy section of Target right now, as well as Walgreens and local grocery stores, through the month of February. Check the store locator for a store near you! TruMoo Chocolate and Vanilla milks are available year-round. Yum! For more information, visit the TruMoo website, and find them on Twitter and Facebook.