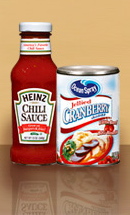 We spend a large part of this season focused on food. I love making all the traditional dishes, but usually spice things up a bit by trying a few new recipes. One that I just discovered is for 'Ultimate Party Meatballs'.
Created by a partnership between Heinz and Ocean Spray, this recipe comes together with two steps and only three ingredients – a bottle of Heinz Chili Sauce, a can of Ocean Spray Jellied Cranberry Sauce, and a bag of frozen meatballs.
It really only takes two steps:
1) Combine sauces
(using a whisk helps!)

2) Add meatballs.
In 15 minutes you've got total tastiness! It's so easy to throw together for a quick party appetizer or when unexpected guests show up on your doorstep. Click here for a more detailed recipe, and even a fool-proof video.
Heinz and Ocean Spray have also created the Ultimate Party Meatballs website, filled with additional recipes, entertaining tips, and a sweepstakes with a grand prize of $3,000 to throw the ultimate party.
Thanks to MomCentral.com for sharing this recipe with me!