Originally we hoped to have our house on the market by mid-July, but our plans have slowed down a bit. My mother-in-law just had major surgery so we're just taking things day by day. My husband has also had a lot more work come his way, which has kept him from working on the house. There isn't much to do other than touch up some walls and minor repairs here and there.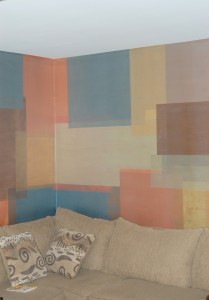 He repainted the family room yesterday. We all agreed that although we loved the design, it just wouldn't show well.
There's just one other room to paint – Maya's. Right now it's the most annoying shade of light blue. My advice? Don't let your 3 year-old choose what color she wants her room! Her inspiration was Cinderella's blue ballgown. It's going to be painted a more pleasant shade of grey, and I'll also be (temporarily) replacing her pink-and-blue satin comforter with a more neutral one. I want the room to show as a guest room as opposed to a child's room. The baby's nursery will serve that purpose.
Our 5×15 foot storage room is almost full, so we'll have to take a couple of big items to my sister-in-law's to store for a while. We might even just flat out give her our formal dining room set because I haven't had any luck selling it on Craigslist. It's the least we can do for her – she's our selling agent and is waiving her commission!