Mr. Potato Head Sweetheart Spud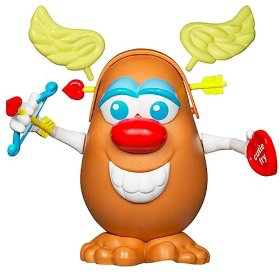 This classic toy is dressed up as a cool cupid, ready to shoot its arrow all the way into your heart! You have no choice but to fall in love with this sweet spud! It comes with wings, feet, eyes, and much more– and it's all interchangeable with all your other Mr. Potato Head toys! Recommended for ages 2 and up. Click on over to Amazon or visit your favorite toy store to pick one up!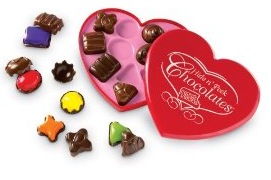 Smart Snacks Hide n' Peek Chocolates
Don't feel guilty about buying your kids a box of chocolates this Valentine's Day with this adorable toy from Learning Resources. Smart Snacks Hide n' Peek Chocolates is an educational toy that features 2-piece chocolates that come in 6 different shapes and filling colors, and all fit nicely in a heart-shaped storage box. This set encourages children to match chocolate shell shapes to filling shapes, and challenges them to remember which color filling is inside which shell shape. Recommended for ages 2-5 . You can find the set on Amazon as well.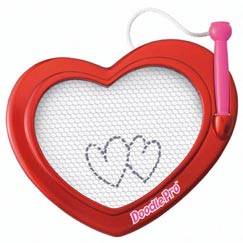 Doodle Pro Heart
This heart-shaped Doodle Pro magnetic drawing board is another classic toy. It lets kids draw and erase like magic, and is sized just right for little hands. The attached drawing pen is double-tipped for thick- and thin-line drawing, and it doubles as an eraser. This is recommended for ages 3 and up. Find it on sale for less than $5 on Fisher-Price.com.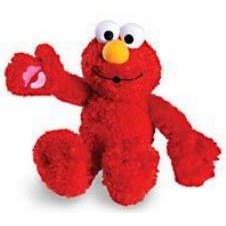 Many Kisses Elmo
The Fisher Price Many Kisses Elmo wants to give you a great big kiss! Bring his hand to his mouth and hear him blow kisses. The longer you hold his hand to his mouth (up to 10 seconds), the longer he'll hold the kiss, and you'll hear him say "mmmmmmm mmwaaah!" So cute! Find him on Amazon.com and at Wal-Mart.