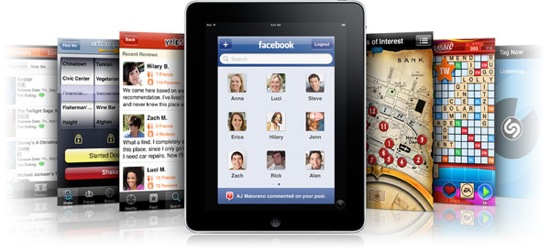 Updated at 5:25pm: UPS guy just delivered my iPad! He said he had never had so many people greet him at the door as he did today. It almost made him want to buy one of these "contraptions" to see what it's all about. LOL!
As I sit here waiting impatiently anxiously for UPS to deliver my iPad, I thought I'd share some of my thoughts and news I've gathered about it over the past week.
So why did I decide to buy one? I read a review of the iPad today that said "If you're mainly a Web surfer, note-taker, social-networker and emailer, and a consumer of photos, videos, books, periodicals and music—this could be for you."
And that is exactly who I am. I didn't buy it to replace anything, though I did give up my iPod touch, and won't be using my Macbook as much. I'm hoping that it will be a virtual notepad that I can pull out of my purse at anytime. A bookshelf. A TV. A music player. A photo album that I can show off whenever I feel like it. A bottomless recipe box. I have a feeling it will not disappoint.
According to a report by leading market research company The NPD Group, the demographic groups most interested in buying an iPad are: current Apple owners, (82 percent), consumers with $100,000 or greater income (80 percent), and 18-34 year olds (78 percent). I fall into 2 out of 3 of those categories.
For those of you that think the iPad is expensive, look at this chart of entry level prices for past Apple products (accounting for inflation).
Flash is not iPad's friend, so Apple kindly compiled a list of a handful of iPad-ready websites… CNN, New York Times, The White House, People Mag, etc. Nice. There are also some cool guided tours.
Accessories I need want to buy:
a case… I've been looking at several but will probably wait a week or two to see if anything new comes out. I want something that protects iPad when it's in my purse, but also looks stylish and can be used as a stand. For now I'll probably keep it stored in a Ziploc bag when it's not in use.
a stylus… this would let me write on the pad itself and take full advantage of the drawing apps! I'll probably go for the Pogo Sketch.
camera connection kit… so I can upload my photos and edit them on the iPad. It's available now and at $29, not too expensive.
keyboard dock… maybe. But it's like $70. So maybe not. It doesn't come out until later this month so I have a while to think about it. And I have to see how it really feels to type on the touchscreen.
Apps I've downloaded:
ABC Player – I purposely didn't watch Grey's Anatomy this week so I can watch it on my iPad. CBS is also streaming their shows on Safari.
AccuWeather – Everyone needs a good weather app.
AIM – To chat with my hubby on the couch next to me. Haha! And my mom in Texas.
Boingo – with this app I'll be able to get wireless access for $1.99 an hour at Boingo Hotspots worldwide. Also available for the iPhone and iPod touch.
Craft Finder – From FamilyFun magazine. Tons of craft ideas!
Epicurious – A digital recipe book. Cool.
iBooks – A book reader!! Yay!
Kindle – I just want to try it out and see how it compares to iBooks.
Netflix – Looking forward to watching The Proposal in bed tonight! I hear it's coming to the iPhone and iPod touch soon, too.
Pandora – Love creating my own radio station.
The Wall Street Journal – I think I have to subscribe to this.
TweetDeck – It's my fave Twitter app, but I may try a few others to see if anything better is out there.
USA TODAY – Free newspaper, yay!
WordPress – Duh.
and a bunch of other free apps. As for paid apps, I'd love to buy iWork, Scrabble, Brushes, and a few more… but that will come later. I'm hoping that prices will go down a bit with time.
Earlier this week it was featured on David Letterman:
Top ten questions to ask yourself while waiting in line for the iPad.
Are you thinking about getting an iPad? Already have one? I'd love to hear your thoughts!