I should've told you about this sooner, but Totsy has a really great Chuggington sale going on right now. From Chuggington apparel, to games, books, DVDs, and, of course, lots of toys, you'll surely find something your little Chuggers would honk their horns for! 😉 My favorite items are those adorable costumes pictured below, just in time for Halloween! Some of the stuff is over 50% off, so don't miss it. The sale ends Monday morning at 8am EST, though, so hurry!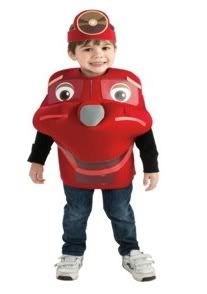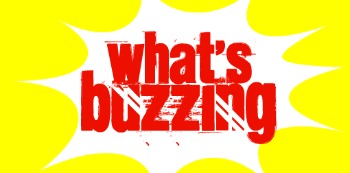 Took a break from 'buzzing' the past couple of weekends. First, it was my daughter's birthday… and last week? I can't remember. These roundups take time to put together, ya know! The list is a little bare this week, so if you have anything you'd like to share, add your links at the bottom of the page! You can always email me as well, and I can include it in next week's post.
BLOG WORTH READING
Mommy Maestra is one of my favorite educational blogs. It's filled with TONS of information and ideas on projects that I can do with my kids. A great resource for bilingual homeschoolers, you'll find lesson plans, book and toy recommendations, arts & crafts activities, and so much more, many with a focus on Latino culture. Some random posts that I've bookmarked:
BLOGGING
CRAFTS
These Crepe-Paper Flowers are beautiful! Pugly Pixel.
The Hand Art of Guido Daniele. Gorgeous. Mighty Optical Illusions.
FOOD
GOOD CAUSE
Did you know that 1 out of every 2 Latinos in America live in areas that frequently violate air pollution standards? Then you must be as outraged as we are that President Obama has bowed to polluter pressure and has ordered the EPA to roll back life-saving smog standards in order to "create jobs."  The roll back of smog standards threatens not only our clean energy future but the health of our community. The impact of this decision cannot be underestimated. We need the clean energy future the President promised us and this isn't it. Please sign NRDC's innovative new 1-click Facebook petition urging the President to get back on track for a healthy economy that's both good for jobs and the environment. Simply sign on with only one click.
PHOTOGRAPHY
HEALTH & BEAUTY
This fun, easy DIY at-home pumpkin mask is featured in this month's issue of Good Housekeeping magazine (October 2011, on-stands now!). Created by beauty guru and parenting expert Erika Katz (www.bondingoverbeauty.com), this mask is full of exfoliating enzymes that brighten the skin so it won't look too "scary" this fall season. Why: Pumpkin is rich in vitamin A, which is very healing to the skin and is essential to maintain and repair skin tissue. It also helps reduce lines and wrinkles. Honey is a humectant. The cream moisturizes and helps flaky skin.
Pumpkin Face Mask

2 tsp canned pureed pumpkin
1/2 tsp honey
1/4 tsp heavy whipping cream

Mix all ingredients and apply to face. Leave on for 10 min and rinse.
TOYS
TV
"Handy Manny Great Garage Rescue" premieres Monday afternoon – October 3rd – at 1pm ET/PT on Disney Junior. In this special 1-hour episode, Manny and the tools travel to Concrete Falls to help Manny's brother, Rubén save the family's auto repair shop before Mayor Johnson tears it down. Ed O'Neill and Freddy Rodriguez guest star as Mayor Johnson and Manny's brother, Rubén (respectively). George Takei and Harold Perrineau also guest star as residents of Concrete Falls.
Pocoyo – the beloved Saturday morning cartoon – has his own YouTube Channel! Youtube.com/pocoyo. It's my daughter's new fave. Both in English and Spanish.
VIDEO
Mexico: The Royal Tour. I just watched this on PBS over the weekend. It's a tour of Mexico with President Felipe Calderón. You'll follow along as he goes whale watching in Baja; rappelling in the Cave of Swallows in San Luis Potosi; investigating the pyramids of Chichen Itza, Calakmul and Teotihuacan; exploring the ruins of Palenque, a Maya city-state in southern Mexico, and more. It's really interesting. I believe it will be re-run again later this month, so check your local listings. Watch the official trailer:
CONTESTS & PROMOTIONS
Call for entries for the 15th Annual Scotch Brand Most Gifted Wrapper Contest 2011 is now open. They're looking for gift-wrapping gurus to compete for the $10,000 grand prize. How to enter: Go to www.MostGiftedWrapper.com and tell us why you or someone you know is a gift-wrapping guru and share their best gift-wrapping tip. Deadline to Enter: Monday, October 3, 2011.
California Black Ripe Olives have teamed up with Relish Magazine for an exclusive "Mad About Olives" recipe contest, where one lucky olive lover will win a fabulous trip to Napa and a once-in-a-lifetime two-day culinary boot camp at the prestigious Culinary Institute of America at Greystone located in the heart of the beautiful Napa Valley. Recipes will be accepted on the Relish website through Oct. 31, 2011 and will be judged by celebrity chef Claire Robinson, Relish Editor Jill Melton, and Denise Junqueiro of the California Olive Committee.
Have a great week!