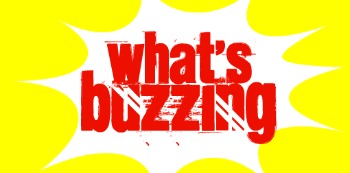 Everyone always talks about where they were on 9/11. I'm not sure what the point is, honestly, unless you were actually there, but I guess it's a day you will always remember regardless. What was I doing on September 12th? I have no idea. But September 11th is clear in my mind.
I was a bartender at a Chili's which has since closed. Newly 21, I had only been at it for a few months, so I was stuck with the slow M-T-W morning shifts. My day started at 9:30am, even though we didn't open until 11, because of all the opening duties required. I usually got there around 9am because I liked to take my time setting up. As soon as I walked in the doors, my manager yelled from across the restaurant, "A plane JUST crashed into the World Trade Center!" He always had the tiny TV on in his office, and I ran over to see what was going on. I literally stood there for a second, watching the smoke engulf the building, when the next plane hit. I got chills and probably yelled something out. Or maybe I tried to, and nothing came out of my mouth. I couldn't believe it. Was I awake or still in bed, dreaming? I walked to the bar, turned on the TV there, and attempted to start slicing fruit, unable to take my eyes off the news coverage. When there was a rumor that something had it the Pentagon, I was numb. It was all so unreal. One of my co-workers could see the smoke just a few blocks from the restaurant, just down Arlington Blvd, so we knew it was true. The manager from the Chili's in Crystal City called to tell us he actually saw the plane flying down low towards the Pentagon, followed by an incredibly loud explosion. How many more planes were there? I wondered. We opened the restaurant, and almost immediately people started trickling in. What was usually a slow day ended up being one of the busiest shifts I ever worked. I remember two men in uniform sitting at the bar. I quickly found out that were actually working at the Pentagon that morning. They ordered beer after beer, their eyes glued to the TV, trying to make sense of it all. They sat their for hours, almost afraid to go home. One lady talked to me about how she couldn't reach her boyfriend in New York. Another, how she had just visited New York City last week. A tourist couple that was supposed to fly home the next morning, was now terrified to get on a plane. While I don't remember their faces, I remember all those conversations vividly.
The following is a roundup of great stuff I've found while browsing the Internet over the past week. Add your own links at the bottom of the page!
APPS
The Smurfs & Co game on Facebook has more than 10 million monthly active users (MAU). Developed by Ubisoft Chengdu, The Smurfs & Co is a social network game based on the world renowned comic book brand that allows anyone to play as a Smurf in the quest to build wondrous towns and uncover special ingredients that Papa Smurf needs to create a magic potion to erase Gargamel's memory. The game has reached more than 10 million MAU thanks to its enjoyable gameplay, iconic characters and appeal among all ages. New game features and special in-game contests are being added regularly to The Smurfs & Co, including a full screen option and a user-generated screenshot contest with prizes in several different categories. To play The Smurfs & Co, please visit: https://www.facebook.com/thesmurfsco.
Smilebox, an online photo/video sharing tool and app – is great for simple ways to manage and share all of the photos and videos of your recent vacation, kids' first day at school and more. There are new design templates every week, new capabilities to add to your design (songs, videos and more) and a new iPhone app that just came out. Use Smilebox to send unique thank you notes, birth announcements, birthday cards and invitations online or print your own personalized greeting cards. Share photos and videos in slideshows using any of the 1,000 design templates or add one of the 2,000+ songs in the Smilebox library – you can also upload a favorite song from your iTunes account to personalize a Smilebox creation. The new Smilebox app includes a "Wrap-Up" feature which sends a collage of photos from the day, taken from your phone. The iPhone app automatically creates then emails collage to you so you don't have to lift a finger! Great for sharing day after a special celebration such as a birthday party or shower. Visit Smilebox.com for more information, and find the iPhone app on iTunes: Smilebox
BLOGGING
COOL WEBSITE
Updater gives its users control over who can access and use their postal address, stops unwanted paper mail and simplifies the change of address process for the 40 million Americans who move each year. Updater offers two services: Address Change and Address Privacy. With Address Change, Updater files an official Change of Address Form, on behalf of its users, with the United States Postal Service and directly updates the records of every business, educational institution and other organization that its users select. With Address Privacy, Updater acts as an authorized agent to remove users' postal addresses from direct marketing lists and enables a customized "spam filter" for unwanted paper mail. Through these services, Updater empowers its users to save time, stop unwanted mail, reduce identity theft and help the environment. To learn more, check out Updater's brief video at https://www.youtube.com/updateronline. To sign up, visit www.updater.com.
EVENTS
The Hot Chocolate 15K/5K racing series sounds so fun! (As fun as running a race can be, anyway!) The goodie bag sounds awesome, and there's an amazing post-race party with chocolate fondue and hot chocolate from Ghirardelli. Races are happening in Chicago, DC, Dallas, San Diego, San Francisco, and Denver – so maybe there's one near you. More info at www.hotchocolate15k.com.
DIET & FITNESS
FOOD
I looooove zucchini bread! Click over for a recipe from my friend Cathy at CathyHerard.com.
Getting the Best From Your Farm Market. Cookerati.
"FoodPop is like Facebook for the food world" says Saveur's Editor-in-Chief James Oseland – revolutionizing the way people share food. FoodPop is about to rock the food world and they want you to come along by giving me 50 early invites to share with friends and readers to join the FoodPop(ulation) where you'll have the ability to interact with other food loving moms, share tips, discuss children's eating habits, allergies and much more. Use code: WithNoHands. The first 50 to visit FoodPop.com will gain access. Enjoy FoodPop before everyone else takes a bite!
GOOD CAUSE
TV celebrity and new mom Bethenny Frankel, Clorox and CHF – a non-profit organization committed to providing health care to the nation's most medically underserved children and their families – are teaming up to bring ongoing care to disadvantaged kids through the "Check-in for Checkups" program. How can you help? It's as easy as 1, 2, 3. First, perform a health habit that makes you feel good, whether it's walking your dog or eating a salad for lunch. Second, check-in your healthy habit at www.checkinsforcheckups.com or #checkinforcheckups on Twitter. Third, trigger a donation of 10 cents, up to one million check-ins, from Clorox to Children's Health Fund (CHF), helping support their goal of providing half a million health care visits across the country.
PHOTOGRAPHY
Exploring with a Camera: Process of Elimination. Some very good points here on "cleaning up" your photos. The Kat Eye View of the World.
If you're in need of inspiration, try these 8 Photo Projects in Your Own Backyard. Digital Photography School.
HEALTH
Giant Food of Landover, Md. is proud to announce that all of its 160 in-store pharmacies will be offering flu shots as part of its Heath & Wellness initiative. For over 20 years the program has looked to provide convenient and efficient flu prevention measures for Giant customers throughout Maryland, Virginia, Delaware, and Washington D.C. Vaccinations will be administered by trusted in-store pharmacists during pharmacy hours for $30. No appointment is necessary. Pharmacists will hold in-store flu clinics, and are available for on-site workplace flu clinics as well. A free coupon book worth over $20 in savings will be given to those that receive a shot at any Giant pharmacy. Customers interested in receiving immunizations at their local Giant can talk to their pharmacist, visit Giant's website at www.GiantFood.com for clinic schedules, or obtain additional information by calling (888) 469-4426 Monday through Friday from 9 a.m. to 5 p.m.
TECHNOLOGY
KinectEDucation is a community-driven resource for developers, teachers, students, enthusiasts, and any other education stakeholder to promote the use of Kinect applications – open source, freeware, and commercial – in classrooms. Teacher Johnny Kissko is currently using Kinect in his classroom, using the FAAST and Kodu toolkits to get the sensors working on laptops. Kissko's plan is to have all pupils regularly interacting with content on a daily basis, rather than function passively in the classroom. Via Kinectaku.
With school back in session across the country and the flurry of purchases that often entails, many parents may be in the market for a cell phone for their teenager. However, the age that children are getting their first cell phones is trending earlier in recent years, with many pre-teens entering the cell phone market even before high school. Helping parents navigate the complex world of a tween's first cell phone is the goal of a new consumer guide released by the National Consumers League (NCL), the nation's pioneering consumer organization. The guide is available online at www.nclnet.org/technology. It provides a range of tips to help parents choose between contract-based and prepaid services, manage data and texting costs, and set "rules of the road" for safe and smart tween phone use. NCL's new guide is focused on helping tweens' parents with easy-to-use tips that help them pre-plan for the shopping experience, set expectations with a tween before a phone is purchased, narrow down their cell phone choices, and manage their tweens' usage once the phone is purchased. Key tips include:

Texting is one of the biggest cost tweens' parents should account for. Consider a larger bucket of texts (or unlimited texts) to avoid costly pay-as-you-go texting rates.
However, consider limiting the tween's allotment of text messages if you are concerned about inappropriate texting. Recent research suggests that limiting texts messages relates to lower levels of inappropriate or dangerous texting behavior.
Take your tween with you when shopping so they can test different phones, but consider buying online to take advantage of online-only deals.
Make sure to set a monthly cell phone budget, and discuss acceptable use of the phone so that your tween knows who they can and can't call or text.
TOYS
Advice on Toy Storage Solutions. Time to Play.
Build-A-Bear Workshop continues its partnership with World Wildlife Fund (WWF) with their latest furry friend, WWF Fennec Fox ($25). Make-your-own WWF Fennec Fox is currently available at Build-A-Bear Workshop stores and buildabear.com. Build-A-Bear Workshop donates one dollar from the sale of each WWF Fennec Fox to the World Wildlife Fund to protect endangered animals and their habitats. Learn more at worldwildlife.org.
TV
We're "wagging our tails" because Super WHY, the award-winning preschool property that helps kids learn the fundamentals of reading through interactive storybook adventures, is back in action this fall with FIVE all-new episodes – and introducing a brand-new super reader named Woofster with Dictionary Power! "Super WHY and Woofster Finds a Home" will premiere on PBS KIDS September 12 (be sure to check your local listings!). In celebration, the literary experts from Out of the Blue have created a fun and educational tip sheet chock-full of literacy-powered ideas inspired by Woofster's new character! Log on to pbskids.org/superwhyfor all-new "super" useful and fun online content starring Woofster and the Super WHY gang, including games, music videos, collectible prize cards and activities to help parents engage kids in reading! Help spark a love of reading in your child with these fun tips inspired by Super Why's new pal Woofster:

Check it out! Visit the library or go online with kids to discover more about their favorite furry friends. This will foster an interest in both reading and animals!
Create a book! Help your child write and illustrate their very own storybook featuring a doggy character like Woofster.
Visit the zoo! Read all the signs together as you encounter the many different animals.
Send a postcard! While you're at the zoo or your local aquarium or wildlife park, pick out some animal-themed postcards and help your child write special messages to friends and family.
Look it up! Flip through the pages of a children's dictionary with preschoolers to find and read animal-related words.

"My Little Pony Friendship is Magic," the animated TV series with an ultra "buzz factor" among audiences of all ages, returns for its second-season premiere Saturday, September 17 (9 a.m. ET) on The Hub TV Network, a destination for kids and their families. The much-talked-about Hub Original Series follows the studious young unicorn Twilight Sparkle as she and her five pony friends living in the fairytale village of Ponyville teach one another about the magic of friendship during their many adventures in the kingdom of Equestria.
Also launching its second season with new episodes is the pre-school series "The Adventures of Chuck & Friends" based on the popular TONKA CHUCK & FRIENDS brand. Premiering on The Hub Monday, September 12 (11:00 a.m. ET), the Hasbro Studios produced series features the CHUCK character, the adventurous pint-sized truck who's running on a full tank of enthusiasm. The CHUCK character goes on larger-than-life adventures with his friends and finds creative methods for playing them out. To find the channel in your area, please visit www.hubworld.com and check the Channel Locator at the top of the page.
TIS THE SEASON- Back to School
On October 6, millions of people across the globe will read the same book, Llama Llama Red Pajama, as part of Jumpstart's annual Read for the Record Day. The simple act of reading with a child on this one day translates into year-long educational support for preschool children from low-income communities, many of whom grow up in homes without a single book. For the past five years, Jumpstart, a national education organization, has hosted this global event, bringing together celebrities like Bill Cosby, Justin Bieber, Vince Vaughn, Patti LaBelle, Matt Lauer, representatives on Capitol Hill, elected officials, parents, teachers, children and volunteers to help bridge America's achievement gap. This year, they need your help to set a new world record of 2.1 million readers. The reality is that 1 in 3 children in the U.S. begins kindergarten behind, and most will never catch up. In fact, in states like California, for every child who isn't reading on the 4th grade level when tested, budget is planned for a jail cell. Before they even enter school, children need to be equipped with fundamental literacy skills and taking the time to read with your kids is an easy way to ensure they're prepared. By pledging to read now at www.readfortherecord.org, you will be entered to win a $77 gift card to 77Kids by American Eagle and a copy of Llama Llama Red Pajama signed by the author, Anna Dewdney. If you don't own the book, it is being offered FREE online at www.wegivebooks.org.
Students improve spelling and handwriting with interactive games. Spelling Connections Online, Zaner-Bloser's free website with interactive games for students in Grades 1-8, is designed to enhance children's vocabulary, develop their proofreading abilities, and improve their speed in spelling. Activities from word sorting to sentence completion develop successful spellers who are proven to be better readers, writers, and test takers. Zaner-Bloser offers a choice of two fun resources that lead to better literacy through improved handwriting skills. An unlimited free trial version of ZB FontsOnline Plus provides customizable practice page templates for children to practice spelling, vocabulary, and handwriting. Adults and children can access this free online application at www.zaner-bloser.com/summer. For families on the go, Zaner-Bloser's Handwriting Apps for iPhone®, iPad®, and iPod touch® may also cure some of that summer boredom while keeping children's handwriting skills fresh. Available apps include Manuscript (or Print) handwriting, Cursive handwriting, and both Print and Cursive handwriting in Spanish. All are available now on the App Store.
VIDEO
On this, the tenth anniversary of 9/11, it is important to remember how to communicate with your children about traumatic events they are exposed to and will eventually learn about. Jacob Ham, Ph.D., an expert in the treatment of child traumatic stress, directs the program for Healing Emotions and Achieving Resilience to Traumatic Stress at Beth Israel Medical Center and St. Luke's Roosevelt Hospital Center in NYC. Dr. Ham provides support services to children who have been exposed to all different types of trauma. He created a video with information on how to talk to your kids about the 9/11 anniversary for the American Mental Health Association, which can be helpful in all traumatic situations.
CONTESTS & PROMOTIONS
This September, Libby's Fruits and Vegetables will be celebrating 'Get Back to the Table Month' by encouraging families across America to pledge to reunite with their loved ones and offering a chance for one lucky family to win a reunion for up to 10 family members . The winning family will receive travel and hotel accommodations to gather for a reunion dinner, total prize valued at $20,000. To enter, families can submit a family photo and a short caption on the Family Reunion Contest tab at the Libby's Table Facebook page. Contest runs through Friday, September 23, at 11:59 a.m.
AppleCore just launched a Cord Chaos Contest for those who wrestle with tangled cords. Snap a photo of your cord chaos and enter to win $100! For more information, visit the AppleCore Facebook wall.
Have a great week!