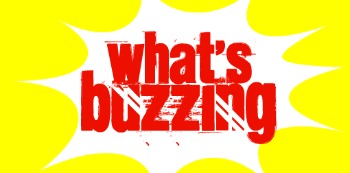 I can't believe it's already September. Whoa! My daughter starts school this week. First grade. Where does the time go?
Below is a roundup of great stuff I've found while browsing the Internet over the past week, as well as links to your giveaways! Scroll down to add your links at the bottom of the page!
BLOGS WORTH READING
Lego Birthday Party. Zakka Life is one of my favorite craft blogs. Back in July this post caught my eye. So cool! If only my girls were Lego crazy!
Optical illusion tattoos. I found these oddly fascinating. You could spend hours looking through the hundreds of illusions on the Mighty Optical Illusions blog! I just saw they developed a Daily Optical Illusion app. Off to download that now…
BLOGGING
COOL WEBSITE
It's Almost. This countdown tool is cool in that it has its own URL so you can share it with friends or post to Facebook and Twitter… and go back to it until time is up. I created one for Maya's 7th birthday and bookmarked it in her browser so she stops asking me every 5 minutes, "How many days til my birthday?" Thanks, Very Short List.
EVENTS
Free admission to the Newseum. Live in or near Washington, DC? The Newseum, in honor of the anniversary of September 11th, will waive its admission price on Saturday, September 10 and Sunday, September 11. This will be the first time since the Newseum's grand opening in 2008 that admission has been free to the entire public. Tickets are available at newseum.org or at the Newseum the day of your visit. Thanks for the tip, Jessica! A Parent in Silver Spring.
FOOD
PHOTOGRAPHY
SAFETY
Love Is Not Abuse iPhone app
Many parents feel confident that they can spot the signs of dating abuse, but studies have shown that more than half of all parents do not recognize the warning signs. And these days, parents are talking far less to their kids about dating abuse than any other risky behavior like drug or alcohol use.
To help get the conversation started, Liz Claiborne Inc.'s teen dating violence prevention initiative, Love Is Not Abuse, has launched an iPhone app designed to educate parents on everything they need to know about teen dating abuse – how to spot the warning signs, get help, and more importantly, start conversations with their children about dating before abuse can even begin – all in one easily accessible tool.
Check out the app preview video featuring Liz Claiborne Inc. Chief Creative Officer and co-host of Project Runway, Tim Gunn. The app is available for download FREE OF CHARGE in the iTunes App Store.
HEALTH
TECHNOLOGY
TV (sort of…)
TIS THE SEASON- Back to School
CONTESTS & PROMOTIONS
Calling parent inventors! Jarden Consumer Solutions – best know for such adult-beloved brands as the Crock-Pot and Mr. Coffee makers – wants to find out from parent inventors just how they get their children excited during the breakfast, lunch or dinner hour. Jarden wants to hear about those top ideas that can potentially become a must-have product among the school yard. For the idea that is selected for licensing and development, the inventor will receive $2,500 as an advance on 20 years percentage of sales or buyout. Jarden can choose as many ideas as they like to bring to market. Edison Nation offers a safe and secure platform for inventors and it's just $25 to submit an idea (simply to cover our overhead!). You can find more detailed information about this online search for new ideas at www.edisonnation.com/jarden.
Win a Southwest Airlines Vacation! Experience the excitement of Universal Orlando Resort! You'll swing high above the city streets with Spider-Man, save the day with Shrek, and explore the magic and excitement of The Wizarding World of Harry Potter. You'll fly on Southwest Airlines to Orlando, and stay at an onsite Loews hotel, where you'll enjoy two amazing theme parks, nonstop nightlife, and more. For complete details, and to enter this sweepstakes, visit: southwestvacations.com/universalorlando. Enter between now and September 15, 2011.
Have a great week!