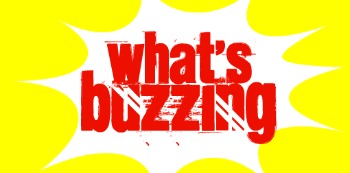 What's buzzing on the web this week?
What I've been reading this week:
Blogging:
Contests and promotions:
My friend Carolyn got an extra iPad… and is giving it away over at The Art of Random Willy-Nillyness! BUT WAIT! Don't run over there just yet. Keep reading. After all, the giveaway doesn't end until December 8th. 😉
Spreadshirt (www.spreadshirt.com) is a leading online platform for creating, buying and selling "me-shirts"—stylish conversation starters that people love to wear. Spreadshirt is easy to use and lets shoppers design tees, aprons, blankets, hats, bathrobes and more. If you start designing now, you will save more this holiday season. From now – November 14th, shoppers will get FREE shipping on ALL orders. Use promo code: SHOPEARLY.
The Gourmoo Cookoff is a cooking competition featuring lactose-free milk. Enter, and you could have a shot at:
· Being one of four finalists chosen to fly out to LA to compete in the Gourmoo Cookoff finals
· Winning quality kitchen appliances and tools
· Taking the title of Gourmoo Cookoff champion and winning a dream culinary vacation!
Entering is easy. Create a 2-3 minute video of yourself preparing or presenting a recipe that features lactose-free cow's milk and showcases your unique culinary passion and creativity. Submit your entry at www.moovision.com/gourmoocookoff. Encourage your friends, family, and readers to go vote for your entry or participate on their own. The entry and voting period ends 11/09/10, so don't miss out!
Technology:
The Amazing Race for Nintendo Wii is available now! Yes, the same show that airs Sunday nights on CBS can now be played in the comfort of your living room. Developed by Ubisoft, the game retails for $29.99 and is rated "E" for Everyone.
Word Squared is a "massively multiplayer online word game" a lot like Scrabble. But bigger. You can join it anytime, just find an open spot.
Tis the Season:
Mom's Best Naturals is hosting a food drive right now on its Facebook page. For every new "like" during the month of November, Mom's Best will donate a serving of cereal to Second Harvest, in honor of National Hunger and Homelessness Awareness Week, Nov. 14-20. If you're not already a fan of Mom's Best on Facebook, I hope you'll become one now!
Have a great week!