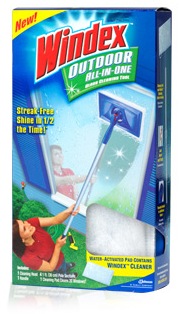 You don't realize how dirty your windows really are until you start to clean them! This is what I realized this past week when I tried out the new Windex Outdoor All-in-One Glass Cleaning Tool.
This new product provides you with a faster, easier way to clean your outdoor windows – and it works. All you have to provide is a hose. The starter kit comes with everything you need to clean up to 20 windows!
Putting the pole together is very simple. The cleaning pad magically attaches to it and actually stays on, even when wet. To start cleaning you have to spray the window with water and wet the cleaning pad to activate the Windex, then you just clean the window. Not much effort is required! To finish off, rinse the window with the hose. And that's IT. No drying necessary. I didn't notice any streaks, which was especially amazing after cleaning a dozen windows with the same pad.
We live in a split-level home, so we've got windows both high up and very low to the ground, and because the pole can reach up to 11 feet, this tool really made the usually back-breaking chore much more enjoyable. It also cut down on how long it would have taken me to do it by hand, not to mention the dangers of having to climb up and move a ladder repeatedly. It's incredible how a little thing like cleaning windows can make the inside of your home just a little bit brighter!
Windex Outdoor All-in-One retails for $14.99 (for the starter kit) and $4.99 for the two-pad refill pack. It's available now at popular retailers nationwide, including Wal-Mart, Target, Home Depot, Lowe's and your local grocery or hardware store. Click here to print a coupon for a free refill pack, with the purchase of a starter kit.
Giveaway is closed. Winners are listed here.
PLUS you've got a chance to win a starter kit right here, which includes the Windex Outdoor All-In-One Glass Cleaning Tool and one pad. Just leave me a comment. I'd love to hear some of your spring-cleaning tips!
For extra entries:
Blog about this giveaway, linking back to this post and to the Windex website.
Subscribe to my feed (or let me know if you already do).
Grab my button and link to me in your sidebar or blog roll.
Stumble this page and leave your Stumble Upon name in the comment.
Add my blog to your Technorati Favorites.
Please leave a separate comment for each entry and leave a valid email address or blog URL in your comment. US entries only. This contest ends at 11:59 pm EST on April 2nd, 2009. Winner will be chosen at random, and has 48 hours to claim their prize.
This post was written for Family Review Network as part of a program by SC Johnson, who also supplied the product for review and give away. For more information about Windex Outdoor All-in-One Glass Cleaning Tool, please visit www.WindexOutdoor.com.