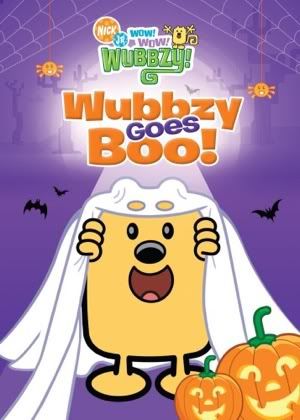 A hit with preschoolers since its August 2006 premiere on Nick Jr., Wow! Wow! Wubbzy! is an adorable cartoon that teaches children life lessons in a fun and positive way. Wubbzy Goes Boo! is a cute compilation of 6 Fall-themed Wubbzy episodes, 3 of which are new, and 3 that have aired on TV before. Seasonal episodes only air a few times, so it's nice to be able to access them all on one DVD.
Like most preschoolers, Wubbzy and his friends have conflicting feelings about Halloween – scaring people and being scared. Sometimes it's fun, and sometimes it's just plain scary. Wow! Wow! Wubbzy! Wubbzy Goes Boo! features six great episodes that address this, as well as positive values such as creativity, patience and responsibility, providing a wholesome message for young viewers:
Wubbzy's Magical Mess Up – When Moo Moo the Magician asks Wubbzy to watch his magical wand, Wubbzy acts impulsively and uses the wand without permission. The magic gets wildly out of control and soon monkeys, elephants and kickity-kick balls are running wild!
Tea for Three – Wubbzy decides to throw a tea party, but realizes he doesn't know how, so Widget builds a tea-party machine, the Tea Time 3000, to help him out. It malfunctions and does everything wrong, so they have to learn to work with what they have…
Monster Madness – Wubbzy gets scared by a TV show and starts seeing monsters everywhere! Widget builds a Monster Masher to take care of 'em, but soon she starts seeing monsters too! Walden takes out his flashlight to show them that all the monsters they saw are just… well, I won't give it away!
The Last Leaf – Walden is collecting leaves, waiting patiently for the last leaf to fall off the Old Figgity-Fig Tree. He falls fast asleep, and that last leaf falls off the tree and blows away. Wubbzy and Widget are left to chase the errant leaf all over Wuzzleburg.
The Ghost of Wuzzleburg – Wubbzy builds his own scary costume out of junk for the Halloween party at the Wubb Club. He thinks he might win the Scary costume contest, until he sees what he thinks is a real ghost, a sheet floating all by itself…
March of the Pumpkins – Wubbzy wants to find the biggest pumpkin, so he can be named Pumpkin King. But Walden and Widget warn him, look out for the real Pumpkin King! Before Wubbzy can get a pumpkin, the Pumpkin King catches them. Luckily he turns out to be a great guy!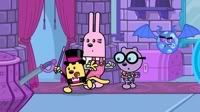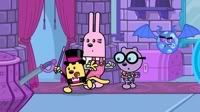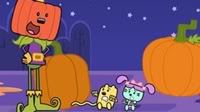 Available for the suggested retail price of $16.98 ($13.99 on Amazon right now!), Wubbzy Goes Boo! is 70 minutes long and features a few DVD extras, including: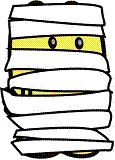 Coloring and activity sheets
Sneak Peaks of future releases
"Ghost of Wubbzy" craft activity
Recipe to make Mummy Wubbzy cookies.
Have a Wubb-tastic Halloween!
Other than a promotional screener from Anchor Bay, no compensation was received for this post.