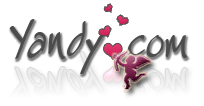 I just bought lingerie for the first time in a LONG time.
I now have an adorable chemise set perfect for Valentine's Day – along with two pairs of panties and a new purse – and it all cost under $40! Want to know where I got this great deal? You know you do!
Yandy. They're one of the leading suppliers of lingerie and costumes on the internet. Yandy doesn't just sell sexy lingerie – you can find women's clothing, PJs, robes, bras, panties, hose, shoes, handbags, and even Halloween costumes! When browsing the site, I was most impressed by their selection of plus size items. That's the main reason I haven't bought any lingerie in years… I can never find anything flattering.
I'm thrilled to say that my chemise is soooo comfortable and fits perfectly. Comfort and practicality are super-important to me when it comes to sleepwear. I don't want to buy something just because it looks nice. If I can't wear it to sleep, it's not very practical, is it?! This mesh chemise feels like any old t-shirt I would wear to bed… stretchy and soft. But it is sexy, don't get me wrong. It's just sheer enough, without showing too much. I especially love the combination of pink and black, and the tiny hearts and bows are a sweet touch.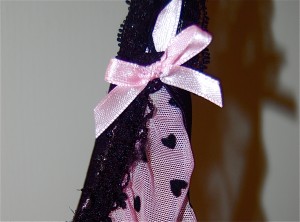 Thanks to Yandy, I've come to realize that quality lingerie doesn't have to cost an arm and a leg. Because of their reasonable prices and huge selection, I will definitely shop here again! If you're looking for beautiful Valentine's Day Lingerie, make sure to check out Yandy! There's still time to order something and get it delivered by this Saturday! If your item is in stock it'll ship the same day, and Priority shipping is free with a purchase of $70 or more.
A big thank you to Yandy… and to the Family Review Network for introducing me to this great store!