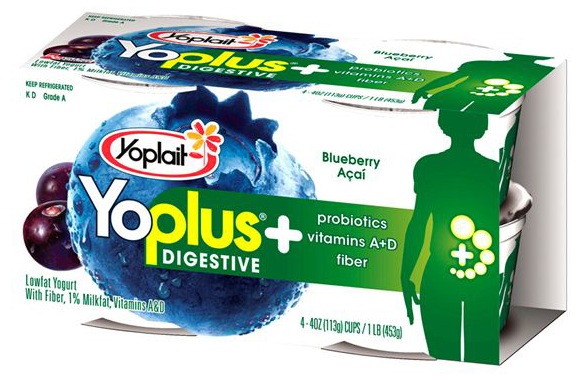 Yo-Plus is a staple on my weekly shopping list. At 4 ounces per serving, I like that it's a smaller cup than most individual yogurts available. It's just enough that my girls can eat a whole cup and not waste any.
More importantly, it's nutritious! My kids aren't drinking milk as much anymore, so I try to supplement with cheese and yogurt. Lots and lots of yogurt! Just like other Yoplait yogurts, Yo-Plus has active cultures (also called probiotics,) is a good source of protein, calcium, vitamins, and is low in fat. The difference lies in that it has a special blend of fiber (3 grams per serving) and extra probiotics.
Probiotics are live, beneficial bacteria that live naturally in your digestive tract, but need regular replenishing. Studies have shown that these cultures can help strengthen our immune system, compete with harmful bacteria, and improve food digestion and absorption of nutrients, so it's vitally important to maintain a balance of healthy bacteria in your digestive system. Yo-Plus contains three different types, whereas most yogurt only has two. This additional probiotic, Bifidobacterium, is safe even for babies to consume. To get the digestive health benefit, it's recommended you eat at least one cup of Yo-Plus every day.
With all the great flavors, you might just want to eat more than that! No other brand of yogurt offers my two favorite varieties – Blackberry Pomegranate and Cranberry Raspberry. They are unique combinations that work very well together. Yo-Plus also comes in the traditional Vanilla, Strawberry, Peach, etc., and just recently introduced a new flavor – Blueberry Acaí.
If you don't know what acaí is (pronounced ah-sigh-eeee), it's a berry native to South America that has recently become popular in the States for its nutritional properties. It's similar to a blueberry, but has twice the antioxidants. Since the berries start to disintegrate extremely fast after being picked, it's pretty much only found in juices, yogurts, and in powdered form.
I'm not sure if I like it more than the Blackberry Pomegranate, but I must say blueberries and acaí are a yummy combo! The fruit doesn't overwhelm the yogurt at all; it's just the right amount. I've always liked the creaminess of Yo-Plus, and this new flavor isn't any different.
Giveaway is closed.
If you'd like to try Yo-Plus for yourself, you can download and print a discount coupon. But even better, why don't you enter to win a free 4-pack!? Also thrown in is a huge Yoplait cooler tote bag, a water bottle, and a small notebook.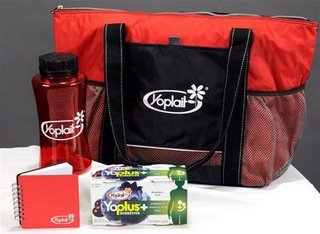 To enter, please visit Yo-Plus.com, then come back here and share a way that YOU try to stay healthy. I'll pick three winners!
For extra entries:
Blog about this giveaway, linking back to this post and to Yo-Plus.
Subscribe to my feed (or let me know if you already do).
Grab my button and link to me in your sidebar or blog roll.
Stumble this page and leave your Stumble Upon name in the comment.
Add my blog to your Technorati Favorites.
Please leave a separate comment for each entry and leave a valid email address or blog URL in your comment. US entries only. This contest ends at 11:59 pm EST on March 9th, 2009. Winners will be chosen at random, and have 48 hours to claim their prize.