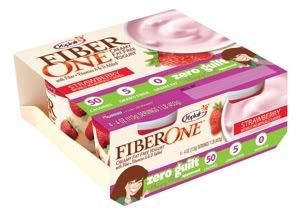 I love Fiber One yogurt. Vanilla is my favorite flavor. It's sweet and creamy, and has only 50 calories. More importantly, it has 5 grams of fiber in one serving. How many yogurt brands can say that? None. Yoplait Fiber One 50-calorie yogurt is the only leading nonfat yogurt with 50 calories and 5 grams of fiber.
Available in four flavors – Strawberry, Vanilla, Peach and Key Lime Pie – Fiber One 50-calorie yogurt is a delicious snack that is good for you, contributes 20% of the recommended daily value of fiber and is a good source of calcium as well as vitamins A and D.
Available in the yogurt section of your local grocery store, Yoplait Fiber One 50-calorie yogurt is a tasty way to help watch your waistline and keep calorie counts in check.
Written as part of a campaign for Yoplait Fiber One. No compensation was received for this post, I just *heart* Fiber One. We all need a little extra fiber, ya know!