Since mid-January, I've been using Your Shape: Fitness Evolved a few times a week as part of my workout routine.
One of only a handful of titles available when the Kinect for Xbox 360 launched this past November, Your Shape is a fitness simulation game that allows you to get a great workout from the comfort of your living room!
If you don't have an Xbox with Kinect, you should seriously consider saving up for one. If you already have an Xbox, the Kinect sensor can be purchased on its own for about $150, and is totally worth it as it changes the entire gaming experience. I really enjoy not having to use a remote and – with my hands free – have even started incorporating 5lb dumbbells into some of my workouts to give me a little more of a challenge!
The exercises
As for all Kinect games, allow for plenty of space in the room where you'll be exercising. I find that good lighting and snug-fitting clothing (like my 4all fitness apparel) helps me get the most accurate tracking. When you see your projection on the screen for the first time, it's a little startling. The Kinect camera captures every lump and bump! LOL!
While I would love to have some kind of "plan" to follow, I do like the freedom that Your Shape gives me to choose what kind of workout I'd like to do. I have three choices – work with a personal trainer, take a fitness class, or play fun gym games. I usually do a combination of all three. The game will track how long I've exercised and approximately how many calories I've burned. If I'm interrupted in the middle of a workout, I can just walk away and the game will automatically pause, starting up again when I get back into the Kinect's line of vision. Very cool.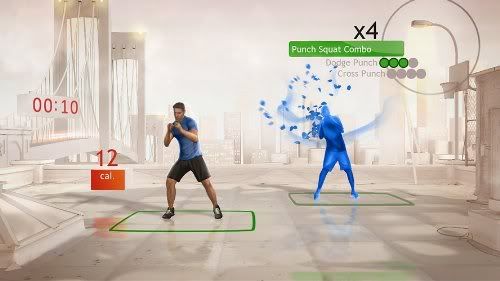 When I first set up the game, I remember having to input my basic stats (height, weight, age, gender), answer some questions about my activity level, and had my body scanned and measured. With this, the game created a personal training program tailored specifically to my fitness level. For the personal training program, you follow your coach's instructions. Simple as that. The moves aren't complicated, which I appreciate, but sometimes I'm given many more repetitions than my body can handle! Like any video game workout, you get what you put into it… I'm trying to push myself a little more every day. My only real complaint is that the game can be a little slow at times. There is an awkward pause in between sets… too long, in my opinion. I tend to jog in place during these moments, which of course affects my calorie burn so that number isn't accurate at all.
The fitness classes are my favorite part! The sessions are fast-moving and fun. I love the cardio boxing! You have to start with the easiest level and get through that before unlocking the second, and so forth. I do my best when I move to the music and not focus so much on following the trainer. It really helps me pace myself. The Zen yoga class is great for winding down.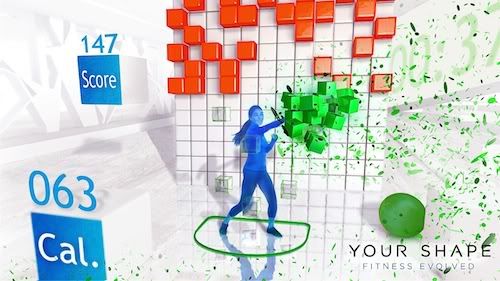 The four mini-games are unique in that the entire family can participate. Loop-a-Hoop is a virtual hula hooping game that always leaves me out of breath. You'll need some major eye-foot coordination to play Light Race, a game in which you have to move your feet to touch sections of the floor that light up. Stack 'em Up is Maya's favorite. It's all about balance. You have to catch falling shapes with a virtual board you're holding in your hands, and drop them into one of two traps. Virtual Smash, pictured above, is a fast paced kicking and boxing style game where you use your fists and your knees to blast apart boxes that appear in front of you. I've been known to use my head once in a while! 😉
With hundreds of exercises within the game, plus more content available to download, you literally never have to do the same workout twice! I have one more pound to lose before I reward myself with a new workout… I'm really, really looking forward to the new Bollywood dance class!
Tracking your progress
As you exercise, you get feedback immediately on every move so that you can correct it right away. The Kinect's "Player Projection Technology" tracks over 1 million dots on your body, so there is little lag and very accurate tracking. Nevertheless, there are still some moves that I can never get quite right.. namely, squats. I don't go quite low enough and my stance, not wide enough. Sigh. I could let this frustrate me, but instead I look at it as something I need to work on. I'm almost always at 100% with the cardio boxing, though.
If you're like me, and have a competitive side, you can track your progress online at YourShapeCenter.com, where you can see what your friends and family are up to, and even create group challenges. This is great because it makes you feel like you're not in it alone.

Buy it!
Your Shape: Fitness Evolved is appropriate for men and women of any age, and at any fitness level. While this game isn't perfect, it does it's job – gets you moving and your heart rate up, up, up – and that's what a good workout is all about. The game retails for $49.99 or so and is available at Amazon.com and many other retailers nationwide.
Win it!
Giveaway is closed. Winner has been notified and is listed here.
One reader of The Domestic Buzz will win a copy of Your Shape: Fitness Evolved! To enter to win, please leave a comment telling me how you fit exercise into your busy day.
For extra entries:
Subscribe to my feed by feed reader or email (or let me know if you already do). 1 entry
Follow me, @ohMariana, on Twitter and tweet about this giveaway one time per day using the Tweet button below, or copy this – #Giveaway! Enter to win Your Shape: Fitness Evolved for Kinect at The Domestic Buzz! https://ohsohungry.com/?p=13002 #TDB #UbiChamps – up to 1 entry per day
Like The Domestic Buzz on Facebook. 1 entry
Disclosure: While Ubisoft sponsored this review, the opinions I've expressed here are solely my own and represent my honest viewpoint. Ubisoft, Clever Girls Collective and I promote Blog With Integrity. Contest ends March 25th, 2011, at midnight EST. Leave a separate comment per entry and a valid email address. The winner, chosen at random, must be located in the continental US and has 3 days to claim their prize.