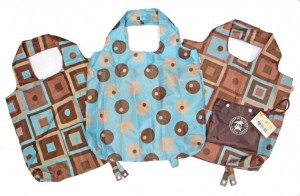 Going green has never been easier, with all the great products available nowadays! For the last week I've been carrying around a reusable tote made by Calypso Studios. It's called a S.H.O.P Tote (Start Helping Our Planet) and I LOVE it.
S.H.O.P. Totes hold up to 20 pounds, perfect for lugging groceries home, but my favorite feature is that they fold into themselves so that I can easily throw one in my diaper bag. Made of polyester, the bags are easily washable. There are so many colorful designs to choose from, and the best thing is the price – a

set of 3 bags in a carrying case sells for $20! Calypso Studios gives a percentage of every sale to environmental organizations who's mission is to keep landfills and waterways free of plastic and paper bags. Americans throw away around 100 billion bags a year, so reusable bags are more important than ever!
While the S.H.O.P. Totes are new, Calypso Studios has been around for just over 2 years now. They've focused on making products from our earth's natural resources, like clay, shell, and glass. I was also sent a beautiful necklace from their shell jewelry line, a white Tia collection necklace made out of coin pearls. The necklace is very light; I hardly even know it's there! It's 40 inches in length, so I can wear it long or double it up.
Made with the environment in mind, these accessories would be wonderful gifts anytime! So Start Helping Out Our Planet and check out Calypso Studios. Shipping is fast.
Thanks to Calypso Studios for this review opportunity.
If you're on Facebook, visit Calypso's fan page.