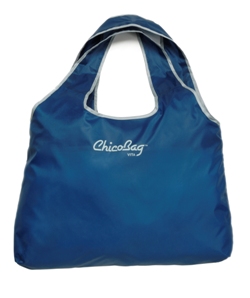 I'm starting off my first annual Holiday Gift Guide with something oh-so-very simple. Reusable bags. There are 100s to choose from, but one of my favorites has to be the ChicoBag. I have at least 10 reusable bags that I've gotten from various stores, but after getting the girls out of the car, finding a cart, and rushing into the grocery store, I realize I've forgotten the bags. Happens every time. Not the case with ChicoBags, however. This bag can hook on to your purse or belt loop with the attached carabiner clip, and can easily fit in your pocket. It is literally designed to be unforgettable. The ChicoBag has easy-to-carry handles that don't irritate or cause you to lose circulation in your fingers, and it folds back into its own built-in pouch once you're done with it. Made of strong, durable nylon, these bags are washable and hold between 25-40 lbs, depending on the design.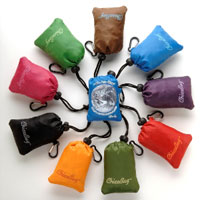 Chicobags come in a wide variety of colors. If you really want to go wild, you can even customize your bag with your own artwork or company logo. They are affordable, costing less than $5 per bag. You can get an even greater discount if you buy several at the same time. The only aspect I don't like is that this product is made in China. I'd rather buy USA-made, but the convenience factor trumps that.
This holiday season, think about purchasing ChicoBags for stocking stuffers, or step up the festiveness by buying red and green bags and using them as gift wrap. You can buy these directly from the ChicoBag store, or from a huge variety of online retailers. The folks at ChicoBag are kind enough to help you start giving up your plastic bag habit by giving one of their Original reusable bags to THREE of my readers! All you have to do is visit their website and leave a comment here letting me know what your favorite color is.
US entries only. Please leave a valid email address or blog URL in your comment. This contests ends at 11:59 pm EST on December 7th, 2008. Winners will be chosen via random.org, and have 48 hours to claim their prize.