This is the third post in a series I'm writing as a National Harbor
'Funbassador', but all opinions (and photos!) are my own.
For the days leading up to Christmas, I try to plan a fun activity to do each and every day with my kids. From making a gingerbread house, to baking cookies and donating canned goods to a food pantry, our 25 days of Christmas are a magical way to celebrate the Christmas season as a family.
Watching holiday movies is on our list, of course. The Christmas films and television specials that we watch year after year have become part of our family's traditions. One of these is Santa Claus Is Comin' To Town, the story of how Santa started giving toys to good girls and boys. Made in 1970, it's a stop-motion film narrated by Fred Astaire. You can watch it right now on Amazon Prime, rent it from Netflix, or catch it on TV (ABC Family) one of the many times it's shown throughout the month.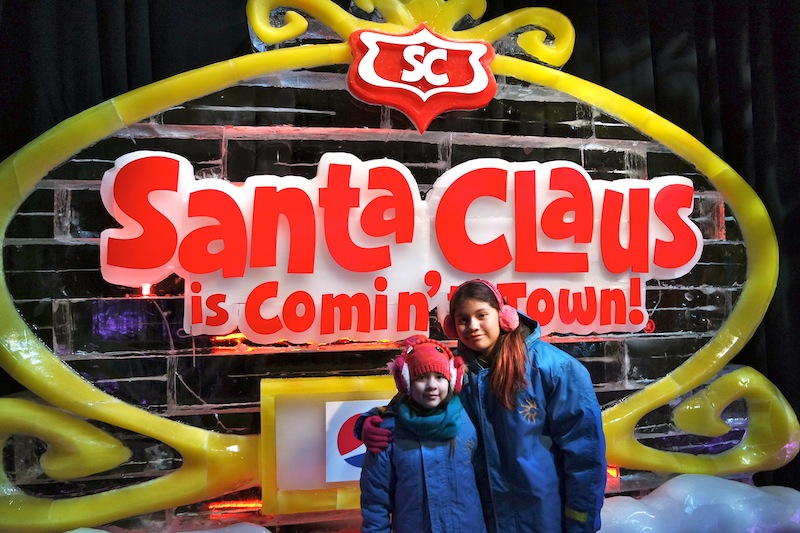 Because the girls were already familiar with Santa Claus Is Comin' To Town, it was especially fun to learn that ICE! would be retelling this classic television special, which is celebrating its 45th anniversary this year. ICE! is an interactive indoor attraction created entirely out of – you guessed it – ICE! and is the main attraction of Christmas on the Potomac, Gaylord National Resort & Convention Center's annual holiday celebration. Since 2008, artisans have traveled more than 6,000 miles each year, from Harbin, China to National Harbor, Maryland, to create this wonderful exhibit.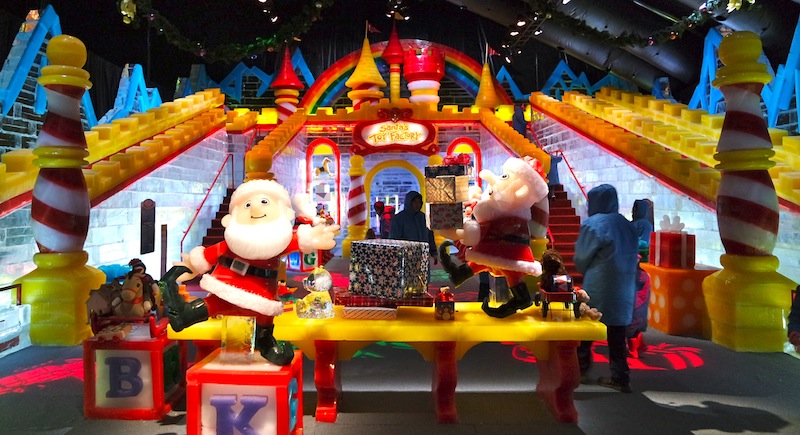 The numbers are pretty incredible.
3. The months – from production to final carving – it took to complete ICE!
5. The number of ICE! slides.
7. The individual rooms depicting the story of Santa Claus is Comin' to Town.
9. How cold the tent is kept (in degrees Fahrenheit). This is the optimum temperature because if the ice is too cold, it becomes brittle, and if it's too warm, it won't chip properly.
12. The number of different colors of ice used in the attraction.
32. The days it took to carve the ice.
35. How many artisans traveled to Gaylord National Resort from China to carve the attraction.
400. About how many pounds each block of ice weighs before it is carved.
5,740. The number of ice blocks used for the exhibit, which are bonded together with "snow" and water to "glue" them into place.
15,000. The square footage of the insulated tent built specifically for ICE! It has 9-inch-thick foam walls, so it's basically like a big cooler.
2,000,000. The number of pounds of ice that artisans carved altogether.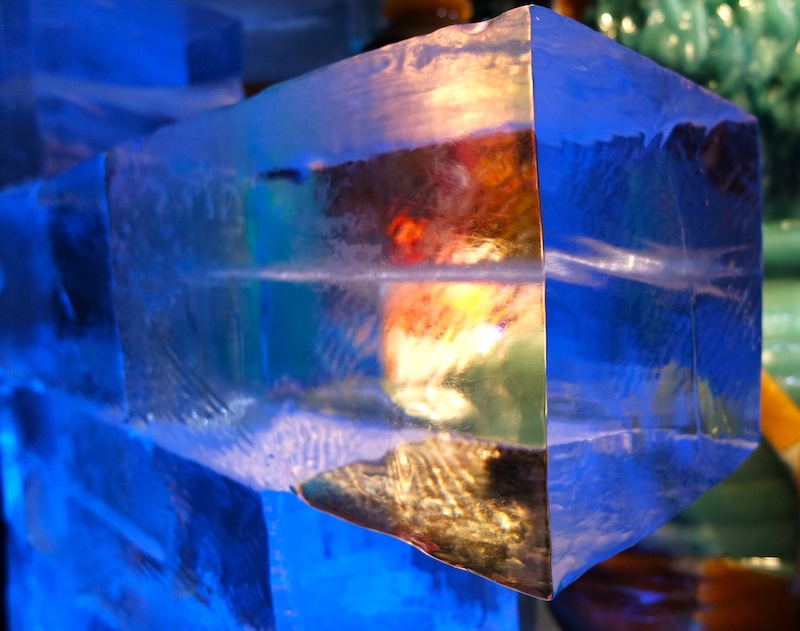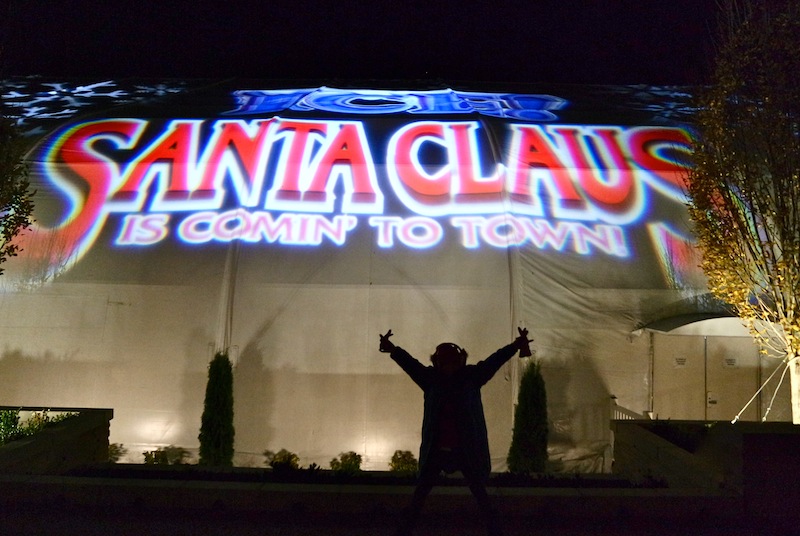 The fun begins when you walk into the Village of the North Pole.
So many heartwarming characters flawlessly carved out of ice. It's amazing!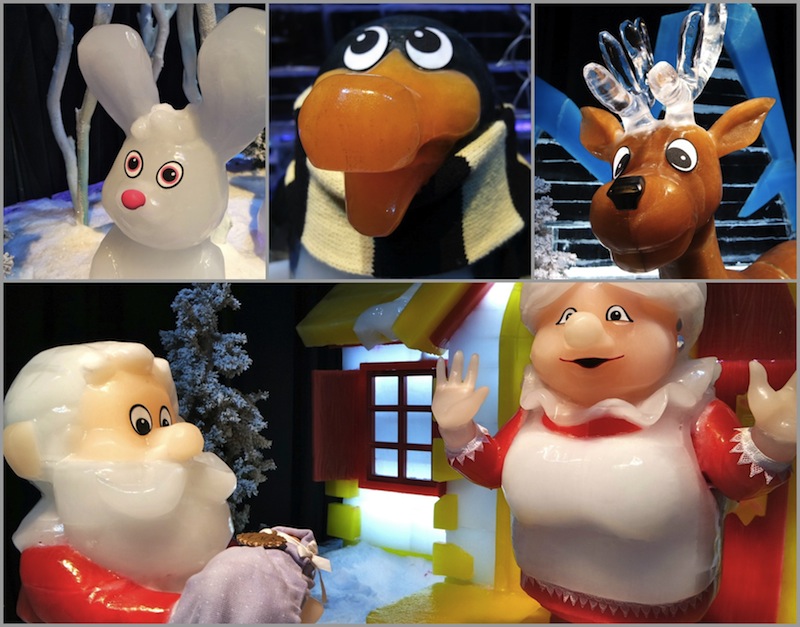 The girls already knew the story, but they read along anyway,
and it all came to life as we walked from room to room.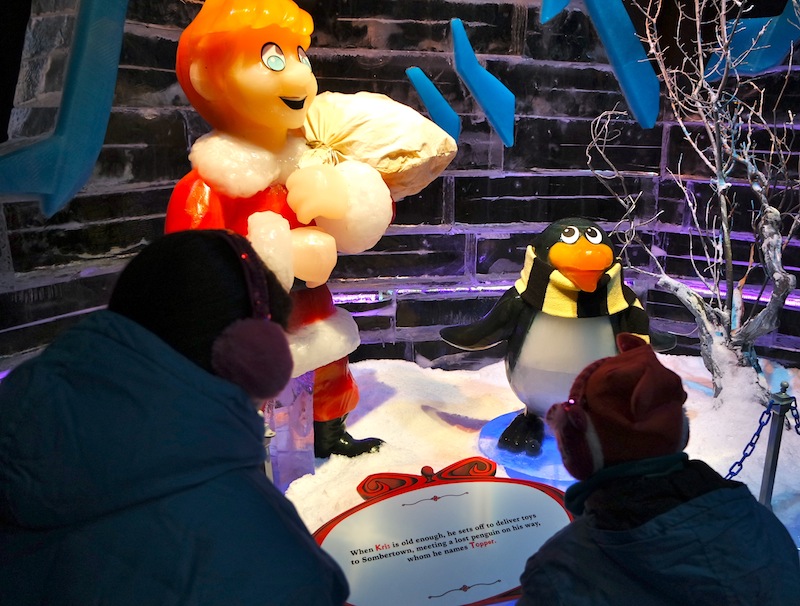 A frozen fountain. Just beautiful!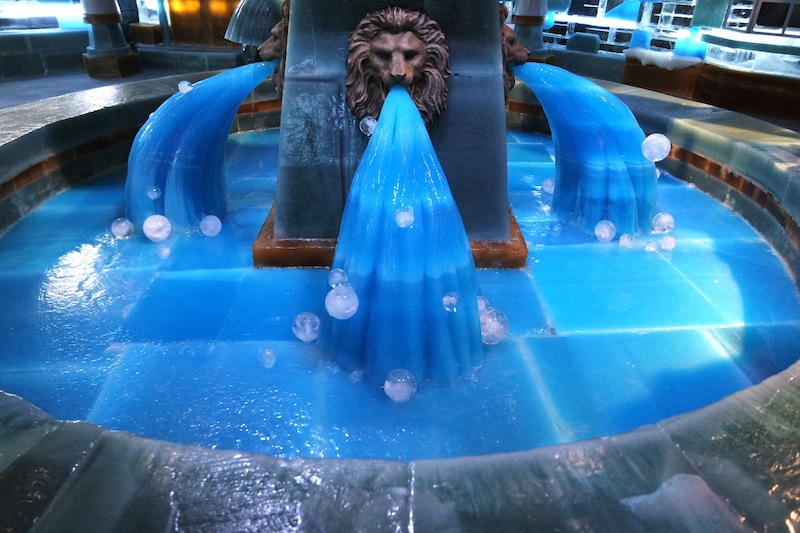 A highlight of ICE! are the slides.
You won't experience something like this anywhere else!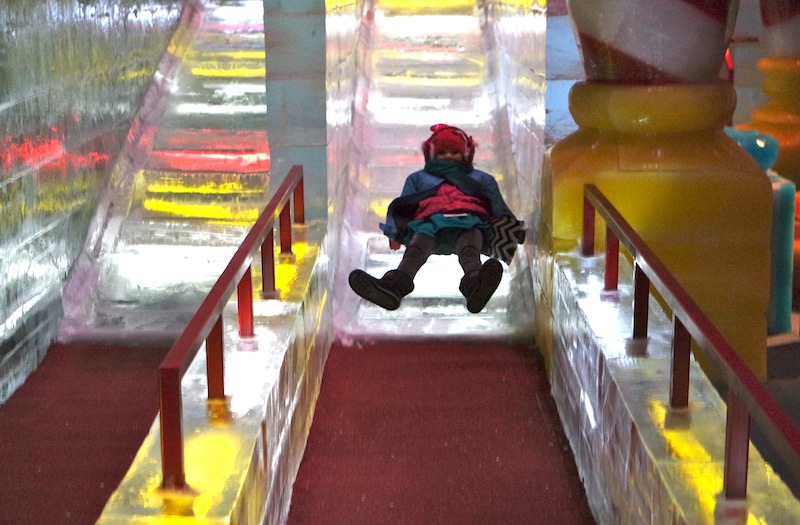 This incredible tunnel is made completely out of ice.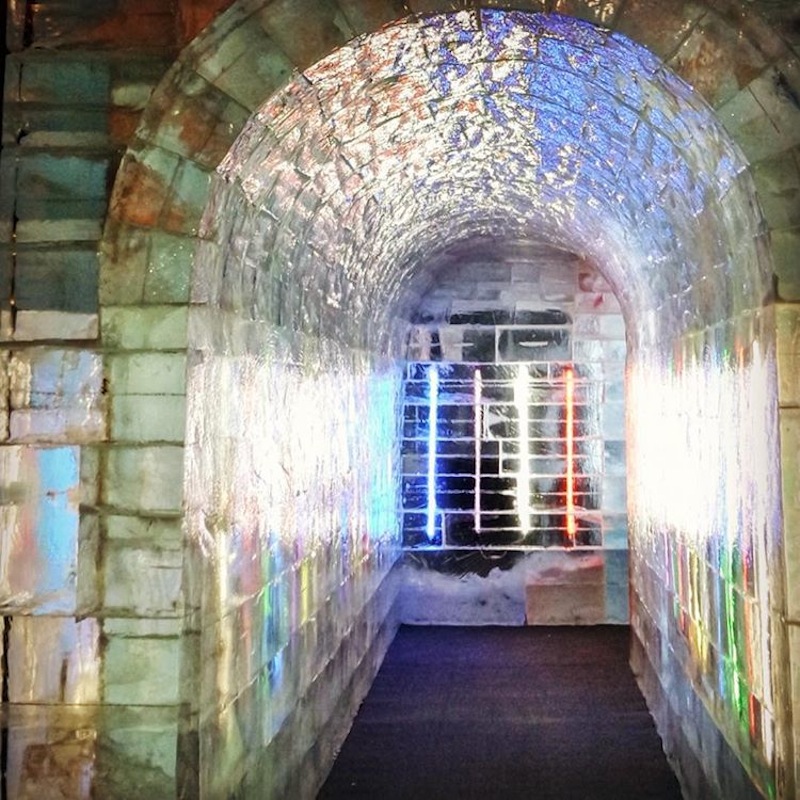 While the colorful, larger-than-life ice sculptures were beautiful and impressive, my favorite part of ICE! this year was The Frostbite Factory at the end, where we were able to see artisans carving ice sculptures live right in front of us.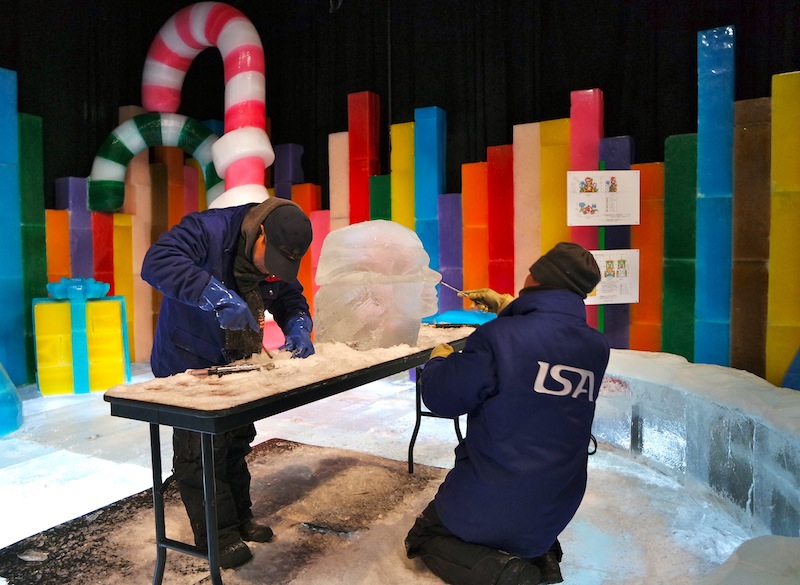 This is a one-of-a-kind chance to see a beloved Christmas story brought to life. Definitely go check it out if you have the chance! Tickets for ICE! can be purchased directly at the box office, online, or as part of a hotel package. Hours and ticket prices vary by day, but children under two are free, though I would recommend leaving them at home if you can. It's the older kids (and their parents) that really enjoy ICE! the most.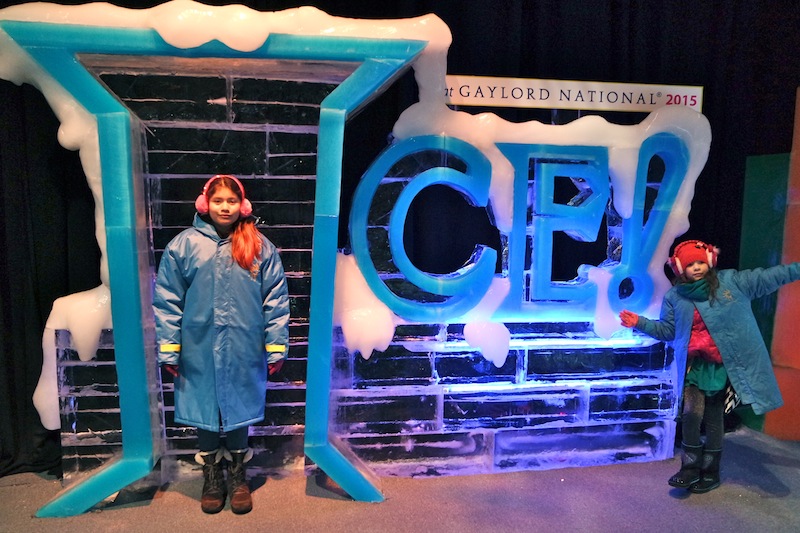 After ICE! we walked through the Christmas Shoppe, took a ride on the beautiful indoor carousel, and warmed up with cups of delicious hot chocolate. There's also a cute Gingerbread Decorating Corner that's sponsored by PEEPS.
But the fun doesn't stop there! We walked back into Gaylord National's atrium to enjoy the Sounds and Songs of Christmas fountain show, a free nightly show that repeats at 6, 7, 8, and 9pm every evening.
Created by the same designers of the resort's famous ICE! attraction, the new 55-foot tall suspended "Starlight" Christmas tree is the jewel of the show. It weighs nearly 4,000 pounds and is made up of 50 five-point stars, inspired by Washington, DC and representing the 50 states. The tree topper displays one large star – symbolizing the Capital.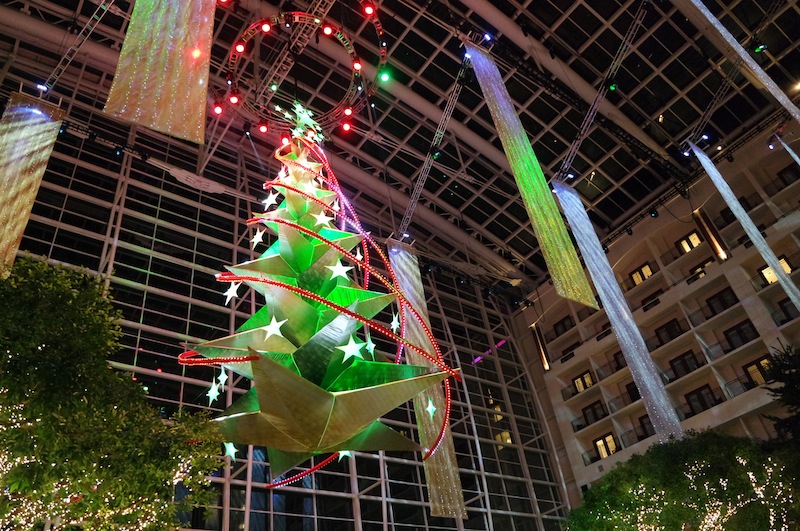 It's hard to tell from my photos, but the body of the tree consists of 11 star tiers wrapped in texturized green fabrics, finished with a metallic shine to play off both the natural lighting in the hotel's atrium and the evening light show. The tree features a unique aluminum garland that illuminates to give the tree an animated effect that changes from day to night. Not your typical Christmas tree garland, this one features 2,100 video nodes that produce infinite possibilities of lighting. It's a work of art that took at total of five weeks and 50 employees to complete.
A total of 2 million Christmas lights are used to decorate Gaylord National Resort, which would stretch over 12 miles. Whoa! Right underneath the Christmas tree is the Potomac Express. The girls loved taking a ride on this miniature holiday train during the light show.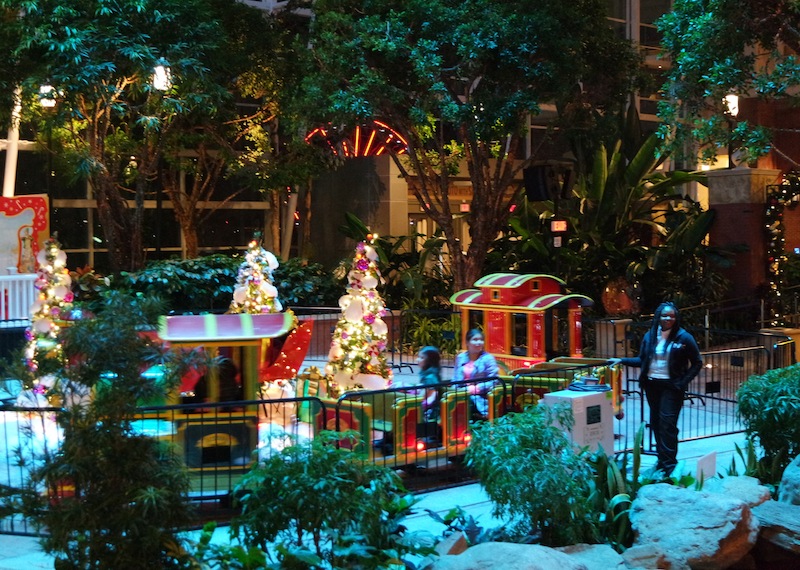 The fountain is lovely with water that changes colors and "dances" to music… Christmas carols, of course! What's amazing is that we stood directly next to the fountain and other than feeling a light mist coming down on us, we didn't get wet. How do they do that?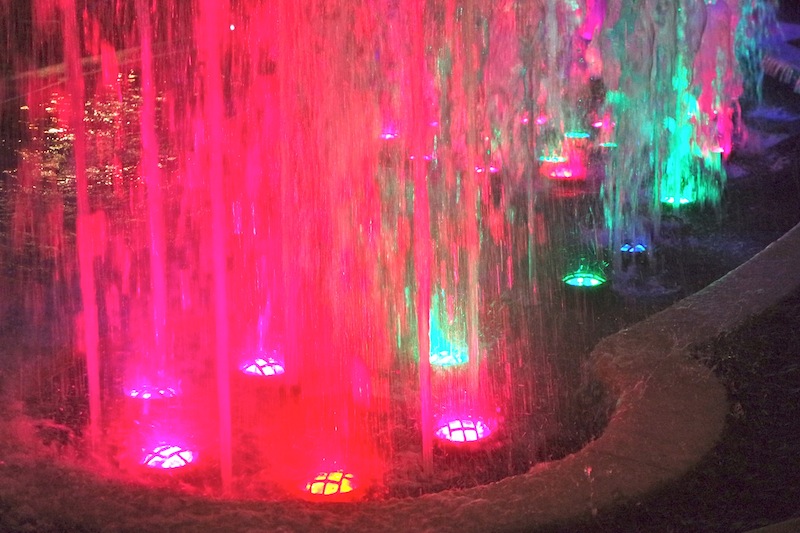 A magical touch is the nightly indoor snowfall during the show. It's a delightful surprise if you're not expecting it! By January 3rd, around 11 inches total will have fallen in Gaylord National's atrium. Probably more than we'll see on the ground all winter. 😉
Before heading to ICE!, we were able to partake in Kris Kringle's Holiday Feast at Pienza Marketplace, also at Gaylord National resort. Not only did we enjoy some delicious food, but we also met Kris Kringle himself, as well as his trusty sidekick, Topper the penguin. Our holiday dinner buffet featured Topper's Tip-Top flatbread pizzas, a carving station, a seafood station, and tons of other options, our favorite being the Sombertown Sweets Zone!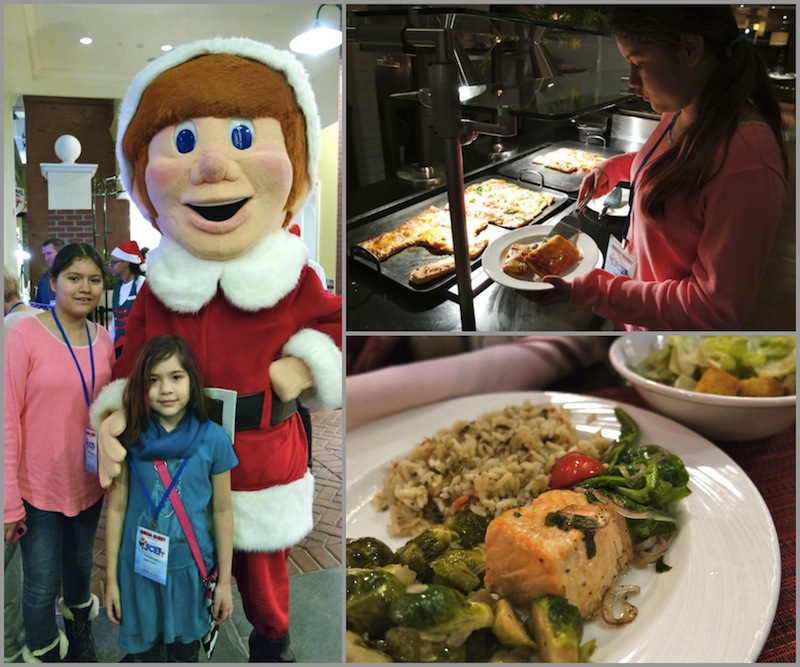 Topper couldn't stay away from the shrimp!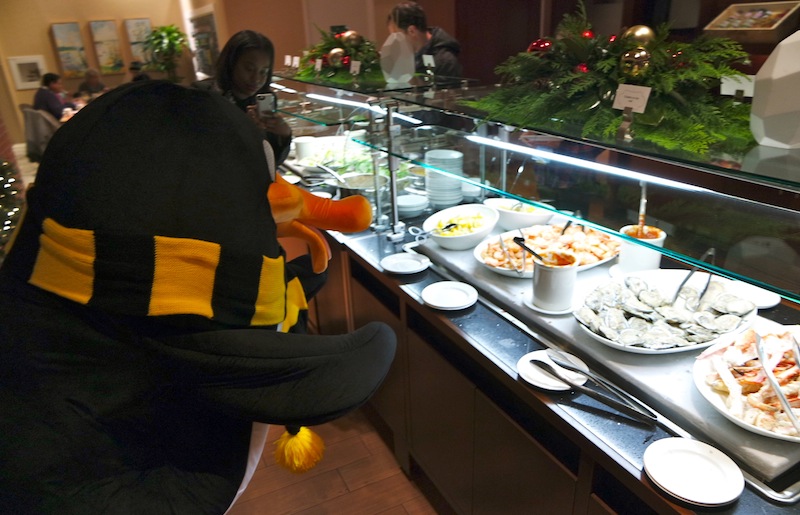 These snowmen were covered in coconut and filled with chocolate.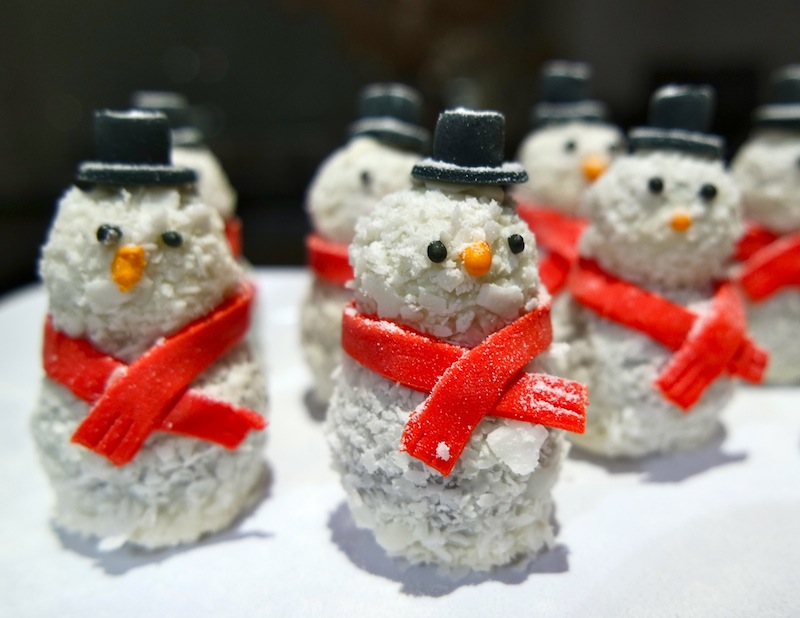 Breakfast is also available, as well as other dining experiences, like a brunch with Santa. Reservations can be made at ChristmasonthePotomac.com.
I'm sure we'll be visiting Gaylord National again soon because my kids want to go back for The Elf on the Shelf Scavenger Hunt, which is new this year. You're given a mission to find 10 of Santa's scout elves that are hiding around the resort, solve puzzles, and figure out their names so they can get their Christmas magic and fly to the North Pole. Everyone gets a prize for helping the elves complete their mission. I bet this would be a fun (and affordable) way to spend a few hours on a cold December day!
Holiday on the Harbor
Besides Christmas on the Potomac, there are a host of other festive 'Holiday on the Harbor' events scheduled at National Harbor throughout the end of the year, from a holiday market, to live seasonal music, and holiday movie screenings on the plaza. Plus the huge waterfront Christmas tree makes a beautiful backdrop for holiday photos!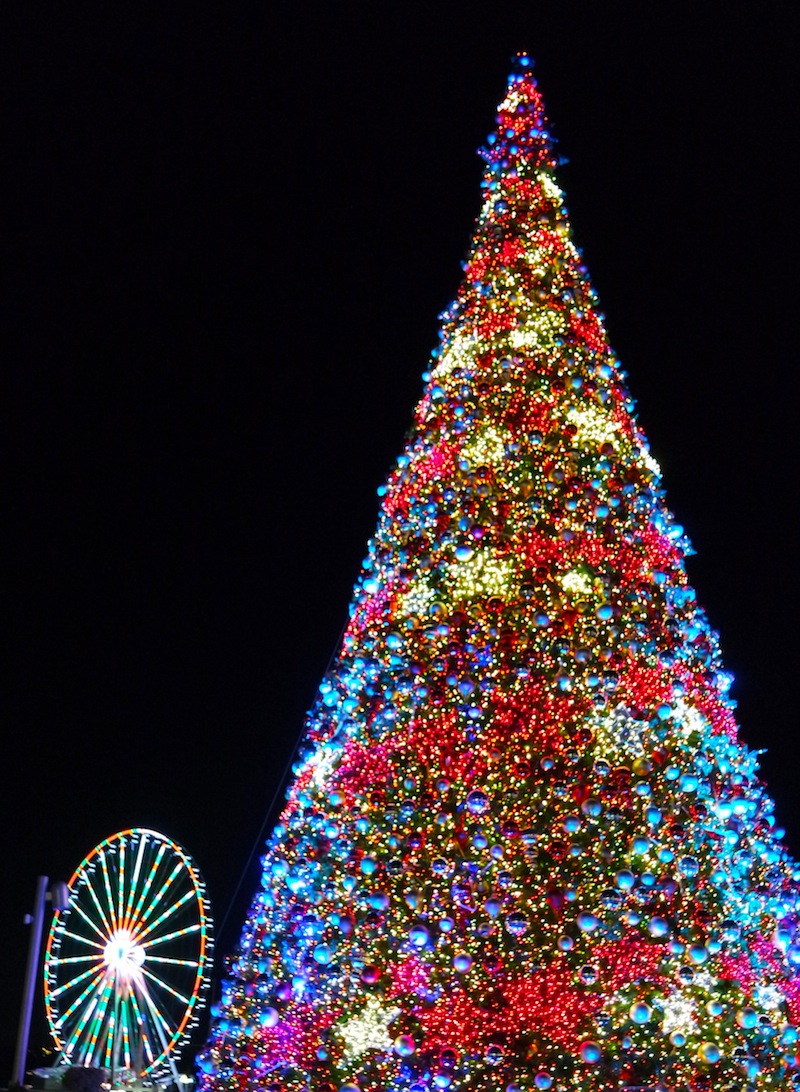 Saturday seems to be the day to visit, with live holiday music at 1pm and movies on the big screen at 2, snow or shine. Movies and events include:
December 5: Holiday movie, Dr. Seuss's How the Grinch Stole Christmas; Toys for Tots toy drive
December 12: The Ugly Sweater Run; Holiday movie, Frosty's Winter Wonderland; Toys for Tots toy drive
December 19: Holiday movie, National Lampoon's Christmas Vacation; Bobby McKey's holiday family show
On those days there will also be Ho-Ho-Holiday Carousel rides with Santa in the afternoons, followed by photos with Santa at The Capital Wheel. Santa is a busy guy!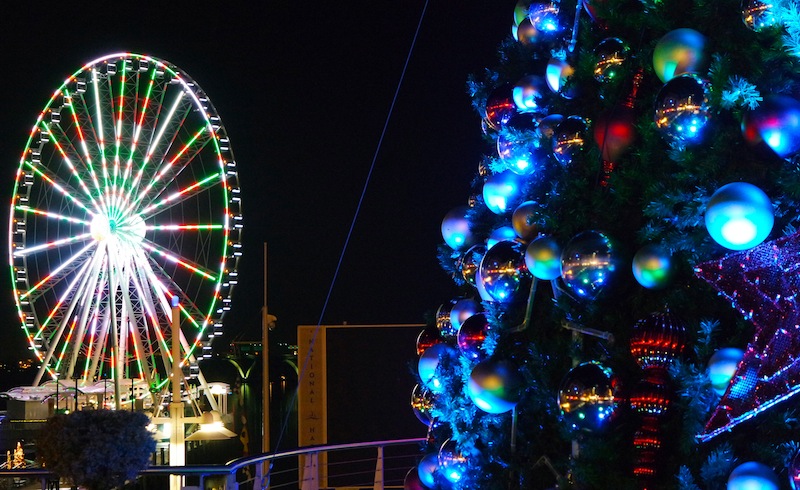 Speaking of Santa, there are lots of great shops for some last minute holiday shopping. I never leave National Harbor without stopping in at least one boutique (or 3) for some retail therapy! A Christmas to Remember, Alex and Ani, Charming Charlie, Fire & Ice, South Moon Under, Build-A-Bear Workshop, Peeps & Company, Marbles: The Brain Store, and Capital Teas are just a few of my favorites out of the more than 150 shops and boutiques around there. And don't forget the holiday market, which will take place every Saturday and Sunday through December 20th.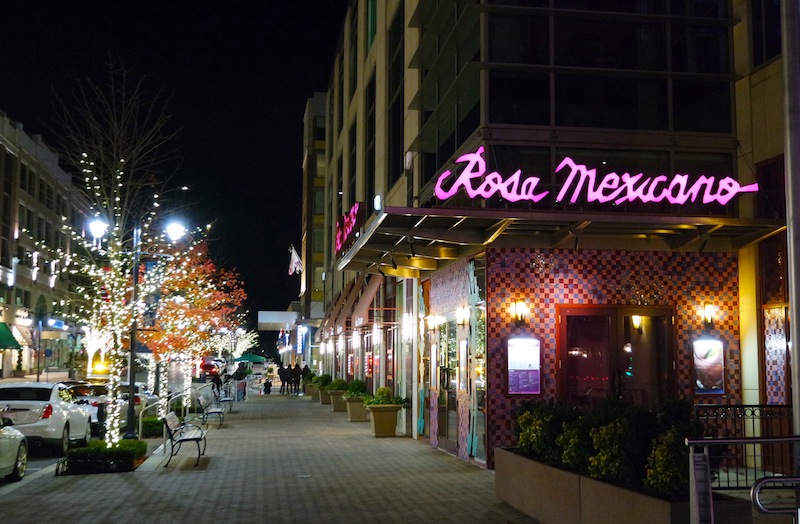 Besides being a shopping destination, National Harbor also has more than 30 places to grab a bite to eat. I've shared with you in the past how much we love Rosa Mexicano and Redstone Grill. McCormick & Schmick's is also a great restaurant, and I'm dying to try the newest addition to the harbor, Succotash. Just saying the name is fun! All of these restaurants I've mentioned will give you a bonus right now when you buy a gift card (i.e. a $20 card when you buy $100 gift card). This would make a great family gift! Even if you don't live in the area, maybe you know someone who does. Visit NationalHarbor.com for more information!