If you haven't heard of Chuggington, chances are your kids have! This fun animated TV series, geared towards preschoolers, airs on Playhouse Disney almost everyday. It's not only for the preschooler crowd, however. Maya, at 6 years old, still indulges in an episode of Chuggington every once in a while. Good thing I have my DVR set to record it everyday!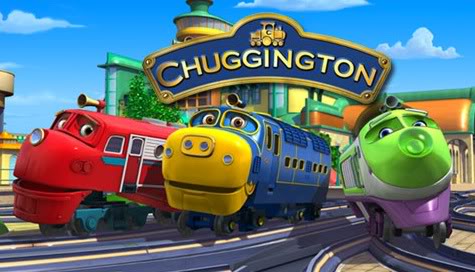 Earlier this month, Toys "R" Us starting selling the new Chuggington die-cast toys by Learning Curve. We got our hands on a few of the toys ahead of time, and have been playing with them for a while now. I also saw a bunch of the other toys first-hand at last month's Time to Play Holiday Showcase.
Oh, how we love the new Chuggington toys! Koko, Brewster, Wilson, and Mtambo are so fun to play with. I smile every time I watch the girls recreate an episode they watched. They talk to the little Chuggers like they're best friends. Koko, especially. She's definitely everyone's fave!
It's the details in these little trains that I really love. The new engines are durable, and realistically painted. They're all unique, and some even have hidden features. For example, Mtambo's roof raises up so that you can see his passenger seating area. I didn't know this until Maya pointed it out! The couplings hold the trains together securely while they're riding the rails. It's important to note that these aren't magnetic, so they may not be compatible with other train set brands your kids already own.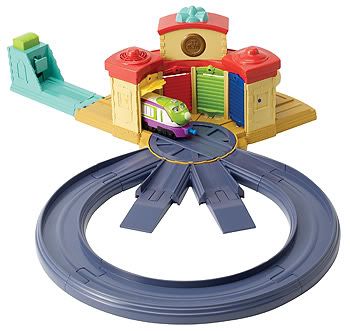 As for accessories, we have the Chuggington Launch & Go Roundhouse, which retails for $24.99. This playset comes with one die-cast engine – Koko. It's her home when she isn't out exploring the Chuggington world. There are 4 engine bays, so three of her friends can join her! The roundhouse incorporates fun lights and sounds, and has a rotating launcher to send the trains down the track.
The track is unique in that the pieces lock together. Maura, my 3-year-old, hasn't figured out how to put the track together or take it apart just yet. She gets frustrated. While it is a little tricky, Maya has mastered it. An advantage of this is that the track can be picked up and moved in its entirety – from the floor to a table and back – without falling apart. We have the Straight and Curved Track Pack ($15.99), which includes 20 extra pieces that allow us to create even more traintastic adventures! Trying out different layouts has been fun. Chuggington's Facebook page has some great ideas for inspiration! Look under the photos section.
Experience the lights and sounds of the Roundhouse with this video of the Chuggers in action:

If your kids love Chuggington and you want to surprise them with some of these new toys for the holidays, the Chuggington Starter Set (right, $19.99) is a good introductory playset. It comes with Brewster and Wilson, Vee, and 10 track pieces. Then you can add the Launch & Go Roundhouse, and keeping going from there!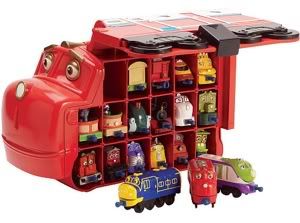 On my daughters' Christmas wish list is the Chuggington Training Yard Loop Set (above, $39.99). I think it would be a nice addition to the set we already have.
If we add more trains to our collection, we'll have to invest in a carrying case, I suppose! The Chuggington Wilson Carry Case is adorable and can fit up to 17 trains! It's smaller in person than I expected it to be, but is reasonably priced at $19.99.
_________________________
Honking horns! Chuggington is giving one lucky reader a Launch & Go Roundhouse Playset, the Straight and Curved Track Pack, and 3 die-cast engines. What a traintastic prize! To enter, please visit the Toys "R" Us website to look at the entire Chuggington collection. Leave a comment here telling me what your child's favorite train is.
Product samples were provided to facilitate my review, but all opinions are my own. Learning Curve also supplied the giveaway prize. Contest ends November 1st, 2010 at midnight EST. US entries only, one person per household. Leave a separate comment per entry & a valid email address. Winner, chosen at random, has 3 days to claim their prize.