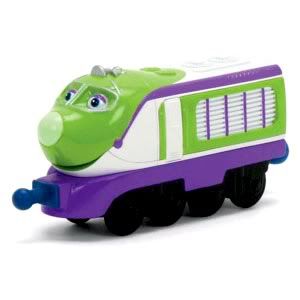 Tragedy struck the other day… we lost Koko! I turned the house upside down looking for the cute little die-cast train, to no avail! She's by far my daughters' favorite Chuggington character, so they were a little sad. Especially Maura.
I'd been meaning to go to Toys "R" Us anyway, so this was the perfect excuse. After oohing and ahhing at all the great Chuggington products on the shelves, I grabbed Koko and was on my way! If you'll be doing some shopping for a Chuggington fan this weekend – and there's a particular toy you're looking for – be sure to call ahead to make sure they have it in stock.
The cold and snow are keeping us indoors more often than not, so I'm thankful for another box of Chuggington goodies we received recently – a Chuggington Steering Wheel Book and a Chuggington Matching Game, perfect for kids 3 to 5 years old. Maura, her best friend, and her cousin, Keyla – 3, 4, and 5 years old, respectively – have been playing with these products all week. Don't think Chuggington is only for boys. These three little princesses LOVE all the new toys.
Chuggington "Delivery Day" Steering Wheel Book
In Delivery Day, Vee asks Wilson, Brewster, and Koko to pick up stones at the quarry and deliver them to a farm. Will the three chuggers be up for the challenge? My three chuggers certainly were!
This large board book (11″x11″) is quite sturdy, with a movable steering wheel and 12 exciting sounds from the world of Chuggington, including the Chuggington theme song. I read the book to the girls a couple of times, but they were excited to tackle the adventure on their own! It was fun listening to them try to re-tell the story to each other. There are little pictures scattered throughout the book that tell you when you're supposed to press which sound. Keyla: "Honk, Maura, honk the horn!" Maura honks. Keyla: "Nooooo. You honked 4 times! It says to honk 3 times! Now we have to start OVER!" Oh, these girls just crack me up!
I'm usually not a fan of these types of books, honestly, but this one is different. The sounds aren't annoying. I wish the Chuggington theme song was longer, in fact! What I find really neat is that you can overlap some of the sounds which added a cool effect when I was telling the story.
Buy Delivery Day at Toys "R" Us stores and online at toysrus.com for $14.99.
Chuggington Matching Game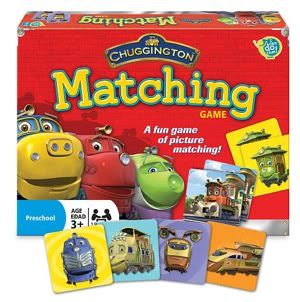 This is the classic game of picture matching, but featuring the colorful trains from Chuggington! Flip over two tiles and find exciting pictures of Wilson, Brewster, Koko and more! Which traintastic friends will you see? Make a match and you get another turn. The player that collects the most matching pairs wins!
72 cards come in the box, so it took us quite a while to get through one game. The girls were entertained for at least half an hour, if not more!
Buy the Chuggington Matching Game at Toys "R" Us stores and online at toysrus.com for $14.99.
Nope….
BUY IT!
If you prefer to shop online, place your Chuggington toy orders by 3pm EST on Tuesday, December 21st so that they arrive by the 24th. And that's with standard shipping! I can't wait to see what new Chuggington products come out next year!
WIN IT!
Chuggington is providing one of my readers with a traintastic gift pack! I got a little behind and wasn't able to post this in time for the winner to receive their prize by Christmas, but it'll be a nice surprise for a Chuggington fan in the New Year (or maybe you give gifts on Three Kings Day? We do!)
The prize package will include the Delivery Day book, matching game, two die-cast trains, a Launch and Go Roundhouse, and a Straight & Curved Track Pack. Read my previous review to learn more about the last three prizes. It's a package valued at over $75! To enter to win, please check out the new Chuggington.com and leave a comment below telling me your favorite feature.
For extra entries:
For another chance to win some of these toys, enter Chuggington's Holiday Sweepstakes!
Disclosure: I was provided with the product samples pictured above to facilitate my review. Contest ends December 31st, 2010 at midnight EST. US entries only, one person per household. Leave a separate comment per entry and a valid email address. Winner, chosen at random, has 3 days to claim their prize.
Scroll down to the bottom of the page for a list of all my latest giveaways!